Posted on
Wed, Jul 20, 2011 : 2:58 p.m.
Ann Arbor area braces for Thursday's extreme heat
By Paula Gardner
Update: Washtenaw County opens cooling centers to help residents fight Thursday's heat The week's 90-degree temperatures are prompting health officials to issue more warnings as Washtenaw County braces for the heat — and its dangerous effects — to peak on Thursday.
Officials from multiple county agencies will hold a phone conference at 4 p.m. Wednesday to discuss action plans for the extreme heat predicted over the following 30 hours, said Marc Breckenridge, emergency management director.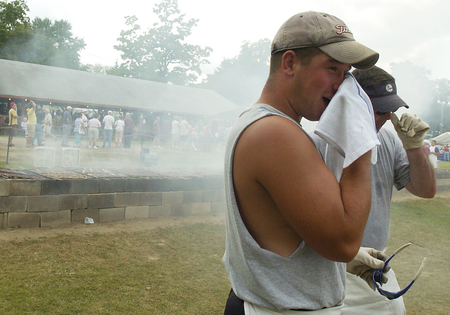 File photo | AnnArbor.com
The heat — as forecast — is dangerous, Breckenridge said. Temperatures are expected to hover close to 100, with the heat index climbing above that.
Concerns of public safety officials include helping individuals, especially the elderly and ill, maintain a normal body temperature.
Public infrastructure also can be stressed during extreme weather, making things that people take for granted — like access to utility service and transportation — questionable, Breckenridge said.
"Really, really hot weather is like really, really cold weather," Breckenridge said.
Among the efforts to help Washtenaw County keep cool: The Washtenaw County Sheriff's Office will be operating a cooling tent on Thursday at the Manchester Chicken Broil.
Other efforts to ensure that people in the county have access to cooling centers will be discussed Wednesday, Breckenridge, with likely options identified if they're needed.
Possibilities include opening both county and school buildings to the public, Breckenridge said.
Even if that doesn't become an official action step, people who feel overheated are advised to seek other cool locations: libraries, shopping centers and restaurants are examples Breckenridge suggested.
One elderly woman was sent to Walmart as a cooling option on Wednesday morning, said Joyce Williams, spokesperson for Huron Valley Ambulance.
That woman had called the 211 emergency line, Williams said. She also suggested that anyone in the county who needs help during the extreme weather could use the line as a resource.
"People can call 211 for information on cooling centers," Willams said. "They're getting the information as places are opened."
So far, the Delonis Center in downtown Ann Arbor and the public libraries are designated, she said.
Breckenridge said more will be announced as officials determine they're necessary.
So far, no serious incidents have been reported as a result of heat at the Ann Arbor Art Fair, according to the University of Michigan Hospitals.
And Ann Arbor Rec & Ed has canceled outdoor activities for the rest of today and Thursday. Summer school classes at Scarlett Middle School in Ann Arbor also will be moved to the cafeteria, which is air-conditioned.
In the meantime, everyone is advised to stay out of the heat — which could feel as hot as 110 degrees at its peak on Thursday — as much as possible.
"If you don't have to go outside," Breckenridge said, "don't."