Posted on
Wed, Aug 4, 2010 : 3:39 a.m.
Ann Arbor-area cardiologist Rob Steele to take on Congressman John Dingell in November
By Ryan J. Stanton
Ann Arbor-area cardiologist Rob Steele will take on veteran U.S. Rep. John Dingell, D-Dearborn, in the November general election.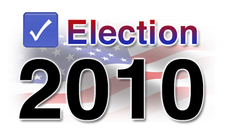 With most precincts reporting, Steele declared victory in the 15th congressional district's Republican primary on Tuesday, picking up 11,726 votes compared to 7,158 for his closest opponent, Jack Lynch, a database systems project manager from Ypsilanti.
The vote counts posted on the state's website include totals from Monroe and Washtenaw counties but do not yet include Wayne County.
The two other candidates were Tony Amorose, a middle school teacher from Dearborn Heights, and Dearborn lawyer Majed Moughni. Amorose picked up 2,031 votes, and Moughni picked up 673.
The 84-year-old Dingell, who received 26,393 votes running unopposed on the Democratic side of the ticket, is the longest-serving member of the U.S. House and was first elected in 1955 to replace his late father.
Dingell was in downtown Ann Arbor Tuesday night, celebrating the reelection of Ann Arbor Mayor John Hieftje and three Ann Arbor City Council members.
Steele joined his campaign crew at the NCMS Building, 3025 Boardwalk Drive.
"Dingell is a shadow of his former self, and he's forgotten the needs of his Michigan constituents," Steele said earlier this month. "He is confusing experience with effectiveness. As Dingell becomes more entrenched as part of the America's permanent ruling class, he votes more with West Coast elites in Congress like Nancy Pelosi than for legislation to protect Michigan's economy."
Steele's campaign posted a victory speech on YouTube, along with the following message from Steele this morning on his website:
"At 11:40 p.m. I was honored and humbled to be able to declare victory thanks to the hard work of scores of volunteers who were assembled for a great celebration that is continuing as I write this," Steele wrote. "I look forward to a fruitful campaign and victory on Nov. 2."
Ryan J. Stanton covers government and politics for AnnArbor.com. Reach him at ryanstanton@annarbor.com or 734-623-2529.