Posted on
Mon, Apr 29, 2013 : 5:58 a.m.
Ann Arbor Area Community Foundation celebrates 50 years of giving gifts, large and small
By Janet Miller
From 200 pounds of red worms to a dance center at Riverside Arts Center, from food pantries to college scholarships for students who don't smoke, the Ann Arbor Area Community Foundation has spent 50 years lending a hand.
File photo courtesy of AAACF
While most other foundations have a narrow focus, the AAACF casts its seeds broadly, from culture to human services to the environment and beyond.
And while it's been known to offer significant support to some projects - it gave $150,000 to The Neutral Zone to expand programming at its new Washington Street location - it's equally well known for backing the niche project, such as $3,600 to the all-volunteer nonprofit Wishing Tree Gardens, which needed the red worms for its composting operation.
The foundation will kick off its 50-year celebration at its annual meeting Tueday, April 30 at the Sheraton Ann Arbor Hotel. Over the years, the AAACF has given away more than $30 million to organizations and programs, and today it has $66 million in assets. Unlike other charitable organizations such as the United Way, which spends what it raises, the foundation creates endowments that provide funding indefinitely. It has 450 charitable endowment funds.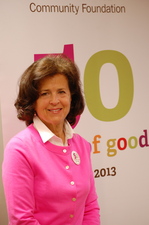 courtesy AAAFC
AAACF was founded in 1963, an outgrowth of the
United Way of Washtenaw County
(then called the United Fund), said
Cheryl W. Elliott
, president and chief executive officer. While the United Way focused on operational costs of health and human services programs, organizers also wanted an agency that promoted new projects and programs, much like research and development in the private sector, Elliott said. And they wanted it based on the endowment model so it would last forever.
Over the decades, some of Washtenaw County's most visible programs and projects were given seed money by the AAACF, from Food Gatherers to the Ann Arbor Summer Festival to programs at Dawn Farm.
Unlike many other foundations, the AAACF is set up to be nimble, said Suzanne Upton, communications coordinator. The foundation was set to give Dawn Farm a $10,000 grant to undertake a study when a former crack house became available to be used for transitional housing for men in recovery from chemical dependency. AAACF was willing to shift the funding to the building. Fifteen years later, the program has grown to include housing for 140 men and women.
And then there was 2008, a tough year for almost every nonprofit. While the AAACF typically doesn't fund general operating costs, it made exceptions that year to help some nonprofits stay afloat. It gave $25,000 to Wild Swan Theater and another $25,000 to the Corner Health Center for operating costs, Elliott said. Behind each donation is a story. Take Oscar Reimold. The Ann Arbor businessman worked hard, lived simply and left the AAACF $448,000 when he died, money that was to be used to help area senior citizens. Since 1980, the fund has made $1.3 million in grants to Food Gatherers, Arbor Hospice and others and is today worth $1.2 million.
Or Morse "Bunny" Barker, a high school dropout and junkyard owner, and his sister, Virginia Brousalis, a secretary, who together gave $620,000 to establish scholarships for students who don't smoke. Each year, up to 60 scholarships are awarded to students with at least a 2.0 grade point average. In all, the foundation manages 40 scholarship funds that last year gave away $138,000 in scholarships to 122 local students.
While some donors give unrestricted funds that can be used for any program or scholarship, others make restricted or field of interest donations where grants and scholarships must be made specific areas. "We connect donors to the causes they care about," Upton said. Increasingly, donors want to have a say in how their gifts are used.
Other changes are in the wind. The foundation is encouraging young philanthropists by establishing giving circles, where a community of donors come together to give. And the foundation is also eyeing awarding grants to social entrepreneurs, a hybrid between a nonprofit and the private sector, where profit along with social good are valued equally. The foundation also wants to focus on working with the arts and cultural communities as a way to boost economic development, Elliott said, in the same way the Summer Festival and arts fairs have improved prosperity.
In 2012, the foundation received $5.4 million in gifts from 1,500 donors. Some gifts are sizeable. But many are small, Upton said. "There's a stereotype we'd like to slay: That you must make a big gift. We receive small gifts. Cash from bake sales. That only affluent people give is not the case at all."
For more information on the AAACF, go to http://www.aaacf.org/.
Janet Miller is a freelance reporter. Contact the AnnArbor.com news desk at news@annarbor.com.