Posted on
Mon, May 6, 2013 : 5:30 p.m.
Ann Arbor area fire departments seek new mutual aid dispatch model
By Amy Biolchini
Editor's note: This story has been edited to indicate Ypsilanti Fire Captain Dan Cain attended the meeting.
As a method of continued collaboration between five Ann Arbor area fire departments, fire chiefs are pursuing a new model for mutual aid dispatch.
The new system would transfer the responsibility of calling for mutual aid from the firefighter to the dispatcher. Officials say it would provide for faster response times and safer conditions for firefighters.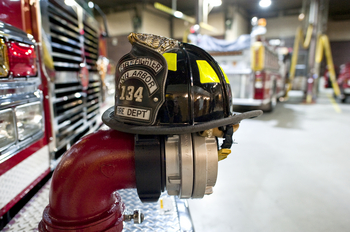 Joseph Tobianski | AnnArbor.com file photo
The idea was aired Monday morning at a meeting of the
Washtenaw Metro Alliance
- a group that had met only once in the past four years.
Formed in 2003 by Ann Arbor Mayor John Hieftje, the group focuses on regional collaboration for services, including among fire departments.
Hieftje said the group meets based on the interest of the Chairman of the Washtenaw County Board of Commissioners.
This term, Chairman Yousef Rabhi has been more engaged and wanted to pursue the meeting of the group, Hieftje said.
"We serve our residents better when we work together," Rabhi said. "I think we're getting some great work done together on a regional basis."
Monday, fire chiefs and officials from Ann Arbor, Ypsilanti, Ypsilanti Township and Pittsfield Township attended the meeting, as well as County Administrator Verna McDaniel, Ann Arbor City Administrator Steve Powers, Ann Arbor Police Chief John Seto and officials from Ann Arbor and Superior townships.
Through an agreement that's been in place since 2008, firefighters from Ann Arbor, Ypsilanti, Superior Township, Ypsilanti Township and Pittsfield Township can call for mutual aid through a box alarm once they arrive on scene and assess the situation.
The box alarm alerts dispatch that mutual aid is needed, and dispatchers notify each of the three other departments that their units need to respond.
"A department will pull up at an incident and call for a box, and dispatch will know which department's trucks to dispatch (for mutual aid)," said Ann Arbor Fire Chief Chuck Hubbard.
The aid that the box alarm provides to departments with fewer firefighters has made a big difference, said Ypsilanti Fire Captain Dan Cain.
"Now we have extra crew to go in and start salvaging people's belongings," Cain said, explaining that it also provides a measure of relief for his firefighters when they're on the job.
Hubbard said he believes the box alarm method has been working well, as the mutual aid has shortened the amount of time his department has been on scene for major fires.
"We've been doing that now and I think it's going pretty good. Now the question becomes: What's the next step?" Hubbard said.
Hubbard and the other fire chiefs at the meeting said they're interested starting a new local division of a Mutual Aid Box Alarm System - or MABAS.
MABAS is a user-driven system intended to streamline the process for providing mutual aid during large-scale emergency situations including fires, train derailments, tornadoes, hazardous materials spills and terrorism events.
A number of Midwestern states have joined the program and in Michigan, there are 12 divisions.
On the local level, the system automatically triggers mutual aid to respond to a scene at the time the incident is reported to dispatch, instead of waiting for a department to call for aid once they arrive on scene as it happens now.
Under MABAS, dispatchers must make the determination if an incident requires the mutual aid response.
Should the firefighters arrive on scene and not be needed, Hubbard said they would be canceled from responding and return to service.
"As a line officer, the biggest advantage is I don't have to think about what I want (in terms of mutual aid)," Cain said, noting many of his line officers support the move to MABAS. "(MABAS) allows that inbound officer to think about what he's supposed to be thinking about."
Pittsfield Township Fire Chief Sean Gleason said he attended a recent MABAS board meeting and intends to bring the idea to area fire chiefs at a meeting Tuesday.
The local fire chiefs would be responsible for getting approval from their municipal boards and councils, Gleason said.
A minimum of four fire departments in the county are required to start MABAS, Gleason said.
"It's good for the public for safety arriving at the scene and it's more safe for our firefighters," said Ypsilanti Township Supervisor Brenda Stumbo.
Ypsilanti Township Fire Chief Eric Copeland said his department was previously a part of the Wayne-Westland Fire Authority that used MABAS. The township was not able to remain in the authority because of demographics and finances, Copeland said.
Copeland also expressed his interest in standardizing the incident reporting software across every fire department in the county.
"I think it's imperative for all of us, as we come closer together and interact and respond in packages together that it's representative of our fire codes, policies, standards and procedures," Copeland said.
During the meeting, Mayor Hieftje asked the fire chiefs if there were any issues standing in the way of implementing the MABAS system.
Chief Hubbard said that contracts that each department has with their union employees may contain a clause about overtime hours.
If mutual aid from other departments is called in to assist on a fire in Ann Arbor, the Ann Arbor Fire Department automatically has to call the firefighters on its two shifts that are off-duty to come in to work.
Those firefighters would all have to be paid for a minimum of four hours of overtime.
"I think this is an obstacle in the contract that we can remove," Hieftje said.
Hieftje later stated that the overtime issue in the union contracts has been on the table in previous negotiations.
However, if the Ann Arbor Fire Department assists another department on a fire, off-duty shifts are not called in to work, Hubbard said.
The next meeting of the Washtenaw Metro Alliance has been set for July 16.
Amy Biolchini covers Washtenaw County, health and environmental issues for AnnArbor.com. Reach her at (734) 623-2552, amybiolchini@annarbor.com or on Twitter.