Posted on
Wed, Jun 6, 2012 : 5:59 a.m.
Synthetic marijuana: Washtenaw County officials consider options as efforts accelerate to ban it in Michigan
By Amy Biolchini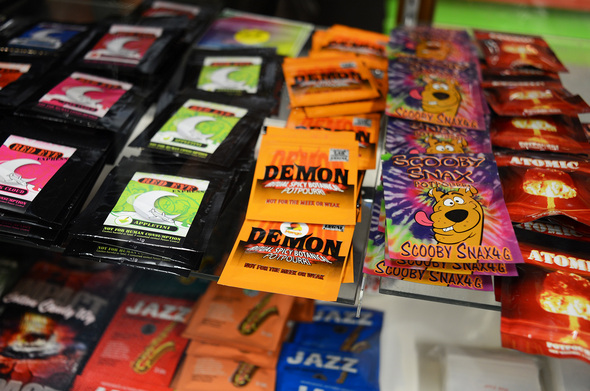 Melanie Maxwell I AnnArbor.com
At the age of 16, John Kleczynski of Ann Arbor said he started smoking K2 - a brand of synthetic marijuana - as a way to get high while he was on probation.
After eight months of smoking the substance - which is a blend of leafy herbs and spices sprayed with a synthetic chemical that gives a high similar to marijuana - Kleczynski said he quit the habit because he was anxious all the time, and his friends said he was acting weird.
That was in 2009. Kleczynski, now 18, said he has permanent anxiety and will never touch synthetic marijuana again.
Efforts to ban synthetic marijuana - commonly referred to as incense, herbal and potpourri - have been accelerating in Michigan. The drug also is known by brand names, of which K2 and Spice are the most common.
Washtenaw County Administrator Verna McDaniel said high-level county officials will be meeting Wednesday to develop an approach to address synthetic marijuana sales in the area.
Among those at the meeting will be the county prosecutor, sheriff and representatives from the health department, McDaniel said.
"I was really struck by how dangerous this stuff is," McDaniel said. "I would like, at minimum, for our (Board of Commissioners) to support the legislation at the state level."
McDaniel said local options will be discussed from public health codes to direct conversations with merchants.
High-profile cases in which crimes and possible deaths have been linked to K2 or Spice have brought the use of the drug to widespread attention in the state.
A package of bills is being fast-tracked through the Michigan legislature that would crack down on sales of synthetic marijuana.
In communities across the state, rallies are springing up against the sale of K2 and other synthetic marijuana brands.
Several counties in southeast Michigan already have moved forward in regulating the issue - including Macomb and Oakland. Wayne County officials could soon be following. Detroit Mayor Dave Bing issued an executive order Tuesday banning the sale of "K2" synthetic marijuana in the city.
West Bloomfield Township in Oakland County voted Monday night to ban the sale of K2 and bath salts.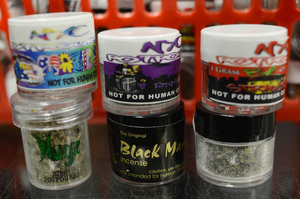 Melanie Maxwell I AnnArbor.com
There are two smoke shops on East Liberty Street in Ann Arbor and two more five minutes down the block on State Street and on East William Street. Half sell synthetic marijuana, and another natural herb shop also carries a slew of brands, including K2.
Patti King, manager of 42 Degrees at 615 East William Street in Ann Arbor, said the smoke shop refuses to sell synthetic marijuana.
"We've always been really against it because it's bad for you," King said. "You should see the people that come in and ask for it - they're cracked out."
It's not just smoke shops selling the stuff - brands of synthetic marijuana can be found in party stores and gas stations.
Chris, a 22-year-old Ann Arbor man who wouldn't give his last name, said he tried smoking K2 and it was "horrible."
"It speeds up your heartbeat," Chris said, describing how the high lasted about 20 to 25 minutes - but was so powerful he couldn't stand up.
Chris said smoking the drug made him feel extremely paranoid and "messed-up" - a completely different experience than he said he had from smoking regular marijuana.
"The physical side effects are really disturbing," said Therese Doud, substance abuse prevention coordinator at Washtenaw County Public Health.
Physical side effects from synthetic marijuana use include loss of control, seizures, hallucinations, vomiting and elevated heart rate and blood pressure.
"The paranoia that's associated with K2 Spice is more like PCP than marijuana," Doud said.
Calling it "synthetic marijuana" is misleading and makes it seem more acceptable than it really is, Doud said.
"I think it's very important to note that public health is taking it very seriously," said Jane George of Washtenaw County Public Health's Substance Abuse Prevention Team.
Melanie Maxwell I AnnArbor.com
The
U.S. Drug Enforcement Administration
issued a six-month extension of its emergency scheduling authority March 1
of five chemicals that have been known to make synthetic marijuana.
The action makes possession and sale of the products with those five chemicals illegal - but the manufacturers of products like K2 have simply changed the chemicals.
The DEA is continuing to study whether it will permanently control the five chemicals.
Michigan is fast-tracking legislation which would constrict regulations on the sale of synthetic marijuana. The House Judiciary Committee unanimously approved two of the measures Tuesday.
One measure would broaden Michigan's law that aims to prevent the sale of the substances. Rather than listing just certain synthetic drugs, the measure lists classifications of chemicals that could be used to make the drugs.
Another measure discussed Tuesday would allow a state agency to make emergency rules to classify certain substances as controlled substances in certain situations. The measure outlines procedures for public hearings and other steps that would be needed to craft the emergency rules, which could prevent some substances from being sold over the counter.
Law enforcement officers want more tools to crack down on synthetic drug sales, and that the state needs a broader, more inclusive list of banned chemical cocktails to stop drug makers from simply tweaking their products and selling them legally.
Amy Biolchini covers Washtenaw County, health and environmental issues for AnnArbor.com. Reach her at (734) 623-2552, amybiolchini@annarbor.com or on Twitter. MLive.com contributed to this report.