Posted on
Sun, Jul 1, 2012 : 5:58 a.m.
Ann Arbor artist asking community to donate items for mosaic-style mural at Allmendinger Park
By Ryan J. Stanton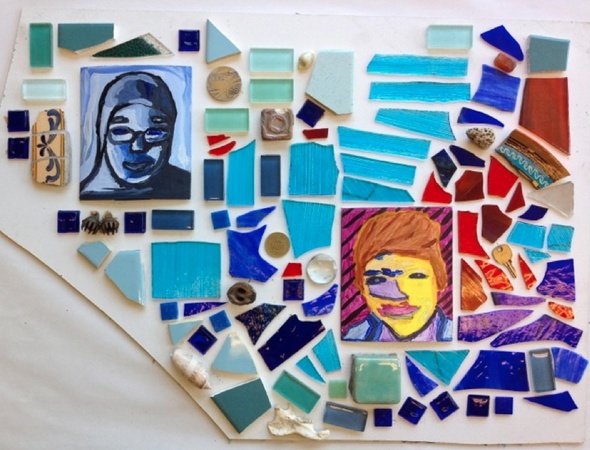 Courtesy of Mary Thiefels
Ann Arbor artist
Mary Thiefels
of
TreeTown Murals
is putting the call out the community to help contribute to
her latest mural project.
She's being commissioned by the Ann Arbor Public Art Commission to transform the 12 pillars of a shelter at Allmendinger Park into a work of art.
And she wants members of the neighborhood, as well as the broader community, to get involved and bring personal artifacts or "found items" to contribute.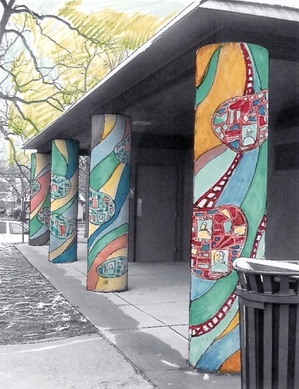 Courtesy of Mary Thiefels
"It could be a stone, a shell, a key, a coin, a photograph or a piece of writing up to 4 inches by 4 inches," Thiefels said. "We're asking people to give us a few sentences about the piece, the story how they acquired it, and why it's important to them.
"And we'll actually have a website, so when the mosaic is installed, you'll be able to mouse over the different pieces and learn the stories," she added.
The Public Art Commission this past week gave approval to a final design for the mixed-media mural project, which Thiefels plans to get started on July 16 and finish by the end of August.
The piece, titled "Nourishing Healthy Seeds," is designed to be part mural and part mosaic — and by many accounts, public art in its purest form.
Neighborhood resident Meg Crawley is helping Thiefels get the word out about the project. She already sent out a mass email soliciting contributions from the neighborhood.
Crawley is planning to collect items through July 15. She has a bright pink drop box set up on her porch at 1200 Edgewood Ave. near the southeast corner of the park.
The park is located in a stone's throw from the Big House, just west of Main Street off Pauline Boulevard south of downtown.
In addition to the found objects, Thiefels said she has 65 portraits that have been painted by eighth-graders at Slauson Middle School, so there will be "portrait tiles" in addition to the memento pieces, as well as stained glass, included in the mosaic.
The city expects to spend about $12,000 on the public art project, including $7,200 from a grant from the Ann Arbor Area Community Foundation.
The mural's abstract design includes colorful layers of painted areas along with tile and glass mosaic sections. Each column will have three oval-shaped mosaic areas, which is where the items donated by people in the community will go next to pieces of tile and glass.
Crawley said in her email to the neighborhood the objects must be small yet meaningful to either the person contributing them or to the community.
"You may donate more than one item, but the artist reserves the right to use only one of your items if she has too many," she wrote. "Unused items will be returned."
Those who want to donate items are asked to place them in a small ziplock bag, accompanied by a signed waiver to use the item, as well as the donor's name, address, email address, and a description of the item and its significance to the donor and/or the community.
Thiefels and volunteers will be dropping off object donation packets door-to-door as well. Anyone wishing to help distribute packets or contribute to the project can email Aaron Seagraves, the city's public art administrator, at aseagraves@a2gov.org.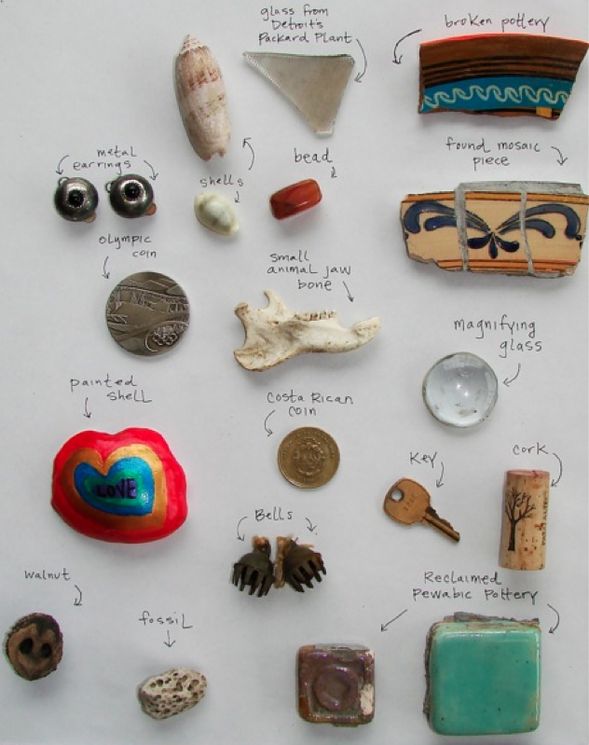 Courtesy of Mary Thiefels
Ryan J. Stanton covers government and politics for AnnArbor.com. Reach him at ryanstanton@annarbor.com or 734-623-2529. You also can follow him on Twitter or subscribe to AnnArbor.com's email newsletters.