Posted on
Sun, Apr 11, 2010 : 11:26 a.m.
Ann Arbor-based P.L.A.Y. Project awarded $1.8 million for autism therapy trial
By Pamela Gossiaux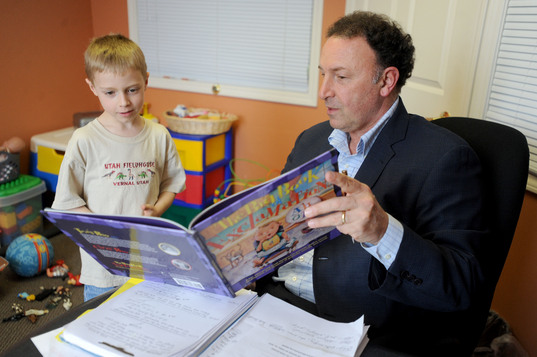 Angela Cesere | AnnArbor.com
When Ann Arbor residents Samuel and Ingrid Gregg enrolled their daughter Madeleine in the Play and Language for Autistic Youngsters program, they knew they were in for some work.
"My wife and I basically rearranged our lives so that we could focus on getting this right," Samuel Gregg said. "It seems to have paid off."
Three years into the program, her parents say 5-year-old Madeleine is interacting well with her peers and has excellent verbal skills.
Results of the program have been so promising that the National Institute of Mental Health has awarded the P.L.A.Y. Project a $1.8 million grant for a controlled trial of play-based autism therapy. It's an increasing need considering autism is the fastest growing disability in the country, with 1 in every 100 children diagnosed.
April is autism awareness month
April is Autism Awareness Month If you suspect your child might have autism, call for a free assessment at: 1-800-EARLY-ON
Signs and symptoms of autism:
First, trust your intuition. "If parents think that something is wrong, then it would be good to take their child into the early intervention system to at least have an evaluation for free," says Dr. Solomon.
Language delay: "If your child has a delay in language or is not meeting early language milestones, it could be a sign," Solomon says. "I'm talking not just words, but pointing, and referencing you."
Problems with social interaction: "If your child is not connecting with you, and/or playing by themselves a lot, it could be a sign," he says.
If his or her interests are repetitive: "Opening and closing doors," Solomon says. "Visually studying lines. Lining up objects. These are all signs that something is wrong."
Dr. Rick Solomon, the creator of the Ann Arbor-based P.L.A.Y. Project, said the program helps parents with young children implement intensive, developmental interventions in their own homes.
The program treats children across the autism spectrum - from mild cases like Madeleine to children on the more severe end. It is designed for children from 18 months to 6 years old.
"Madeleine's progress is outstanding," Samuel Gregg said. "She just turned 5 years old and is going to a normal kindergarten this year. Almost all of the exterior signs that one associates with autism are no longer present."
Solomon, who created the program in 2001, said children with autism need intensive intervention, which means 15 to 25 hours a week of one-on-one or one-on-two engagement.
"It's play with a purpose," Solomon said. "The child to adult ratio is supposed to be very high, and it should be engaging interaction."
Solomon starts by giving a refined diagnosis of where the child is on the autism spectrum and what he thinks would help the child. One of his trained consultants then visits the family's home to teach family members - parents, siblings and grandparents - how to do play therapy with the child.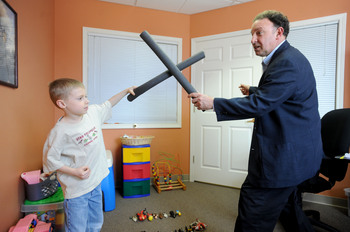 Angela Cesere | AnnArbor.com
"The P.L.A.Y. Project starts with doing what your child loves, with them, in a way that gets them connected to people," Solomon said. "What I say is that when you do what the child loves with them, then the child will love being with you. That starts to break down autism's isolation. We have a whole system that helps parents connect with their child. We want parents to be their child's best play partner."
Play can be spread throughout the child's day, including in everyday rituals such as getting in the car, getting ready for bed, and during meals.
Every month, the consultant returns to the house for a follow-up appointment, and videotapes a play session. Solomon analyzes the tape, making adjustments to the therapy and offering suggestions to continue progress.
The Greggs say they've made the P.L.A.Y. therapy part of their lives, and it's now second nature.
"For any parents whose child receive a diagnosis of autism, be it extremely mild or extremely severe, they are bound to experience it as shock," Samuel Gregg said. "But the P.L.A.Y. Project is one of an emerging play-based therapies that offers real hope. Of course there is no guarantee in this business, but it certainly does offer a proactive way to help a child to transcend their difficulties."
Solomon created the program while working as a developmental and behavioral pediatrician at Allegheny General Hospital in Pittsburgh, Penn. He based it on the work of child psychotherapist Stanley Greenspan and his developmental, individualized, relationship-based theory.
"When I got to Pittsburg, the state had just passed this law to pay for autism services and a bunch of families came to me and asked if I would order these services for them," Solomon said. "Pretty soon I was swamped, and I became an expert in autism simply because I had to. The families chose me, and I fell in love with these children. It has been a group of kids who needed help, and I was in a position to help them."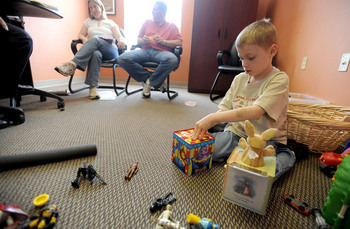 Angela Cesere | AnnArbor.com
When Solomon came to Michigan, he said he discovered the state had few public services that met the requirements for the intensity autistic children needed. He is now the medical director of The P.L.A.Y. Project at the Ann Arbor Center for Developmental and Behavioral Pediatrics.
The P.L.A.Y. Project is now in five countries and 27 states. Solomon said his research showed more than half of the children enrolled made substantial gains in their development when they participated in the P.L.A.Y. Project.
Solomon, a father and grandfather, diagnoses a child with autism in the Ann Arbor area several times a week and calls it a heart-breaking experience.
"Autism is a very serious condition and nobody wants to have a kid with serious difficulties, nobody wants to see their children suffering," he said. "But this program is alleviating the suffering."
For more information, visit http://www.playproject.org or call (734) 997-9088. Scholarships are available through The Michigan Autism Partnership.
Pamela Gossiaux is a freelance writer for AnnArbor.com. Reach the news desk at news@annarbor.com or 734-623-2530.