Posted on
Mon, May 30, 2011 : 5:55 a.m.
Ann Arbor area wild bird rehabilitators open their season already at capacity
By Sven Gustafson
Ann Arbor's only wild bird rehabilitation facility headed into the holiday weekend — its busiest of the year — with mounting challenges.
Spring has brought a glut of injured birds to the Bird Center of Washtenaw County before it opened for the season May 6, which means the center must juggle training volunteers and raising money while caring for a bird population that is already more than what it can easily handle.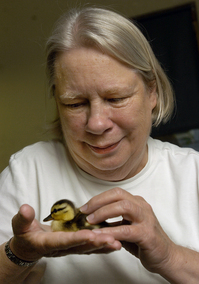 File photo | Ann Arbor News
With space already at a premium, needs have jumped just in the past week, director
Carol Akerlof
said last week.
On Monday, "we took in 22 birds, and we suddenly went up to 89 birds. And basically, that's about what we can handle and still give good bird care. We have, on occasion, gone as high as 120, but things fall through the cracks when you have that many birds. What we have mostly now is baby birds that would normally be in nests or baby birds that have been caught by cats."
By Sunday just before noon, the center was caring for 108 birds, said Akerlof.
The nonprofit, which began with a handful of volunteers working from their homes in 2004, has operated out of a 700-square-foot polling station on Mary Street between May and August each year since 2005. Each year, it must wait until the end of May election proceedings before it opens, Akerlof explained.
The center receives some foundation grants but mostly subsists on donations from people who bring in birds. Its 11 student interns are mostly paid minimum wage. Akerlof herself does not take a salary.
Staff members tend to baby birds displaced from their nests or injured by cats. They administer antibiotics, perform basic wound care, warm and rehydrate birds, and feed them. They refer birds to veterinarians when necessary or for euthanasia when birds can't be saved.
Akerlof said recent high winds have played a part in dislocating baby birds from their nests, as have homeowners who trim shrubs or trees, not knowing they house nests. Some deliberately remove nests and bring them to the Bird Center, which does not accept nests. But cats are the biggest problem.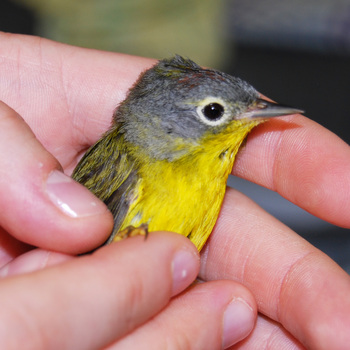 Courtesy of Carl Akerlof
The
Audubon Society
says that all 20 birds on its national
Common Birds in Decline
list — which includes Ann Arbor-area visitors like the common grackle, the eastern meadowlark and the American bittern — lost at least half their populations in four decades.
"Birds are on the decline almost everywhere, and some species are more in decline than others," Akerlof said.
"Basically, we are trying to raise environmental awareness of the public. When people call us, we don't just speak with them for a minute or so, we try to take the time to educate them. It's amazing how much people don't know about birds," she said.
Here are Akerlof's tips for helping wild birds:
Keep cats indoors. Or, if cats must go outside, buy a leash or construct a barrier to keep them away from birds. Akerlof pointed to a recent study that found that cats pose a serious threat to birds in populated areas. Plus, she said, indoor cats aren't exposed to viruses that harm outdoor cats.
If you find a bird on the ground or in obvious trouble, call the Bird Center for advice immediately at 734-761-9640. The center is open from May through August, seven days a week from 7 a.m. to 9 p.m. This time of year, Akerlof explained, fledglings are often on the ground, having just left the nest but unable to fly.
Before you trim any trees or bushes, watch them for an hour. If you see birds flying in and out of a tree even once during the hour, there may be a nest inside. If so, reschedule your trimming. If you can identify the bird, the Bird Center can tell you when it's safe to start trimming.
Don't remove nests. Many birds are federally protected, and removing their nests is illegal.
Slow down and drive carefully to avoid running over birds.
Buy window decals at a local bird store to place on the outside of windows that birds commonly strike.
Tell your children not to touch wildlife. Akerlof is concerned about a strain of avian rabies identified as close as Cleveland.
Contact Sven Gustafson at sventg123@gmail.com, or follow him at twitter.com/sveng. AnnArbor.com copy editor/news producer Kelly Davenport contributed to this report.