Posted on
Fri, Nov 4, 2011 : 5:59 a.m.
Ann Arbor Board of Education candidates meet in final forum at Ann Arbor Open
By Janet Miller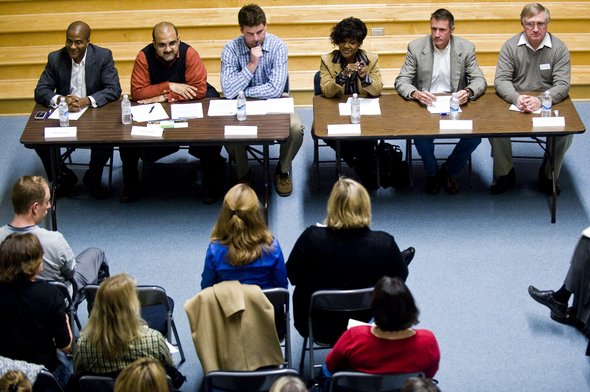 Joseph Tobianski | AnnArbor.com
The six candidates vying for two, four-year seats on the Ann Arbor Board of Education met at a final debate Thursday night in front of the largest audience of the election cycle. About 50 people attended.
The candidates addressed topics that ranged from their positions on a district millage for a technology bond to class size to their support for alternative schools, including Ann Arbor Open at Mack, where the forum was held. The Open School's Coordinating Council organized the forum.
The election is Nov. 8.
Here is a roundup of what each candidate said during the 90-minute debate:
Albert Howard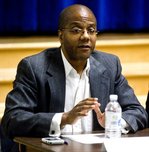 Joseph Tobianski I AnnArbor.com
Howard said safety should be the district's top priority and that he was adamant about restoring
bus routes that were cut this fall
. He called for Superintendent Patricia Green to resign if bus routes are not restored by the time the winter weather comes.
Howard said he was running as the parent of eight children enrolled in the district. "Nothing happens in the district without unity and love,'' he said. "I come to you as a father, a parent and a candidate who will listen to you."
Howard said he favored smaller class sizes. "I would start with around 15. The school has to be a family," he said.
He supports the technology bond that will appear before voters in early 2012. "Technology should be creative but we shouldn't mix it with marketing. I want them to tap into the creative that's within," Howard said. "Technology should be state-of-the-art."
Ahmar Iqbal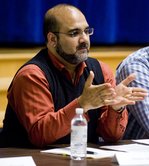 Joseph Tobianski I AnnArbor.com
Iqbal said personal experience has him worried about growing class sizes in the district. His middle school son has up to 38 students in his classes and his high school daughter is unable to change classes because they are all full.
Iqbal said he did not support a countywide enhancement millage. Because of the way it would be allocated, Ann Arbor schools would only receive 65 percent of the enhancement millage it raised, with the rest distributed to other districts in the county.
And Iqbal said he did not favor the technology millage. "Before we embark on any capital expenditure, we need to look at how it will improve our children's ability to learn. Before I can support it, I need to be shown how we would spend the $46 million," he said.
Patrick Leonard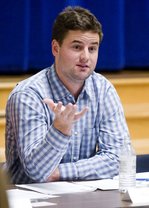 Joseph Tobianski I AnnArbor.com
Leonard, who volunteered in district schools when he was a college student, said he was looking for a way to have a greater impact when he decided to run for the school board. He's 22. He said he agreed with the ideology of the open school and wanted to explore expanding the K-8th grade model in the district.
Leonard said he'd like to see class size at 22 for K-2nd grade, 25 for 3rd-5th grade and 30 at the secondary level. But he didn't blame the school district for increasing class size. "They haven't acted frivolously; they aren't hiding the money.'' he said. "The state is responsible for 75 to 80 percent of our budget and the state has different priorities." He said he supported an enhancement millage. Leonard said he also supports the technology millage. "Technology can improve student achievement," he said.
Simone Lightfoot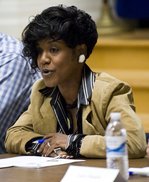 Joseph Tobianski I AnnArbor.com
Lightfoot, an incumbent, said her focus was on finding ways to
close the achievement gap
. She said she supported the open school and said the district should look into replicating its alternative programs. "When I first came to the board I asked, why do we have schools with waiting lists? Why don't we take what's working and expand? I never received an answer," she said.
Lightfoot said she would like to explore offering more lecture-style classes at the high schools with up to 80 students as a way to prepare students for college. This would allow the district to support smaller class sizes at the elementary and middle school level. She also said she would like to see internal staff do professional development rather than hiring outsiders as a way to save money. Lightfoot said she also supported the technology millage, but will need more details on how the money would be spent.
Lawrence Murphy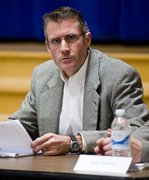 Joseph Tobianski I AnnArbor.com
Murphy said his experience as a small business owner, weathering two recessions and global competition, gives him an edge in knowing how to allocate resources. Class size is also a major concern, he said, and called for a reduction in overhead as a way to restore teaching positions. "There are 744 teachers in the district when there used to be 807. I'd like to see us get back to 807. I'd like to start with a hiring freeze for administration," he said.
Murphy said he supported expanding the open school concept in the district. "If it's just a matter of some bus ride excursions; I think it's money well spent," he said. The Open School is a magnet program where most students are bused. "We need to customize education to prevent an exodus to charters," he said. Murphy said he opposed the technology bond. "People look to technology as the panacea and discount the (importance of) person-to-person," he said.
Andy Thomas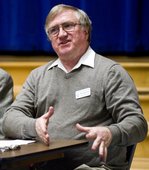 Joseph Tobianski I AnnArbor.com
Thomas, the other incumbent, promised the open school audience that he supports alternative programs and said that Ann Arbor Open, Community High School, Roberto Clemente Student Development Center and Ann Arbor Technological High School are on his "do not touch list as far as budget compromises are concerned." The district continues to offer innovative options with the Scarlett/Mitchell partnership with the University of Michigan and the new International Baccalaureate partnership at Washtenaw International High School, he said.
Thomas said the ideal class size would be 22 for kindergarten through second grade, 25 to 28 for 3rd through 5th grade and 30 for middle and high schools. But the district's budget is shrinking with many costs such as retirement locked in. The solution, he said, is to ask for a countywide enhancement millage to raise revenue.
Thomas supports the technology bond.