Posted on
Thu, Dec 15, 2011 : 8:05 a.m.
Ann Arbor Board of Education narrowly passes salary increases for top administrators
By Danielle Arndt
The Ann Arbor school board gave raises to two top administrators in a split vote early this morning, after removing the issue from the agenda and bringing it back up at the end of a marathon meeting.
The board voted 4-3 in favor of increasing the salaries of Assistant Superintendent of Human Resources and Legal Services Dave Comsa and Deputy Superintendent of Operations Robert Allen to $140,000 each.
Both administrators have been with the district since about 2006.
For Comsa, whose previous salary was $124,542, the pay bump equates to a 12.4-percent pay raise. And for Allen, whose previous salary was $130,556, the raise is approximately 7.2 percent.
Comsa's increase also comes with a title change and additional responsibilities.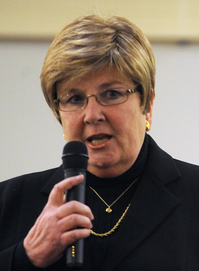 New Superintendent
Patricia Green
said she envisions AAPS being able to market Comsa's services to other, smaller districts in the near future. She said there are movements afoot within
Washtenaw Intermediate School District
to use the same software for human resources as for finance.
"The value he offers to us and to a wider region is very significant," Green said. "I see the potential for revenue enhancement through him and for producing income to bring back into the district.
"Smaller districts could use Mr. Comsa's talents in the legal arena. I think he is an untapped resource."
Green presented both men's contract amendments to the board, proposing Comsa be reclassified as a "deputy" superintendent instead of an "assistant" superintendent.
He will join Allen and Deputy Superintendent of Instruction Alesia Flye as Green's immediate cabinet.
The contracts of Flye and Assistant Superintendent for Elementary Education Dawn Linden also were brought before the board for ratification Wednesday night.
Both Flye and Linden were hired by Green during the summer. Green, who was hired in July, said initially she was told the contracts did not need to go before the board. However, upon further review of the board's policies, Green found that's actually contrary to the board's expressed desires.
Green said this approval has not occurred in recent years for similar contracts. But in an effort to clean up past practices, she decided to bring the contracts to the board for ratification.
The contracts were approved 6-1, with Trustee Simone Lightfoot dissenting.
"I did not feel comfortable bringing back things from the past that were done, but this is my administration," Green said. "It was done under my watch. So I felt it was my responsibility."
Several of the board trustees said they respected Green for taking this action.
"I really want to thank you for increasing transparency on this and for recognizing this was something in variance with our policy," said Trustee Andy Thomas. "I realize this is somewhat awkward to do at this point, but I think we have all learned something from this… so I thank you."
With regard to Comsa and Allen's salary increases, Green said her belief is that all of the deputy superintendents should be paid the same amount. The increases bring Comsa and Allen up to what Flye is making and to what is more comparable with other districts.
She cited Warren and Troy public schools among her examples.
"I would require more to work in those districts as well, but we are Ann Arbor," said board Vice President Susan Baskett.
Baskett, Lightfoot and Thomas voted against the salary increases.
Baskett said the district has communicated to its community a need to sacrifice by privatizing, consolidating and slashing services to balance its budget. Baskett said she gives Flye kudos for the salary Flye negotiated for herself when she came in, but does not understand the rationale behind making all of the salaries equal.
"I am challenged on the subtext that this is 'standard' pay," Lightfoot added. "Because these are clearly substandard times."
Trustee Christine Stead said these two administrators, Allen and Comsa, have helped the district cut a total of $50 million from its budget during the past five years.
"I think that's an important perspective to keep in mind. … We need good leaders to help us navigate through the times we are in," Stead said, adding the Ann Arbor community is very diverse and has very high expectations, yet Comsa and Allen have been able to "negotiate contracts successfully on our behalf."
At the beginning of Wednesday's meeting, the board voted in favor of removing the amended contracts issue from the meeting's action items. But at about 1:45 a.m. Thursday, before the board adjourned at about 2:20 a.m., President Deb Mexicotte moved to put the item back on the agenda for a vote.
Lightfoot, who made the original motion to table action, said she felt the topic warranted sufficient input from the community.
"While I do value input, I also believe I was elected to make judgments on contracts, budget cuts and the like," Mexicotte said. "I feel pretty strongly … I am acting in the best interest of my community by honoring our superintendent's recommendation tonight."
Lightfoot said she believes voting on the contracts Wednesday did a disservice to the board's constituents and sets the district up poorly to go back to voters in the spring to ask for more tax money in the form of a technology bond, as is the district's plan.
Staff reporter Danielle Arndt covers K-12 education for AnnArbor.com. Follow her on Twitter @DanielleArndt or email her at daniellearndt@annarbor.com.