Posted on
Sat, Jun 8, 2013 : 5:57 a.m.
Ann Arbor business owner combats unwanted graffiti with artwork
By Chelsea Hoedl
After researching ways to discourage unwanted graffiti, Ann Arbor business owner Rebecca Arends is trying a new technique to combat the issue: covering the concrete walls with artwork.
Owner of Excelsior Massage Therapy, located at 2350 Washtenaw Ave., Arends found the best solution was to create a stenciled design on the often-targeted retaining wall near her suite. After being granted permission by the owner of the building, she went right to work on the project during Memorial Day weekend.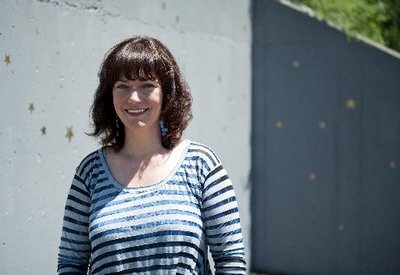 Daniel Brenner I AnnArbor.com
"An ugly concrete wall almost invites some sort of art, but graffiti isn't the right kind," Arends said.
Having grown up in Ann Arbor and now owning a business in the area, Arends said she really is invested in the community.
"There are a lot of really cool artistic things around town, like the gold spray painted-fire hydrant and all of the murals around the city," Arends said.
Arends acknowledges murals can be expensive, but at the cost of $70 and four hours to transform the large space, she said it was a manageable way to add to the artistic Ann Arbor atmosphere.
"What I painted on the retaining wall isn't a mural," Arends said. "I would like to say I'm an artist because everyone is an artist, but this has broad appeal because anyone can do it. I just used a stencil."
Arends painted a base color over the patchy wall and stenciled gold stars onto it using spray paint.
"I had customers concerned if it was safe to park out there because it had a feeling of urban decay," Arends said. "Now it is cheerful and uplifting,"
Arends said she hopes the transformation will inspire other businesses to attempt similar projects on their own buildings."
"There are all these places that keep getting graffitied," Arends said. "Painting over and stenciling walls is a solution to urban blight that is cheap, quick, and won't bum you out if it gets ruined — it's a quick fix."
Chelsea Hoedl is an intern reporter for AnnArbor.com. She can be reached at choedl@mlive.com.