Posted on
Tue, Mar 26, 2013 : 9:28 a.m.
Ann Arbor Cantata Singers host spring concert and fund-raising dinner; Women artist group holds open house April 6
By AnnArbor.com Staff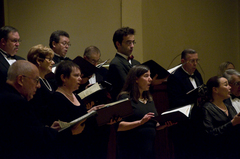 From the Ann Arbor Cantata Singers hosting a spring concert and a fund-raising dinner to the Ann Arbor Women Artists holding an open house at their new headquarters, here's a roundup of some of the stories posted on AnnArbor.com's Community Wall over the last few days:
By: nancy: Ann Arbor Cantata Singers Announce Spring Concert and Fundraiser Dinner
The choir is pleased to announce its Spring concert, to be held April 21 at 7PM. The concert will feature music of Bach, Brahms, Britten, Faure and others.
By: Ann Arbor Women Artists: Ann Arbor Women Artists Open House Party Celebrating Our New Headquarters
This vibrant new space is being used for meetings, workshops, rentals, figure drawing and a communal studio.
By: Lauren: Ann Arbor Summer Learning Program Assists YMCA in Becoming Finalist for Award of Excellence
By: mman3@comcast.net: New book about becoming a Michigan Football player

By: Appreciate.Reciprocate: 3rd Annual Appreciate + Reciprocate Benefit Dinner

By: Carol Akerlof: Bird Center Intern Helps Florida Birds

By: Yvette Robertson: EMU Grad's Book Named Finalist

By: Angela816: The Importance of a Crisis Team


AnnArbor.com's Community Wall is a spot for local people to post local stories, news and announcements. To post a story, sign in to AnnArbor.com, then go to www.annarbor.com/community and use the Got News? Tell Us function at the top to submit your news. If you have a photo to add, e-mail it to us at community@annarbor.com, and we'll insert it into your story.