Posted on
Tue, Nov 27, 2012 : 12:14 p.m.
AATA bus involved in traffic accident Tuesday morning
By John Counts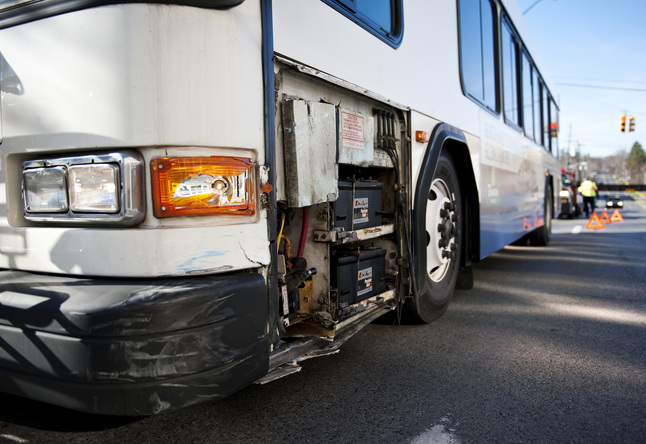 Daniel Brenner | AnnArbor.com
An inbound No. 9 Ann Arbor Transportation Authority bus was involved in a minor accident with a Subaru on West Huron Street and South First Street about 10:40 a.m. Tuesday.
The accident left several elderly passengers stalled on the non-operational bus until the scene could be cleared and other accommodations could be arranged, said officials from the AATA.
The bus was eastbound on Huron when the car struck the driver's side, said bus driver Alvin Phelan.
"I'm surprised the way it hit, it didn't spin out," he said.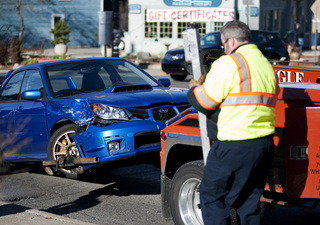 Daniel Brenner | AnnArbor.com
The Subaru was headed in the same direction on the inside lane. The bus was in the outside lane. The car first grazed the bus in its midsection, then struck it with more impact in the well of its front tire, Phelan said. This collision caused a panel near the tire to come off.
The Subaru sustained enough damage to the front end that it needed to be towed from the scene by a wrecker. Both Ann Arbor police and fire were on the scene of the accident. They were still working to get the scene cleared at 11:20 a.m.
It was not immediately clear what caused the car to come into contact with the bus or whether any traffic citations were issued.
John Counts covers cops and courts for AnnArbor.com. He can be reached at johncounts@annarbor.com or you can follow him on Twitter.