Posted on
Tue, Jul 3, 2012 : 5:17 p.m.
Ann Arbor City Council adopts set of 16 sustainability goals and calls for 'Green Streets' policy
By Ryan J. Stanton
The Ann Arbor City Council voted 10-0 Monday night with Mayor John Hieftje absent to adopt a set of 16 sustainability goals to guide future actions.
The goals are aimed at ensuring Ann Arbor maintains a high quality of life, while balancing economic development with the preservation and conservation of natural resources.
The council also voted 10-0 to direct city staff to work with the Environmental Commission in the development of a so-called "Green Streets" policy that takes into consideration the role impervious surfaces play in stormwater runoff pollution.
The resolution was sponsored by Council Members Sabra Briere, D-1st Ward, and Carsten Hohnke, D-5th Ward. (Read the resolution.)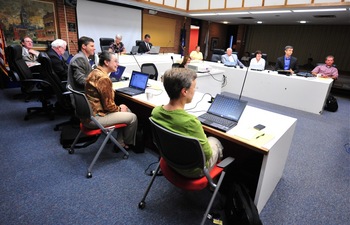 Ryan J. Stanton | AnnArbor.com
The sustainability goals were developed over the course of several months through a process facilitated by
Jamie Kidwell
, the city's sustainability associate.
The city received a grant from the Home Depot Foundation to develop a sustainability framework and sustainability action plan. The project began in January 2011.
Building off previous environmental goals and plans adopted by the city, the newly adopted set of goals will help guide and institutionalize sustainability planning within the city, said Planning Manager Wendy Rampson and Environmental Coordinator Matt Naud.
The city's Energy Commission, Park Advisory Commission, Housing and Human Services Advisory Board, Environmental Commission, Planning Commission and Housing Commission all passed unanimous resolutions in recent weeks recommending the City Council initiate the process to adopt the 16 goals as part of the city's master plan.
With the resolution approved Monday night, the City Council is directing the Planning Commission to initiate that process, as well as directing the city administrator to apply the 16 goals in continuing staff work on the sustainability action plan.
Here are the 16 goals:
CLIMATE AND ENERGY
Sustainable Energy — Improve access to and increase use of renewable energy by all members of our community.
Energy Conservation — Reduce energy consumption and eliminate net greenhouse gas emissions in our community.
High Performance Buildings — Increase efficiency in new and existing buildings within our community.
COMMUNITY
Engaged Community — Ensure our community is strongly connected through outreach, opportunities for engagement, and stewardship of community resources.
Diverse Housing — Provide high quality, safe, efficient, and affordable housing choices to meet the current and future needs of our community, particularly for homeless and low-income households.
Human Services — Provide services that meet basic human needs of impoverished and disenfranchised residents to maximize the health and well-being of the community.
Safe Community — Minimize risk to public health and property from manmade and natural hazards Active Living and Learning - Improve quality of life by providing diverse cultural, recreational, and educational opportunities for all members of our community.
Economic Vitality — Develop a prosperous, resilient local economy that provides opportunity by creating jobs, retaining and attracting talent, supporting a diversity of businesses across all sectors, and rewarding investment in our community.
LAND USE AND ACCESS
Transportation Options — Establish a physical and cultural environment that supports and encourages safe, comfortable and efficient ways for pedestrians, bicyclists, and transit users to travel throughout the city and region.
Sustainable Systems — Plan for and manage constructed and natural infrastructure systems to meet the current and future needs of our community.
Integrated Land Use — Encourage a compact pattern of diverse development that maintains our unique sense of place, preserves our natural systems, and strengthens our neighborhoods, corridors, and downtown.
RESOURCE MANAGEMENT
Clean Air and Water — Eliminate pollutants in our air and water systems Healthy Ecosystems - Conserve, protect, enhance, and restore our aquatic and terrestrial ecosystems.
Responsible Resource Use — Produce zero waste and optimize the use and reuse of resources in our community.
Local Food — Conserve, protect, enhance, and restore our local agriculture and aquaculture resources.
Ryan J. Stanton covers government and politics for AnnArbor.com. Reach him at ryanstanton@annarbor.com or 734-623-2529. You also can follow him on Twitter or subscribe to AnnArbor.com's email newsletters.