Posted on
Wed, Jul 21, 2010 : 6:03 a.m.
Ann Arbor City Council allocates $1.27 million from general fund for human services programs
By Ryan J. Stanton
The Ann Arbor City Council allocated $1.27 million from the city's general fund Monday night to several community nonprofit agencies for human services programs.
The funding was previously approved as part of the city's fiscal year 2010-11 budget, but the allocations weren't yet finalized.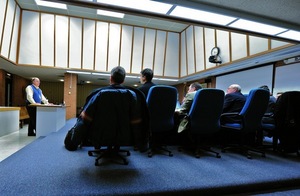 The resolution approved by the City Council states all projects being funded must give priority to low-income residents and performance by each nonprofit agency will be monitored by the city-county Office of Community Development.
In response to a formal request for proposals, the city-county Office of Community Development received 67 proposals for grant funding from 47 nonprofit entities. Their requests totaled $3.8 million.
The proposals were reviewed by the Joint Human Services Review Committee, which is comprised of three members appointed by the City Council, three members from the Urban County and three Community Development staff members.
In addition to money from the city's general fund, $343,000 in Community Development Block Grant funds are being distributed to various human services agencies, along with $100,000 from Washtenaw County government's general fund.
Mayor John Hieftje recently stated that while the state and county have cut funding for human services, Ann Arbor actually has increased its commitments over the years and remains one of only two cities left in the entire state of Michigan that still allocates money from its general fund for human services programs.
Here's the complete list of agencies and grant amounts:
City of Ann Arbor General Fund
Ann Arbor Center for Independent Living, Inc. $25,500
Ann Arbor YMCA $5,850
Avalon Housing, Inc. $80,750
Barrier Busters Action Group $20,000
Big Brothers Big Sisters of Washtenaw County $9,000
Catholic Social Services of Washtenaw
• Fr. Patrick Jackson House $12,100
• The Oaks $10,000
• Maximizing the Independence $22,000
• Emergency Food Program $6,300
• Employment Skills/Goal Setting Workshops $17,550
• Neighborhood Senior Services $50,000
Child Care Network $210,000
Community Action Network
• Preventing Evictions of Hikone & Green Baxter $20,400
• School Comes First! Hikone and Green Baxter $23,800
• Food & Health Care Hikone and Green Baxter $8,500
Community Housing Alternatives $8,500
COPE $19,295
Domestic Violence Project, Inc. $38,250
Family Learning Institute $26,076
Food Gatherers $123,200
HIV/AIDS Resource Center
• HIV/AIDS Housing Assistance Program $13,200
• Harm Reduction Program $5,000
Home of New Vision $25,000
Interfaith Hospitality Network of Washtenaw Co. $38,500
Jewish Family Services of Washtenaw County $10,000
Legal Services of South Central Michigan $73,000
Michigan Ability Partners
• Housing Supports Team-Permanent $34,000
• Representative Payee $18,121
Packard Health Inc. $38,250
Planned Parenthood Mid and South Michigan $15,000
UM Ann Arbor Meals on Wheels
• Meal Delivery to the Under Age 60 Homebound $10,000
• Weekend Meal Delivery $16,000
UM Nurse Managed Centers/Maple Meadows $16,250
UM Housing Bureau for Seniors $24,000
The Student Advocacy Center of Michigan $19,500
The Women's Center of Southeastern Michigan $30,000
Washtenaw County CSTS/Project Outreach (PORT) $117,700
Washtenaw Literacy $27,500
SUBTOTAL $1,268,092
Human Service Contingency $7,652
TOTAL $1,275,744

Washtenaw Urban County CDBG Funds
(Including City of Ann Arbor portion)
CDBG Public Service Funds
Northfield Human Services $40,885
Ozone House, Inc. $51,700
Shelter Association of Washtenaw County
• Shelter Association Service Center $58,300
• Night Shelter Program $151,015
• Delonis Center Health Clinic $32,500
SOS Community Center (See WC GF as well)
• Housing Crisis Services $8,600
TOTAL $343,000

Washtenaw County General Fund
SOS Community Services
• Housing Crisis Services (See CDBG) $46,400
• Homeless School-Aged Children's Program $13,200
The Corner Health Center $20,000
Ypsilanti Meals on Wheels $20,400
TOTAL $100,000
Ryan J. Stanton covers government and politics for AnnArbor.com. Reach him at ryanstanton@annarbor.com or 734-623-2529.