Posted on
Fri, Nov 11, 2011 : 5:59 a.m.
Ann Arbor City Council starts changes to pedestrian safety ordinance
By Ryan J. Stanton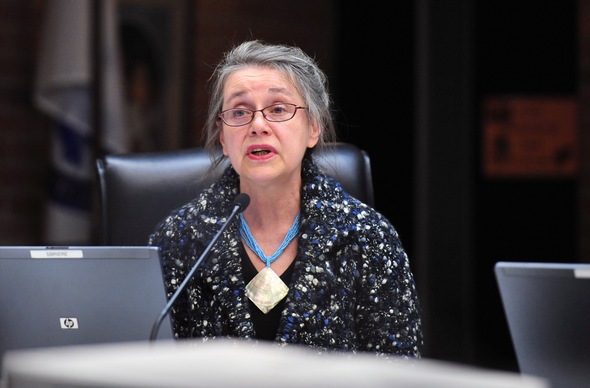 Ryan J. Stanton | AnnArbor.com
The
Ann Arbor City Council
took the first step toward revising the city's controversial
pedestrian safety ordinance
Thursday night.
Council members voted 10-0 to give initial approval to amendments offered up by Council Members Sabra Briere, D-1st Ward, Margie Teall, D-4th Ward, and Christopher Taylor, D-3rd Ward. The changes are expected to come back for final approval by December.
The ordinance language voted on at Thursday's meeting differs substantially from a version released earlier this week. The earlier version would have eliminated the requirement that motorists in Ann Arbor must stop for pedestrians approaching crosswalks.
The new language still gets rid of the vague term "approaching," but it doesn't go so far as to require pedestrians to be "within" the street to get motorists to stop for them.
It now states that when traffic control signals are not in place or not in operation, drivers must stop — before entering a crosswalk — and yield to any pedestrians "stopped at the curb or ramp leading to a crosswalk." Drivers also must continue to stop for pedestrians within crosswalks, and without regard to which portion of the roadway the pedestrian is using.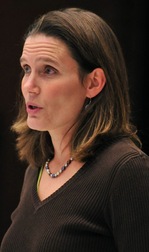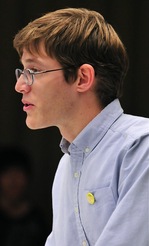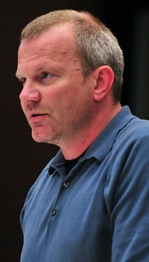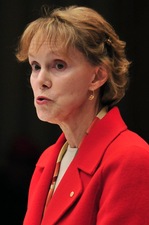 "I believe that it advances public safety by providing pedestrians with the right-of-way without obligating them to enter the crosswalk," Taylor said of the changes to the ordinance. "And it also provides drivers with much-needed clarity as to when they are obligated to stop for pedestrians."
Briere said when the ordinance was passed in July 2010, council members discussed the use of the word "approaching" and unanimously embraced it.
"But a year has passed and we've heard a lot of conversation in the community about the difficulty of understanding exactly what approaching means," she said.
Several residents, including original supporters of the pedestrian safety ordinance, addressed the council Thursday night and offered support for the revisions. Many were just happy the council wasn't going to repeal the ordinance after recent accidents at crosswalks.
Erica Briggs, a city planning commissioner and board member for the Washtenaw Bicycling and Walking Coalition, said the changes help strengthen and clarify the ordinance.
"We share the concerns that we have heard voiced in the public," Briggs said. "People are right to be mad. But the solution is not to back-pedal, but to really continue to press forward."
She and other speakers encouraged council to adopt crosswalk design guidelines and prioritize certain crosswalks for improvements. They also called for continued education efforts.
"Obviously, we're nowhere near where we want to be, but we're making really significant gains in our community," Briggs said.
Briggs relayed results of a recent survey of crosswalks that showed more drivers stopped for pedestrians in October than in April.
She said the stop rate increased from 1.15 percent to 12 percent on Stadium Boulevard near Arbor Farms Market, from 5.3 percent to 14 percent on Main Street between William and Liberty, from 1.7 percent to 9.5 percent near the Islamic Center on Plymouth Road, and from 8 percent to 24 percent on Liberty Street near Virginia.
Joel Batterman, an urban planning student at the University of Michigan and vice chairman of the WBWC, said the pedestrian safety ordinance is working.
"But the ordinance has also highlighted pre-existing problems of speeding and distracted driving, especially on Plymouth Road just a short distance from where I live," he said.
Having grown up in northeast Ann Arbor, Batterman said he knows traffic safety was an issue on Plymouth Road long before the pedestrian safety ordinance was passed.
"Two U of M students had to die trying to cross Plymouth at Bishop in 2003 before a crosswalk was installed there," he said. "And the highway-like engineering of the road continues to spur dangerous speeds around its curves.
"What's been needed on Plymouth for years is greater awareness and better facilities, not back-peddling on our commitment to pedestrian safety," he concluded.
Ann Arbor resident Thomas Collet said he grew up in Europe and now commutes regularly along Plymouth Road.
"It's atrocious how fast people are driving," he said, adding many people use their cell phones while driving. "I think that's a key cause of some of the traffic accidents that we've seen."
Police Chief Barnett Jones agreed distracted drivers — not pedestrians in crosswalks — are to blame for the rear-end accidents that have happened recently at crosswalks.
"That is a driver who is distracted," he said. "That is a driver who failed to yield. That is a driver who failed to keep their vehicle under control or is following too close."
Council Member Carsten Hohnke, D-5th Ward, was one of the original sponsors of the pedestrian safety ordinance.
"I just want to note for the public's benefit that the original language that we implemented last year was the result of a very thorough, inclusive, multi-stakeholder process that lasted almost two years," he said, noting that included physical audits of crosswalks and a publicly held forum in which police, city traffic engineers and experts from Lansing took part.
Kathy Griswold, a school safety and pedestrian advocate, questioned why the city needs a local pedestrian safety ordinance.
"Why are local politicians, with no apparent training or knowledge of transportation engineering best-practices, making and editing traffic engineering laws?" she said.
Isaac Gilman, an urban planning student at U-M, said he lives in an apartment complex off Plymouth Road and knows firsthand the pedestrian safety ordinance is needed.
"In my experience as a pedestrian on Plymouth Road, I find cars travel upwards of 40 to 45 mph when the posted speed limit is clearly 35," he said. "Trying to cross the street can be an arduous task. It sometimes takes as long as three to five minutes to make it safely across."
Council Member Sandi Smith, D-1st Ward, was absent Thursday.
Ryan J. Stanton covers government and politics for AnnArbor.com. Reach him at ryanstanton@annarbor.com or 734-623-2529. You also can follow him on Twitter or subscribe to AnnArbor.com's e-mail newsletters.