Posted on
Tue, Nov 15, 2011 : 9:29 a.m.
Ann Arbor DDA: 700,000 more trips per year made to downtown compared to 5 years ago
By Ryan J. Stanton
Ann Arbor Downtown Development Authority officials say they aren't worried a planned increase in parking rates will discourage people from visiting downtown.
Not after witnessing steady increases in downtown parking demand year after year — even as the DDA has continued to raise rates.
"Regardless of what the economy is or what people may say, there are a lot more people coming downtown," said DDA board member Roger Hewitt.
There were nearly 450,000 more visits to downtown parking lots and structures this past year compared to five years ago, Hewitt said.
The getDowntown program also has seen go!pass ridership increase by 82 percent in the last five years, with 421,771 rides counted in 2010-11, Hewitt said.
There now are more than 500 businesses that participate in the program, which provides bus passes to downtown employees, according to the DDA.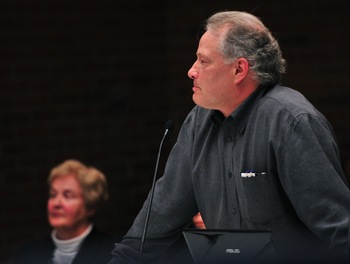 Ryan J. Stanton | AnnArbor.com
Between the go!pass increases and the parking increases, there were about 700,000 more visits to downtown Ann Arbor this past year compared to five years ago, said DDA Executive Director
Susan Pollay
.
Pollay and Hewitt gave a status report on the downtown parking system Monday night during a special work session of the Ann Arbor City Council.
The DDA is proposing parking rate increases expected to take effect in 2012 — starting with increases at lots and structures in February, and another increase in on-street meter rates taking effect in September.
The on-street meter rate is proposed to increase to $1.50 an hour, after already jumping from $1.20 to $1.40 an hour recently.
Additionally, the DDA plans to start charging by the hour instead of by the half-hour in hourly parking structures starting in February.
What's not being proposed for now is an extension of meter enforcement hours past 6 p.m., though DDA officials sound confident that'll come eventually.
According to data provided at Monday's meeting, parking in downtown Ann Arbor is competitive when compared to Lansing, East Lansing, Grand Rapids and Kalamazoo.
Hourly structures:
Ann Arbor — $1.20/hour (in 2012)
Lansing — $2-$2.50/hour current
Grand Rapids — $2-$4/hour current
Kalamazoo — $1.25-$2/hour current

Hourly lots:
Ann Arbor — $1.40-$1.60/hour (in 2012)
East Lansing — $1.30-$1.60/hour current
Kalamazoo — $1.25-$1.50/hour current

Hourly meters:
Ann Arbor — $1.50/hour (in 2012)
Grand Rapids — $1.50/hour current
The DDA's comparisons don't show data for communities like Ferndale, Birmingham and Royal Oak that charge between 50 cents and $1 an hour for hourly meters. At least Birmingham and Royal Oak also provide free parking incentives to lure visitors downtown.
Monday's meeting was purely for informational purposes, though multiple council members, including Mayor John Hieftje, appeared impressed with the DDA's presentation. The DDA does not need council approval to implement the changes. Hieftje also sits on the DDA board.
The DDA manages the city's 7,200-space parking system, which includes six structures with about 4,300 spaces, 18 lots with about 1,200 spaces and about 1,700 on-street metered spaces. Annual revenue from those sources is more than $16 million.
"Operations take about 46 percent of that money," Hewitt said. "Our debt service is 17 percent, transfers to the city under the new parking agreement is 17 percent, long-term maintenance is 17 percent also, and 3 percent to alternative transportation."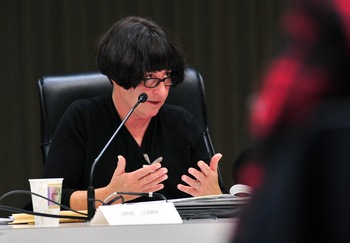 Ryan J. Stanton | AnnArbor.com
Hewitt said the DDA planned several years of parking meter rate increases to help finance the new underground parking structure being built along Fifth Avenue downtown. He said he hopes the next increase in September will be the last one that's above inflation.
As for the possibility of future evening enforcement of parking meters, Hewitt said DDA officials have learned from the business community that the concern is more about tickets.
"I certainly understand and sympathize with the concern of nighttime businesses, of which I'm one, not wanting their patrons to get parking tickets in the evening," he said. "I mean, that's probably the biggest negative people have coming down here."
Pollay said the DDA continues to explore ways to use technology to improve customer service. In the coming year, she said, there will be 22 new electric car charging stations set up in various parking structures thanks to a U.S. Department of Energy grant.
Another of the DDA's goals, Pollay said, is to improve communication with businesses and educate downtown employees about various parking and transportation options.
Hewitt said the new underground parking structure on Fifth Avenue will be open before the end of 2012. Meanwhile, the First and Washington parking lot is expected to close so the Village Green apartment project — officially known as Ann Arbor City Apartments — can get under way. It includes a 244-space parking structure that will be owned by the city.
The Fifth and William lot — the site of the old YMCA — also is expected to be closed temporarily in 2012 for the construction of the new Blake Transit Center, Hewitt said.
(This story has been revised to correct a factual error in a photo caption.)
Ryan J. Stanton covers government and politics for AnnArbor.com. Reach him at ryanstanton@annarbor.com or 734-623-2529. You also can follow him on Twitter or subscribe to AnnArbor.com's e-mail newsletters.