Posted on
Tue, Dec 22, 2009 : 6:01 a.m.
Ann Arbor City Council holds off on expanding parking meter enforcement hours
By Ryan J. Stanton
Ann Arbor City Council members held off Monday night on a proposal to extend the hours of downtown parking meter enforcement from 6 p.m. to 10 p.m.
Instead, they came up with a plan to have the Downtown Development Authority evaluate all options and report back to the City Council on April 19. They're asking for a more comprehensive plan for parking enforcement in downtown Ann Arbor - one that still could include evening enforcement.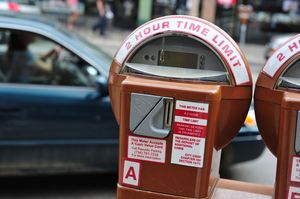 Ryan J. Stanton | AnnArbor.com
Council Member Sandi Smith, D-1st Ward, caused some commotion last week when she announced her intentions to bring forward a resolution to expand the hours of on-street meter enforcement. Residents, fellow council members and business groups took varying stances on the proposal over the weekend.
By the time Smith got to Monday night's meeting, she had revised her resolution to take into consideration the input she received. After a few more modifications by her peers - and even a brief recess for some more tweaking - the City Council now has a game plan.
The new resolution asks the DDA to present a plan to the council on parking management options, including hours and methods of enforcement, options for low-cost parking for downtown employees and variation of rates and meter time limits based on location. It also asks for a plan to communicate with downtown patrons, merchants and employees regarding parking enforcement.
"I think it essentially says the same thing - that the city will not continue to be in the business of installing parking meters, and they're going to, in a sense, bank on their authority: The DDA," Smith said after the council voted 9-0 on the resolution.
Council Member Stephen Kunselman, D-3rd Ward, joined Smith in sponsoring the resolution. It calls for the city to discontinue plans to install its own parking meters in near downtown neighborhoods, which is something Smith and others have been fighting all year as they've worked to find other sources of revenue.
Ray Detter of the Downtown Citizens Advisory Council told council members he thought the city's plan to install new parking meters was poorly thought out. He said it represented the creeping commercialization of near downtown neighborhoods.
"We believe that all parking should be managed by the DDA," Detter said. "The city should terminate any further attempt to put parking meters in residential neighborhoods surrounding the downtown."
Smith cited a 2007 study known as the Nelson/Nygaard report, which recommended all public parking in downtown Ann Arbor be managed by the DDA. Having dual management of two different on-street parking systems was confusing and a duplication of administration and other costs, she and Kunselman concluded.
Under an agreement with the city, the DDA has managed off-street public parking since 1992 and on-street metered parking since 2002 for a combined public parking system of about 7,100 parking spaces.
Kunselman and Smith pointed out the agreement stipulates the DDA has uninterrupted operation of the public parking system, yet the city-approved budget for the current fiscal year and next year shows new revenues to be generated for the city from installing and operating parking meters of its own in locations adjacent to DDA-managed boundaries.
The resolution approved Monday night also includes changes to the handling of revenues from the surface parking lot at the corner of Fifth and William. The City Council previously approved a resolution asking the DDA to demolish the former YMCA building and temporarily install a surface parking lot until a council decision was made about the future reuse of the site.
Smith pointed out that parking lot is not included in the parking agreement between the city and DDA. The approved resolution now directs net revenues from the lot to the city, similar to a deal reached for the city lot at 415 W. Washington St.
Smith anticipates the city will collect between $20,000 and $22,000 a month in new revenues from the YMCA lot under the changes. That money can be used to offset some of the projected shortfall from not installing meters in neighborhoods, she said.
Smith said she's still interested in hearing from the DDA on evening parking enforcement options. The same 2007 study she cited Monday night found 100 percent of on-street meters were filled during evening hours, versus 68 percent during daytime hours. She said that demonstrates a need for evening parking enforcement as a tool to encourage parking turnover.
Smith and Kunselman stated in their resolution that downtown Ann Arbor has changed dramatically over the past 25 years, with much more evening commerce and activity due to an increase in the number of restaurants and entertainment opportunities. Yet the hours of parking enforcement have not changed to keep up with the change in customer needs, the resolution says.
After approving the resolution Monday night, the council unanimously decided to table a separate resolution to spend $87,000 on new parking meters.
The City Council voted unanimously in October to extend a moratorium on installing new parking meters in neighborhoods until Dec. 14. That ban is no longer in effect, but City Council approval is needed to move forward with any purchases.
Ryan J. Stanton covers government for AnnArbor.com. Reach him at ryanstanton@annarbor.com or 734-623-2529.