Posted on
Wed, Sep 7, 2011 : 5:59 a.m.
Ann Arbor City Council members debate legality of using street millage dollars for public art
By Ryan J. Stanton
The debate over public art continued Tuesday night with Ann Arbor City Council Member Stephen Kunselman, D-3rd Ward, calling the city's Percent For Art Program illegal.
Specifically, Kunselman raised concerns about the city's channeling of more than $500,000 in dedicated street millage dollars to the public art fund over the last four years.
"Until we get the opinion from the city attorney, as required by charter, and until there's some administrative rules put forth by the administration in terms of the functioning of this funding methodology, I will continue to say it's illegal," said Kunselman, one of four council members who sought to reduce funding for public art in the last round of city budget cuts.
City Attorney Stephen Postema said last week his office has reviewed the Percent For Art Program, and he's not aware of anything illegal about what the city is doing. He said he'll gladly issue a written opinion when the council as a whole directs him to do so.
Council Member Carsten Hohnke, D-5th Ward, offered a rebuttal to Kunselman's comments after Tuesday's meeting, arguing many cities across the country have similar programs.
"There's clearly a precedent for this type of program out there, and to say that funds are being transferred out of a millage is not an accurate interpretation," he said.
Under an ordinance approved by the City Council in 2007, 1 percent of the budget for all city capital projects — up to $250,000 per project — is set aside for public art.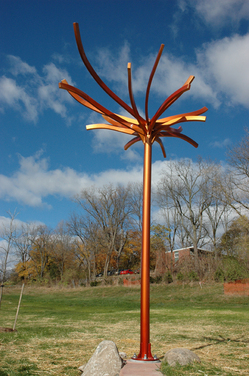 Courtesy of City of Ann Arbor
Nearly four years since the launch of the program, more than $2.2 million in city funds has been channeled toward public art, records show.
That includes $539,000 from the city's street millage, $40,000 from the parks millage, $907,000 from the sewer utility, $367,000 from the water utility, $60,000 from the stormwater utility, $38,000 from the solid waste fund and lesser amounts from the airport and energy funds.
The city's administration stresses that all public art projects must serve a purpose somehow related to the source funds. For instance, $750,000 in utility funds is paying for a sculpture being installed outside of city hall that will recycle stormwater.
But with the city's street millage up for renewal in November — along with a slight increase to fund sidewalk repairs — Kunselman said there's concern the city is taking money from dedicated millage accounts and transferring it to public art.
"The state law says under a millage you have to have a clear statement of purpose of the millage," Kunselman said, arguing art isn't in the street millage's stated purpose.
He read aloud a statement posted on the Tuscola County government website. He said Tuscola County has a number of special millages and county officials there have posted the message to give voters confidence that the millage dollars they approve are used as stated.
"The Board of Commissioners does not have the legal authority to remove funds from the special purpose millage accounts for any purpose other than what the voters in Tuscola County approved the funds to be spent on," Kunselman said, reading the statement. "Simply put, the Board of Commissioners can not reallocate funds from one account to another."
Kunselman argued the same applies to Ann Arbor.
"I've said it time and time again, transferring monies out of the street millage account to the art fund is illegal," he said, "whether you did it by ordinance or any other means."
Hohnke argued dedicating portions of capital dollars to art is similar to the council instructing city staff to use high-quality materials versus low-quality materials in construction projects.
"It's not transferring money out of that particular millage," he said. "It's simply saying this is how we're going to deploy these capital resources for this project. We're simply saying that having an artistic representation of a project is part of what we want out of that project. So it's not removing it from a millage and spending it on something entirely different."
Council Member Sabra Briere, D-1st Ward, said she hopes Kunselman will bring forward a resolution at a future meeting recommending an ordinance change that meets his goals. She said she plans to bring forward her own resolution spelling out how the council plans to account for and spend money from the street millage if it's renewed in November.
In a recent e-mail newsletter sent to residents, Briere shared a report on the street millage's revenue and expenditures going back to fiscal year 2007-08. (Download it here.)
The Public Art Commission, which oversees the public art program, also has submitted its annual report to the City Council. (Download it here.)
City officials said the city received 73 qualification statements from artists looking to take on a $150,000 art project in the lobby of the new Justice Center building.
Aaron Seagraves, the city's public art administrator, said 24 of the statements — about a third of them — came from Michigan artists. He said none of the artists have offered formal proposals at this point — only information about past work and statements of interest.
A panel is expected to select a group of about five finalists by Sept. 30, and the final proposals are due Dec. 1. A final artist could be selected by the Public Art Commission in January.
Despite the fact that $250,000 is shown earmarked for art in the Municipal Center project budget, Seagraves said only about $150,000 of that will be spent and the rest will go back into the pooled art fund after the project is finished.
City officials have told artists the lobby artwork should be a ceiling-mounted or suspended piece that will make an impression looking in from both Fifth Avenue and Huron Street during the day and at night, with either incorporated or reflected lighting. They also want the artwork to complement the building and surrounding site environment, and speak to the public purposes of the building: public safety, justice, equality and security.
Ryan J. Stanton covers government and politics for AnnArbor.com. Reach him at ryanstanton@annarbor.com or 734-623-2529. You also can follow him on Twitter or subscribe to AnnArbor.com's e-mail newsletters.