Posted on
Mon, Apr 4, 2011 : 9:42 p.m.
Ann Arbor City Council rejects downtown conference center proposal in 8-2 vote
By Ryan J. Stanton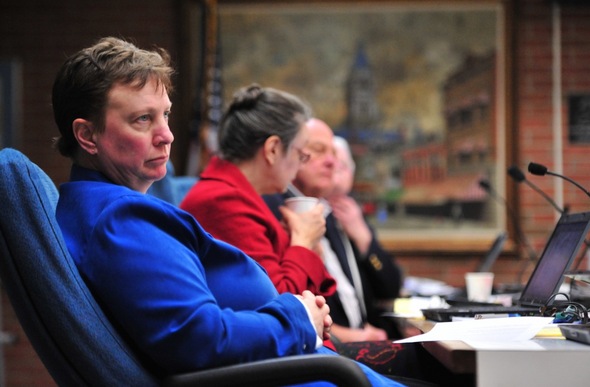 Ryan J. Stanton | AnnArbor.com
(This story has been updated.)
The Ann Arbor City Council voted 8-2 tonight to reject a New York-based developer's proposal to build a hotel and conference center on city-owned property downtown.
The vote came after more than an hour of debate during which council members in favor of rejecting the Valiant Partners proposal expressed concerns about the project's viability and potential financial risks to the city.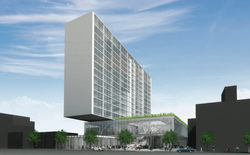 Only two council members — Margie Teall and Tony Derezinski — were in favor of giving further consideration to Valiant's proposal. They expressed concerns that the city's formal request-for-proposals process was being cut short.
"I don't understand why we are taking a vote this early before the process has been given a chance to get to where we were supposed to take a vote," Teall said, noting that Valiant wasn't given a chance to respond to issues raised.
"These petitioners are more than willing to work with us," she said. "This process cannot be an all-or-nothing deal. There has to be room for negotiations, but we aren't giving them the chance."
Valiant was not at tonight's meeting and has been unreachable since last week.
The approved resolution rejects a letter of intent that was supposed to come back before council on April 19. The letter of intent would have laid the framework for negotiations toward a complete development agreement with Valiant, which was asking to build on a piece of city-owned property known as the Library Lot.
The site is located along South Fifth Avenue between Liberty and William, where the Downtown Development Authority is building a $50 million underground parking garage. The city in 2009 sought proposals from developers interested in building atop the garage once it's finished, and Valiant's proposal rose to the top last year in committee discussions.
In recent weeks, it has appeared increasingly unlikely that Valiant's proposal for a 150-room hotel and 26,000-square-foot conference center would have gotten the eight votes needed from the 11-member council when it came time to decide on a final deal.
Council Member Stephen Kunselman added his name to the list of co-sponsors of tonight's resolution, along with Mayor John Hieftje and Council Members Stephen Rapundalo, Christopher Taylor, Sandi Smith and Sabra Briere.
Rapundalo was absent.
"What I think this comes down to is whether or not you have confidence that this concept will ever work," Hieftje said, adding he didn't think the project was feasible.
The council added a clause to the resolution before tonight's meeting to stipulate that future planning and proposals for the site will include a robust public process.
However, as passed by council, it still states whatever future project is contemplated must compensate the city with fair market value and a positive financial return, contribute to the tax base, add vitality and density to downtown and provide open space.
Valiant had estimated its project could turn a profit and potentially kick back more than $270,000 a year to the city's general fund, but some had doubts the city would ever see that money.
Council members expressed concerns that, legally and financially speaking, the city would be in a subordinate position, meaning Valiant's first obligation would be to make its primary debt payments, and the city would risk the potential of never seeing a dime for the property if cash flow from hotel operations wasn't what was projected — which has happened in other cities that have bought into conference center proposals.
For instance, the city of Bay City loaned $4 million to help finance a hotel and conference center that opened in its downtown in 2004. Seven years later, the city hasn't been paid because cash flow hasn't been in excess of primary debt payment amounts.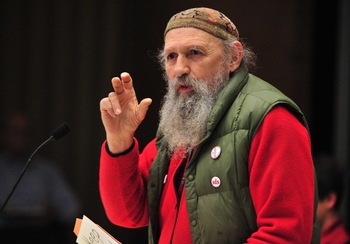 Ryan J. Stanton | AnnArbor.com
"The way I understood the last proposal, as it was presented to us, was it was almost like a land lease where there would be annual payments to the city," Smith said, adding the city also would have gotten a percentage of condo sales. "However, the first lien holder was in the primary position, so should there not be enough money left over, the secondary party paid would be the city. So that, to me, represents a risk that I think is totally unacceptable to the taxpayers."
Smith, a real estate professional, said she thinks the Library Lot is the city's most valuable piece of land, possibly worth as much as $8 million or $10 million. She and other council members said they've never seen an appraisal of the property, though.
Ann Arbor resident Alan Haber, one of the leaders of a push to see the site developed as an urban park, chastised city leaders tonight for overlooking his "community commons" idea.
"Your advisory committee did not give it fair hearing," he said. "They did not allow questions to be asked and answered. It was not a fair process."
Haber and other members of the audience carried signs that read "Keep A2 Lot Public." They also wore buttons in opposition to the conference center proposal.
Hieftje said Haber's idea doesn't have to go away.
"It can certainly be kept alive, and we can start a conversation about where in our city it would fit best," he said. "But does it need to be in what is probably the most valuable site in downtown real estate perhaps right now in the entire state of Michigan?"
As for what goes on the Library Lot, Hieftje said the city has to honor the $5.4 million invested into infrastructure to make sure it's suitable for development, and so it can't just be a park. He said there are other areas near downtown where a park could work, though.
"You heard about the one at 415 W. Washington tonight," he said. "That's the first phase of the greenway. There's another one on North Main, a very large parcel. There's another one on First and William, which is right now a surface parking lot that needs a pollution cleanup. All of those have been designated to be part of the greenway."
Despite rejecting Valiant's proposal and concluding the RFP process, council members expressed hope that developing the Library Lot site would remain a priority.
"For me," Briere said, "this is hitting the reset button."
Ryan J. Stanton covers government and politics for AnnArbor.com. Reach him at ryanstanton@annarbor.com or 734-623-2529. You also can follow him on Twitter or subscribe to AnnArbor.com's e-mail newsletters.