Posted on
Thu, Nov 8, 2012 : 1:20 p.m.
Ann Arbor City Council to consider resolution to opt out of countywide transit authority
By Ryan J. Stanton
A resolution on Thursday night's Ann Arbor City Council agenda could effectively end current talks of expanding transit services throughout Washtenaw County.
At the same time, it could be the start of new talks and a new plan, taking the current discussion around countywide transit in a new direction.
Mayor John Hieftje and four council members — Sabra Briere, Christopher Taylor, Marcia Higgins and Stephen Kunselman — are sponsoring the resolution to withdraw from the Washtenaw Ride, the countywide transit authority created to replace the Ann Arbor Transportation Authority.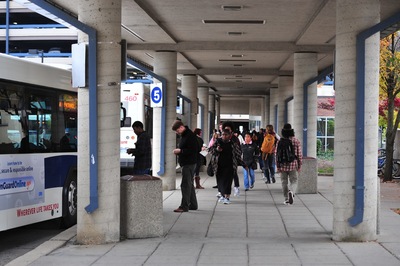 Ryan J. Stanton | AnnArbor.com
It's not an outcome Hieftje and others wanted, but it has become increasingly clear in recent weeks that the AATA's current plan doesn't have much support outside the county's urban core.
Given that several outlying townships have opted out of the countywide authority, Hieftje said this week he's in favor of taking a step back and reassessing.
"I appreciate the fact that AATA has gotten the question out there and gotten that conversation going," he said. "This particular version of it doesn't look like it's going to work, but that's fine. Maybe we need to look more at the core — the cities and townships closest to Ann Arbor."
The resolution terminates the four-party transportation agreement the city entered into earlier this year with the AATA, Washtenaw County and Ypsilanti. That agreement laid the framework for morphing the AATA into a new countywide transit authority, a plan that's now on life support.
Hieftje said it might make more sense to start a new discussion about expanding transit services in the county's urban core. The resolution council will consider encourages the AATA to continue discussions with Ann Arbor, Ypsilanti, Ypsilanti Township, Ann Arbor Township and Pittsfield Township, with hopes of finding a better way of improving local transit options.
"This resolution steps back from a countywide approach and encourages AATA to increase service through cooperation among urban core communities," Taylor said. "Expanded mass transit will grow Ann Arbor's economy and reduce traffic congestion. I am confident that AATA can get it done."
AATA spokeswoman Mary Stasiak said it will be disappointing if Ann Arbor decides to opt out since the Washtenaw Ride depends on Ann Arbor being at the table.
Either way, she said, the AATA will continue conversations with core urban communities that have indicated a desire to partner on expanding public transportation services. In addition to the communities named in the council's resolution, she mentioned Scio and Superior townships.
Both of those townships actually opted out of the Washtenaw Ride, but Stasiak said many of the municipalities opting out still are interested in expanding transit options somehow.
"I think people have expressed a pretty strong interest in being a part of our regional transit network, so our job is to continue conversations to figure out how to get it implemented," she said. "There is overwhelming support for expanded public transit in Washtenaw County. It's just a matter of how we get there and I think this allows us to go back to the table."
So far the only communities that have not opted out of the Washtenaw Ride are Ann Arbor, Ypsilanti, Saline, Ypsilanti Township and the village of Dexter.
The council's resolution notes the funding mechanism and other details of the proposed plan for the Washtenaw Ride remained uncertain when the articles of incorporation were filed. And those were reasons some municipalities cited when opting out of the new authority.
"While there was conceptual support from township and municipality leaders for an expanded transit system, many elected leaders concluded that the prudent act was to opt out of the new public transportation authority," the resolution states.
The resolution further states: "The opportunity to improve transportation in the region continues to be of interest to the City Council, although the mechanism to achieve this goal is less clear."
Ann Arbor officials said it seemed from outreach efforts over the last few years that many residents support the concept of increased mass transit options — options that would be available to all residents from the four corners of the county and every city, village and township in between.
"But there were always barriers," reads a memo accompanying the resolution on Thursday's council agenda. "How much would this plan cost, who would pay for it, how would it be paid for and — most important in many minds — who would decide."
Stasiak said however the vote goes Thursday night, AATA officials are encouraged by all of the participation they received through the countywide planning effort.
"It is a really important issue for our continued economic vitality in this region," she said. "I also think, as far as trying to move forward a regional initiative, we recognize it's a marathon, it's not a sprint."
Stasiak added, "It's important that Ann Arbor is at the table."
Ryan J. Stanton covers government and politics for AnnArbor.com. Reach him at ryanstanton@annarbor.com or 734-623-2529. You also can follow him on Twitter or subscribe to AnnArbor.com's email newsletters.