Posted on
Mon, Jul 5, 2010 : 3:17 p.m.
Ann Arbor City Council to vote on resolution opposing Arizona's controversial immigration law
By Ryan J. Stanton
Ann Arbor is on the radar of the ACLU and other national civil liberties groups today as City Council members prepare to consider a resolution Tuesday urging the repeal of Arizona's controversial Senate Bill 1070.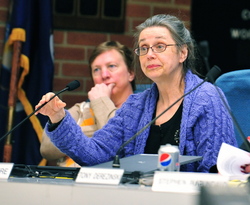 Ryan J. Stanton | AnnArbor.com
According to the ACLU, approval of the resolution will make Ann Arbor the first Michigan city to go on record against the so-called anti-immigrant law that the group claims violates individual civil rights.
"This law encourages racial profiling and may violate Fourteenth Amendment guarantees of due process and equal protection for U.S. citizens, legal residents and visitors who are detained for suspicion of being in the country unlawfully," reads the resolution sponsored by Sabra Briere and Sandi Smith, both Democrats from the 1st Ward.
Read the entire resolution here.
"Tell Ann Arbor City Council you support human rights," reads the ACLU's Web page set up to gather electronic signatures of support.
The law signed into effect by Arizona's governor on April 23 has caused national controversy.
The ACLU argues the law requires local law enforcement to investigate a person's immigration status based solely on the vague notion of "reasonable suspicion" that the person is in the country unlawfully. Not only does the law invite racial profiling, the ACLU asserts, it also forces local police to redirect scarce resources away from the prevention of more serious crimes.
The ACLU says with Michigan's House and Senate introducing copycat legislation, Michigan cities should go on record opposing the "dangerous, unfair and discriminatory laws that run counter to the American values of freedom and equality."
Michigan Peaceworks, a statewide civil rights group, also is supporting passage of the City Council resolution on its website.
Vivirlatino.com, a blog on topics of interest to the Latino and Latina community in the United States, also is talking about the Ann Arbor resolution today on its site.
The Ann Arbor City Council has a history of stepping into the debate on national immigration issues. In 2003, the council passed a resolution to protest the eroding of civil liberties under the U.S. Patriot Act, saying it posed a threat particularly to Muslim, Arab and South Asian immigrant populations in Ann Arbor, home to the University of Michigan.
Ryan J. Stanton covers government and politics for AnnArbor.com. Reach him at ryanstanton@annarbor.com or 734-623-2529.