Posted on
Sat, Dec 4, 2010 : 3:28 p.m.
Ann Arbor city departments asked to trim budgets to address $2.4 million shortfall
By Ryan J. Stanton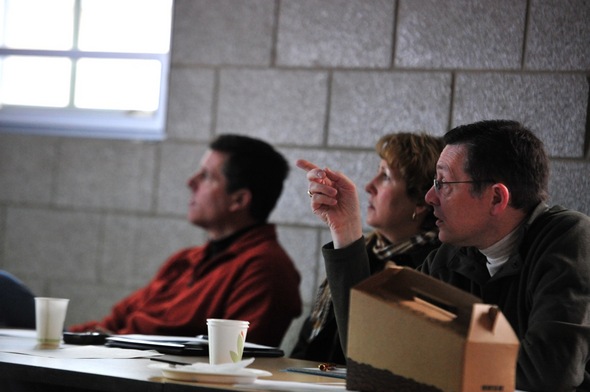 Ryan J. Stanton | AnnArbor.com
The tough work begins now, City Administrator Roger Fraser told Ann Arbor City Council members during an all-day city budget retreat today.
Top city officials met in the Wheeler Service Center at 4251 Stone School Road for six hours to talk about the city's looming financial challenges.
The city's administration revealed a new forecast showing a $2.4 million shortfall in the general fund for fiscal year 2011-12, which starts July 1.
Budget challenges of a similar magnitude are projected for 2012-13, according to Tom Crawford, the city's chief financial officer.
City officials will be tasked with developing a two-year budget plan over the course of the next several months, and it won't be easy.
"After all the cuts we've done leading up to now, I don't see how we can get another $2.5 million out without having some impact to services," Crawford said. "This is the start of the conversation on what the impacts might be. We don't see revenue coming back soon, so we need to have some bigger discussions on what services are going to be provided and how."
The city predicts property tax collections and state revenue sharing will remain mostly flat over the next two years, while interest rates on city investments stay near zero percent. The challenge is that costs, such as employee healthcare and retiree benefits, continue to rise.
As the city looks at its budget strategy, Fraser said, city officials need to align that with the city's labor strategy and push for increased concessions from city unions.
Each city department will be asked to trim 2.5 percent to 4 percent from their budgets for next year, Fraser said. Departments largely staffed by employee groups that haven't agreed to changes in their healthcare will be asked to make deeper cuts than others, he said.
Data presented today show active employee healthcare costs have risen substantially since June 2003, when they checked in at $5,173 per employee. As of June 2010, that had risen to $11,441 — 17 percent above the national average, which is $9,740.
The numbers are even higher for certain city unions that contribute little to the cost of their healthcare, city officials said. Individual AFSCME employees cost the city $12,310 a year, while police officers cost $13,121, and firefighters $12,871.
Settlements of new labor contracts with the police officers, firefighters and AFSCME unions are on the horizon and could result in the departure of a significant number of experienced employees, absent the kind of concessions the city is after, Fraser said.
"We cannot continue to pare down the number of employees and still provide the services we're providing," he said, hoping cuts to personnel numbers can be avoided.
Mayor John Hieftje said he doesn't have any confidence that the police and firefighters unions will make the concessions the city is asking, though. Unfortunately, that means "we're going to continue to have fewer and fewer employees," he said.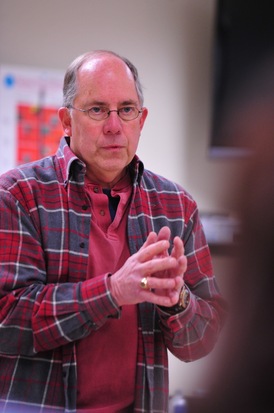 Ryan J. Stanton | AnnArbor.com
"I don't know how you get away from that."
Council Members Margie Teall, D-4th Ward, and Stephen Rapundalo, D-2nd Ward, wondered whether city employees are fully aware of the consequences of not making sacrifices.
"What I perceive there to be is either really a lack of understanding and appreciation or an unwillingness to understand the impacts," Rapundalo said.
At this time last year, Fraser announced a similarly grim budget forecast for the current year, which required closing a gap of more than $5 million — although $2 million of that was filled in with a continuation of parking revenue transfers from the Downtown Development Authority.
The city's predictions for the coming year now assume upfront that the DDA transfers to the general fund will continue. Without that money — to compare the budget picture more accurately to last year — the city would be talking about a $4.4 million deficit right now.
Last year's budget process was one of the most painful in recent memory. City leaders spent months anguishing over proposed cuts, and police and fire became a major target. In the end, actual cuts were much less severe than originally feared.
Fraser called this past year the most difficult of his entire career. But he said "the good news is we may be at the bottom of the barrel in terms of this sloping line."
As of June 2010, the city's pension system was 90 percent funded, according to new data released today. The retiree healthcare trust was only 30 percent funded.
Council members received a four-page sheet showing a summary of city services and areas of the budget where significant sums of money are dedicated.
With police services at $23.1 million and fire services at $13.8 million, public safety continues to account for about half the general fund. Other major areas of the budget include solid waste, parks and recreation, utilities, information technology and courts.
City officials spent time brainstorming ways to cut costs in various service areas, ranging from street sweeping to mowing city parks. Two specific ideas floated were the privatization of solid waste collection and switching the fire department to a new paid on-call system.
Council Member Stephen Kunselman, D-3rd Ward, questioned why the city has made cutbacks to services like Christmas tree pickup and fall leaf pickup, while adding funding for public art. He suggested the city further privatize information technology.
At one point, council members also talked about charging schools for the cost of providing crossing guards and getting more aggressive about recovering costs from the University of Michigan for expenses incurred during university-related events.
"We incur about $100,000 worth of expenses a year associated with providing traffic control and solid waste services for university game days," said Sue McCormick, the city's public services area administrator. "I don't believe that the city has billed for that in a number of years, because the university has made it pretty clear historically that they won't pay."
McCormick said the city has continued an ongoing dialogue with the university on the issue as the city's budget has gotten tighter.
"This is an expense that is impacting our ability to provide other services, but the university has been reticent," she said. "Certainly we would like to recover those costs. Those dollars could be used to support other services for our residents."
Ryan J. Stanton covers government and politics for AnnArbor.com. Reach him at ryanstanton@annarbor.com or 734-623-2529.