Ann Arbor city officials to begin enforcing ban on porch couches today
Posted on Mon, Nov 8, 2010 : 10:25 a.m.
The amnesty period is over. Starting today, if you're caught with a couch on your porch in Ann Arbor, prepare to be notified that you need to get rid of it — or face a $1,000 fine.
The Ann Arbor City Council enacted the ban on upholstered furniture on porches on Oct. 2, but gave residents more than a month to comply with the new ordinance. City officials say more than 500 pieces of upholstered furniture were tossed last month during a free collection for residents and property managers.
If residents didn't get rid of the furniture in that free event, they can pay to dispose of it at the Drop-Off Station at 2950 E. Ellsworth Road or visit the city's website for other suggestions. The city said residents can expect to be charged if they leave those items on the curb.
The city's new ordinance, which had been debated for years but never approved, was reintroduced earlier this year after a house fire caused the death of a 22-year-old Eastern Michigan University student. Fire officials said the April blaze started on the porch and was exacerbated by a porch couch.
Starting today, if city officials spot upholstered furniture on porches, they'll post a notice on the property and mail a copy of the notice to the property owner specifying a date by which the furniture must be removed.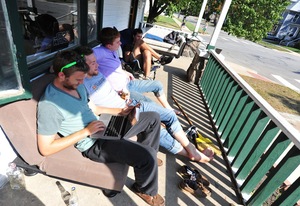 Ryan J. Stanton | AnnArbor.com
If the residents still don't get rid of the furniture, the city can remove it and charge them the cost. In addition, the residents could be issued a civil infraction ticket that carries a fine of up to $1,000.
The ordinance specifically states, "No responsible person shall place, or permit to remain, furniture which is not intended or designed for outdoor use on exterior balconies, porches, decks, landings, or other areas exposed to the weather."
Ann Arbor joins several other campus communities that don't allow upholstered furniture outdoors, including East Lansing, Kalamazoo, Mount Pleasant, Ypsilanti, and Marquette, as well as Columbus, Ohio, and Madison, Wisconsin.