Posted on
Wed, May 12, 2010 : 10:40 a.m.
Ann Arbor commuters encouraged to ditch the car for walking shoes
By Tina Reed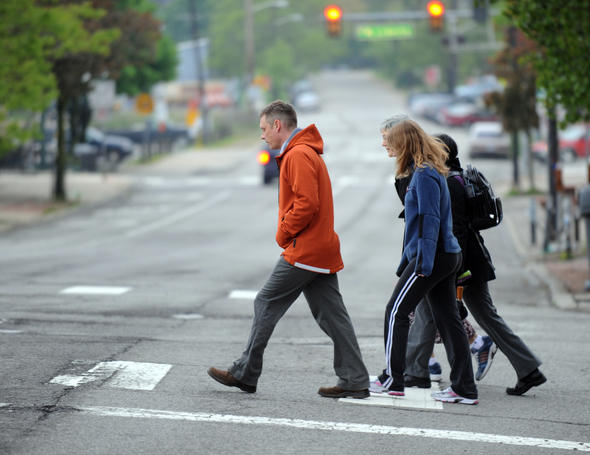 Lon Horwedel | AnnArbor.com
Ann Arbor often gets a good rap when it comes to the city's walkability.
But walkers with the Washtenaw Biking and Walking Coalition who conducted an audit last year gave a failing grade for safety at many pedestrian crosswalks. More people might be able to get around without their cars, but they feel unsafe at many crossing areas.
"Fundamentally, our pedestrian ordinance is not strong," Briggs said.
Instead of yielding right-of-way to pedestrians at crosswalks, cars would speed past, said Erica Briggs, membership chair for the coalition. At Lurie Terrace Independent Living Center for Seniors, residents are taxied across the road to the Ann Arbor YMCA building a block away because they don't feel safe using the crosswalk across Huron Street, Briggs said.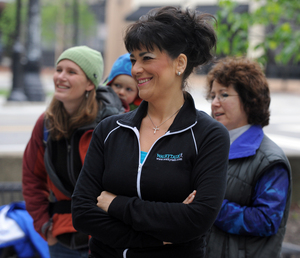 Lon Horwedel | AnnArbor.com
With help from city officials, a strengthened law requiring vehicles to yield to walkers could be considered at an Ann Arbor City Council meeting as early as next month, she said. Those are the kind of steps needed to make Ann Arbor a more attractive place to travel on foot, Briggs said at a Wednesday event promoting walking during the annual Commuter Challenge.
The Commuter Challenge month is the flagship event for the getDowntown program, created to reduce the number of vehicles needed to commute into the city by promoting alternatives.
Already, hundreds of people regularly make their daily commute on foot but this gets more people thinking about it, said Nancy Shore, program director for getDowntown. More than 180 businesses are participating in the challenge, she said.
This week is "Walking is Wonderful Week" and runs through May 15. Next week, May 16-22, marks "I Like Bikes Week" with a Bike to Work Day and Bike Commuting Expo on May 21. The events are planned to be held from 8 a.m. to 9 a.m. and 9:30 a.m. to 12:30 p.m., respectively, at the Ann Arbor Farmers Market.
Blue Cross Blue Shield of Michigan walking advocate Jodi Davis, who appeared at Wednesday's event, said walking helped her lose more than 160 pounds.
"I want people to realize how much better they'll feel if they give it a chance," Davis said.
Davis said she struggled for years with her weight before she began walking on a regular basis. A turning point for her came after seeing a woman she knew die of obesity-related heart problems.
Davis said she began incorporating diet changes and started doing a brisk mile and a half walk every day.
It was a 22-minute commitment every day — something that could be incorporated into a lunch hour or an after dinner activity if it's prioritized, she said.
"We all know what to do. It's just doing it," Davis said.
Below is a video from the Washtenaw Biking and Walking Coalition of pedestrian crossings in Ann Arbor:
Tina Reed covers health and the environment for AnnArbor.com. You can reach her at tinareed@annarbor.com, call her at 734-623-2535 or find her on Twitter @TreedinAA.