Posted on
Wed, Jan 11, 2012 : 11:31 a.m.
Winter storm could dump up to 4 inches of snow on Ann Arbor area
By Cindy Heflin
Earlier story: Big, bad winter hasn't materialized for Ann Arbor area - but wait until this weekend
Editor's note: This article has been updated with a new weather forecast issued at 4 p.m.
Get the shovels ready, Ann Arbor. The winter reprieve is almost over.
The Ann Arbor area could get up to 4 inches of snow Thursday night and Friday, when two low pressure systems collide, mixing cold air from Canada with a lot of moisture moving up from Louisiana.
Earlier forecasts had predicted the possibility of as much as 6 inches for Ann Arbor, but an updated forecast issued at 4 p.m. today puts the upper limit at 4 inches, said Steve Considine, a meteorologist with the National Weather Service in White Lake Township.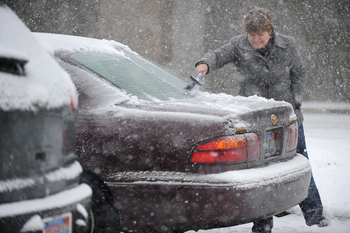 Melanie Maxwell | AnnArbor.com
The area will continue to enjoy mild temperatures tonight, with an expected low of 37 degrees, but rain will set in after 7 p.m., forecasters say.
Rain is also likely Thursday until the cold air moves in late in the day, sending temperatures falling to around 25 degrees. The moisture will gradually change over to snow Thursday evening, creating a period of slushy conditions. Total accumulation of about 1 to 2 inches of snow is expected Thursday night.
Snow is likely to continue Friday with additional accumulations of 1 to 2 inches before tapering off Friday afternoon. Only light snow showers are expected, Friday night. The high Friday is expected to be 29, with the low Friday night dropping to around 17.
Whatever falls will likely stick around for a few days, said Dave Kook, also a National Weather Service Meteorologist.
"We have high temperatures below freezing through the start of next week," he predicted.
The snowfall will follow a period of unseasonably warm weather in the Ann Arbor area, with average temperatures in December and so far this month far above normal.
The average temperature in December was about 5 degrees above normal, making it the 12th warmest December since 1880, said Dennis Kahlbaum, University of Michigan weather observer. The average in January so far is 8.5 degrees above normal, he said.
If you're feeling unhappy about the arrival of more seasonal winter weather, take heart, it could be worse. The folks at AccuWeather are forecasting near-blizzard conditions for the Chicago area Thursday night, with howling winds and blowing snow.