Posted on
Thu, Dec 13, 2012 : 4:13 p.m.
Ann Arbor could see a Geminid meteor shower Thursday night
By Katrease Stafford
A rare, clear night sky in the Ann Arbor area Thursday night may increase the visibility of the expected Geminid meteor shower, MLive.com reports.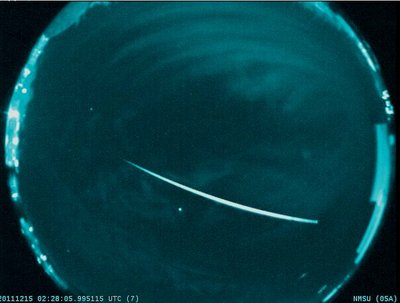 Courtesy NASA
The Geminid shower is expected to be visible between 11 p.m. and 2 a.m., according to NASA website. MLive.com reports the meteor shower happens in December as a result of debris from the extinct comet 3200 Phaethonm, coming in contact with the earth's atmosphere.
According to NASA, the week of Dec. 10-16 is a good window for seeing the shower, but Thursday night is expected to be the anticipated peak.
Michigan often misses the shower due to a layer of overnight lake-effect clouds and in December the cold air blowing over the warmer Great Lakes creates a lot of clouds, however, the mild air Thursday is expected to keep the lake clouds from forming.
NASA estimates there may be as many as 30 meteors per hour. For those who still might not be able to see the shower due to city lights, NASA's Marshall Space Flight Center in Huntsville, Ala., will have a live Ustream feed beginning at 11 p.m., of the meteor shower.
Read the full report here.