Posted on
Tue, Apr 24, 2012 : 2:55 p.m.
Ann Arbor council members working on plans to increase police and fire staffing
By Ryan J. Stanton
With the proposed budget for next fiscal year out of the city administrator's hands, Ann Arbor City Council members are now working on fine-tuning the final plan.
They may increase police and fire staffing beyond what the administrator's budget shows, according to an email Council Member Christopher Taylor sent to constituents.
"As we have discussed in the past, Ann Arbor demands the best safety services it can afford," Taylor, D-3rd Ward, wrote in the email. "In years past, with double-digit revenue reductions and limited cost accommodations, these services have suffered cuts."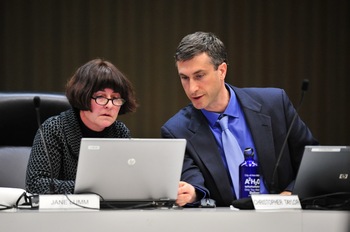 Ryan J. Stanton | AnnArbor.com
This year, Taylor said, with stabilized economic conditions, changes to state law and some union cooperation, "we are able to staunch the bleeding and rebuild."
"I believe that some council members are developing plans to further increase police and/or fire personnel," Taylor wrote in his email. "I will of course consider these proposals carefully. We all want more robust safety services, but it is vital that we continue to practice prudent financial management, that we avoid spend-now, fund-later budgeting."
City Administrator Steve Powers proposed a budget plan earlier this month that avoids nine planned layoffs in the police department and adds one full-time officer position, while also funding a new police recruit program that will add up to five part-time officers.
Part of the plan is to increase police presence downtown.
The city administrator's budget plan also holds the line on staffing in the fire department, avoiding five previously planned layoffs.
Council Members Margie Teall, D-4th Ward, and Jane Lumm, an Independent representing the 2nd Ward, are among the council members working on plans to increase staffing.
Lumm said she believes the city should start the 2012-13 fiscal year on July 1 on a three-year path to increase the number of uniformed police officers by 32 — from today's 118 to a "magic number" of 150, which she said was identified by the police chief.
In addition to the positions already included in the administrator's budget plan, Lumm said she will be working to identify funding for nine more officers next year. She also indicated she'll be working to identify the funding to potentially restore fall leaf pickup services.
Teall, who has been on council for about a decade, said she's not ruling out the idea of using some of the surplus shown in the administrator's proposed budget to increase staffing in the fire department. The amount Powers proposes socking away would be enough to hire four new firefighters and increase the fire department's full-time employee count from 82 to 86.
Fire Chief Chuck Hubbard has said his "magic number" — where he would like the department to be staffing-wise — is 88.
Teall said she's not ready to release details of her proposal.
"I'm working on a plan that would be ideally sustainable and would also be dependent on some other funding issues," she said on Tuesday afternoon.
The council plans to hold a public hearing on the budget on May 7 and then modify and approve the budget on May 21.
Ryan J. Stanton covers government and politics for AnnArbor.com. Reach him at ryanstanton@annarbor.com or 734-623-2529. You also can follow him on Twitter or subscribe to AnnArbor.com's email newsletters.