Posted on
Mon, May 23, 2011 : 5:55 a.m.
Ann Arbor coyote sighting worries pet owner as experts prepare to start tracking them in region
By Tom Perkins
Early on May 10, Dee Gragg let her dog out for a few minutes as she does daily.
The Ann Arbor resident, who lives off Stone School Road between Eisnhower and Ellsworth roads, suddenly noticed something moving about 15 feet from her 4-pound teacup Yorkie — a coyote.
Gragg yelled at the coyote, which turned around and took a few steps in the other direction, but still kept its sights trained on the dog, Jewel.
Suddenly, Jewel charged the coyote. Gragg yelled at the dog to stop.
Jewel, who Gragg described as very obedient, immediately came over to the door, where Gragg swept her safely inside.
"She could have gotten swallowed up at anytime," Gragg said. The coyote "had his stance and he was ready to pounce on her."
A narrow tract of woods with a ravine running through it abuts the complex where Gragg lives. She said she was shocked to see a coyote in Ann Arbor, especially after living in rural Fowlerville for 20 years and never seeing one.
But a day later, her neighbor stopped her on the street and said he saw a coyote several feet from his back window on that same morning.
Now, when Gragg does let Jewel outside, she does so with a leash and a close eye on the 8-year-old dog.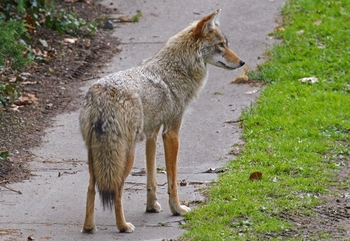 John Harrison | ProjectCoyote.org
"I've lived here for eight years, and four years ago I had deer in the backyard. I thought 'Those are cool to watch' but coyotes aren't," she said.
Holly Hadac, who works at the Michigan Friends of Wildlife and runs the Indiana Coyote Rescue Center, said coyotes are a misunderstood and timid animal.
She said she has gotten calls from residents in Ann Arbor about coyote sightings, but said there are precautions people can take against attracting them. A single family of coyotes have been known to inhabit up to 10 square miles of suburban land and were recently found with 4 square miles of territory inside Chicago city limits, she said.
The borders of their territory within a suburban area can be a treeline, a subdivision, a condo complex, a road or a river. Since coyotes patrol their territory's boundaries nightly, she said, humans will see them if a border is a subdivision, for example.
Hadac said coyotes will typically run from a human.
"We have to remember that we are the top predator, and they are very timid animals," she said.
John Harrison | ProjectCoyote.org
She also said coyotes rarely eat domestic animals or human garbage, and that their main food sources are rodents, snakes, possums and other animals, which is a similar diet to a fox.
Hadac pointed to a recent study by Chicago scientist Stan Gehrt who, through Ohio State University, has been studying coyotes in Chicago and its suburbs.
A look at coyotes' feces found that only 1 percent of the waste was composed of domesticated pets, while the remaining waste was made up of small animals such as rodents.
Gragg said the information didn't make her feel any safer.
"I saw that coyote and it was ready to attack my dog — maybe not a person — my dog," she said. "The woods are right there, and even on the leash, I'm afraid to walk her near that. I have to be careful."
Hadac said people can take precautions, such as not leaving out food for stray cats or other animals, keeping garbage inside and covering compost piles. Compost piles, she said, are essentially coyote magnets. Because the amount of food affects the size of a coyote's litter, the less humans leave out can potentially lead to fewer coyotes.
Last summer, when there were numerous coyote sightings in the Dicken Woods and Greenview Park areas, Jason Frenzel, volunteer and outreach coordinator with the city's Natural Area Preservation pointed out that coyotes can be beneficial in controlling rodent populations.
In an email to residents, he advised keeping small pets "leashed, under a watchful eye" and not to let them out when coyotes are most active during dawn and dusk.
Hadac said there's no information on how many coyotes are in the area because the population has not been tracked, but she is part of a program that will start tracking coyotes in the region this summer. She will speak at the Matthaei Botanical Garden on Oct. 18 at 7:30 p.m. about coyotes in urban areas. The talk is arranged by the Sierra Club.
Hadac said for more information on coyotes in urban environments, people can visit projectcoyote.org.
Tom Perkins is a freelance reporter for AnnArbor.com. Reach the news desk at news@annarbor.com or 734-623-2530.