Posted on
Tue, Jul 6, 2010 : 6:10 p.m.
Ann Arbor crime statistics for the week of June 27-July 3
By AnnArbor.com Staff
The number of serious crimes in Ann Arbor numbered 59 last week, up from 42 the week before, Ann Arbor Police Department statistics show.
That compares to 66 serious crimes the week of June 13-19, 32 crimes for each of the two weeks prior, 54 the week of May 23-29, and 52 the week of May 16-22. Among the crimes last week were 33 larcenies (from vehicles, buildings and other), one unarmed robbery, five home invasions, four nonresidential burglaries and five car thefts.
The following map shows last week's crimes pinpointed by location: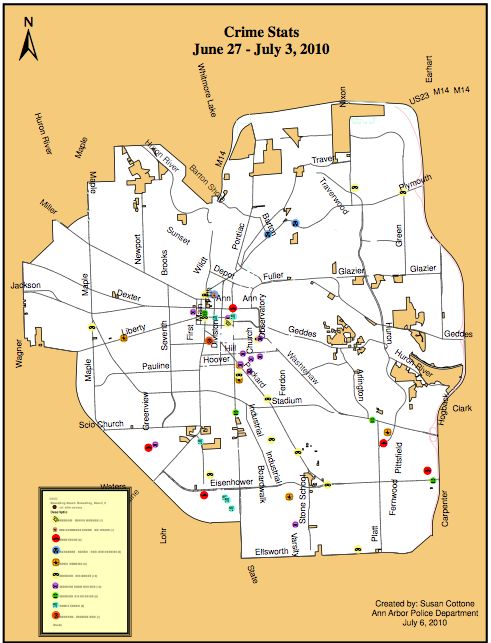 | Occurrence Date | Complete Address | Description |
| --- | --- | --- |
| 6/27/2010 | 400 N FIFTH AVE | BURGLARY - FORCE - NON-RESIDENTIAL |
| 6/27/2010 | 1000 BARTON DR | BURGLARY - FORCE - NON-RESIDENTIAL |
| 6/27/2010 | 1200 WHITE ST | HOME INVASION |
| 6/28/2010 | 1900 W LIBERTY ST | HOME INVASION |
| 6/28/2010 | 2800 N BAYLIS DR | HOME INVASION |
| 6/29/2010 | 3100 PROFESSIONAL DR | HOME INVASION |
| 6/30/2010 | 1700 PLYMOUTH RD | BURGLARY - FORCE - NON-RESIDENTIAL |
| 7/2/2010 | 800 ARCH ST | HOME INVASION |
| 7/3/2010 | 400 N FIFTH AVE | BURGLARY - FORCE - NON-RESIDENTIAL |
| 7/1/2010 | 400 N FIFTH AVE | ATT UNLAWFUL ENTRY - NO INTENT |
| 6/27/2010 | 1400 MORTON AVE | LARCENY - ALL OTHER |
| 6/27/2010 | 300 MAYNARD ST | LARCENY - ALL OTHER |
| 6/27/2010 | 400 S MAPLE RD | LARCENY - ALL OTHER |
| 6/28/2010 | 1300 JEWETT AVE | LARCENY - ALL OTHER |
| 6/28/2010 | 2000 GREEN RD | LARCENY - ALL OTHER |
| 6/28/2010 | 2900 BRAEBURN CIR | LARCENY - ALL OTHER |
| 6/29/2010 | 1200 S UNIVERSITY AVE | LARCENY - ALL OTHER |
| 6/29/2010 | 200 BRIARCREST APT 120 | LARCENY - ALL OTHER |
| 6/30/2010 | 1000 SFOREST | LARCENY - ALL OTHER |
| 6/30/2010 | 400 N MAIN ST | LARCENY - ALL OTHER |
| 6/30/2010 | 400 NSTATE ST | LARCENY - ALL OTHER |
| 7/1/2010 | 300 S MAIN ST | LARCENY - ALL OTHER |
| 7/1/2010 | 700 EKINGSLEY | LARCENY - ALL OTHER |
| 7/1/2010 | 800 MCKINLEY AVE | LARCENY - ALL OTHER |
| 7/2/2010 | 0 PACKARD RD | LARCENY - ALL OTHER |
| 7/2/2010 | 2500 PACKARD ST | LARCENY - ALL OTHER |
| 7/3/2010 | 2700 BRIARCLIFF ST | LARCENY - ALL OTHER |
| 7/3/2010 | 300 MAYNARD ST | LARCENY - ALL OTHER |
| 6/27/2010 | 200 S MAIN ST | LARCENY IN A BUILDING |
| 6/28/2010 | 300 MAYNARD ST | LARCENY IN A BUILDING |
| 6/28/2010 | 3800 PACKARD RD | LARCENY IN A BUILDING |
| 6/29/2010 | 2900 WASHTENAW AVE | LARCENY IN A BUILDING |
| 7/1/2010 | 1600 S STATE ST | LARCENY IN A BUILDING |
| 6/27/2010 | 300 MAYNARD ST | LARCENY FROM VEHICLE |
| 6/27/2010 | 600 S FOREST AVE | LARCENY FROM VEHICLE |
| 6/28/2010 | 800 ARCH ST | LARCENY FROM VEHICLE |
| 6/29/2010 | 2200 S SEVENTH ST | LARCENY FROM VEHICLE |
| 6/29/2010 | 900 S FOREST AVE | LARCENY FROM VEHICLE |
| 7/1/2010 | 400 W WASHINGTON ST | LARCENY FROM VEHICLE |
| 7/1/2010 | 800 E UNIVERSITY AVE | LARCENY FROM VEHICLE |
| 7/2/2010 | 0 HILL ST | LARCENY FROM VEHICLE |
| 7/2/2010 | 1000 MICHIGAN | LARCENY FROM VEHICLE |
| 6/29/2010 | 3500 PHEASANT RUN CIR | LARCENY FROM VEHICLE |
| 6/27/2010 | 100 N STATE ST | AUTO THEFT |
| 7/1/2010 | 2200 DELAWARE DR | AUTO THEFT |
| 7/1/2010 | 2300 S HURON PKWY | AUTO THEFT |
| 7/2/2010 | 100 BRIARWOOD CIR | AUTO THEFT |
| 7/2/2010 | 2800 LILLIAN RD | AUTO THEFT |
| 6/28/2010 | 2200 S MAIN ST | RETAIL FRAUD |
| 6/28/2010 | 400 BRIARWOOD CIR | RETAIL FRAUD |
| 6/28/2010 | 900 BRIARWOOD CIR | RETAIL FRAUD |
| 6/29/2010 | 200 S STATE ST | RETAIL FRAUD |
| 6/29/2010 | 500 BRIARWOOD CIR | RETAIL FRAUD |
| 6/30/2010 | 200 S STATE ST | RETAIL FRAUD |
| 7/1/2010 | 200 S STATE ST | RETAIL FRAUD |
| 7/2/2010 | 300 E LIBERTY ST | RETAIL FRAUD |
| 7/2/2010 | 500 BRIARWOOD CIR | RETAIL FRAUD |
| 6/30/2010 | 500 S FOURTH AVE | ROBBERY - STRONG-ARM |
| 6/28/2010 | 300 MAYNARD ST | ASSAULT - OTHER WEAPON |