Posted on
Wed, Aug 24, 2011 : 2:18 p.m.
Ann Arbor DDA considering whether to hire consultant to assist in downtown planning process
By Ryan J. Stanton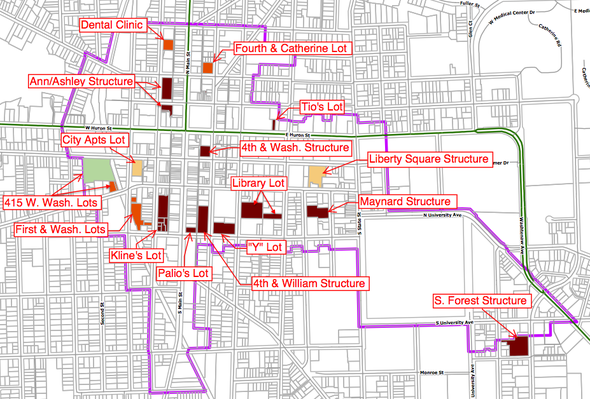 Ann Arbor Downtown Development Authority
officials met today to discuss next steps as they work toward a
shared community vision
for five city-owned properties downtown.
The overarching question that remains after today's two-hour discussion is whether the DDA should tap the expertise of paid consultants.
Doug Kelbaugh and Kit Krankel McCullough, both architecture and urban planning professors from the University of Michigan, are offering to assist in shepherding a public planning process and developing conceptual plans for a fee of $25,000 plus expenses.
The two made a formal pitch today, noting their schedules require the DDA hire them by September. They said they would complete their work and submit a final report by January.
No decisions were made today.
The City Council recently directed the DDA to facilitate a master planning and implementation process for future development of five city properties in the area of the so-called Library Lot — the site along South Fifth Avenue where a new underground parking structure is being built and where a hotel and conference center proposal was rejected by council this year.
DDA officials will be considering uses and eventually issuing requests for proposals for the Library Lot and three other surface parking lots: the Y Lot, the Palio Lot and the Kline's Lot.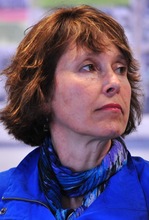 A fifth city-owned property — the Fourth and William parking structure — also is included in the area the DDA is studying. Executive Director
Susan Pollay
said at a meeting in June that the DDA would like to see a reuse of the ground floor of the parking structure.
Amber Miller, the DDA's planning and research specialist, presented an 11-page report today to the DDA's Partnerships and Economic Development Committee, laying out a framework for how to move forward with what's tentatively being called the A2P5 Planning Process (download the report).
Miller received praise after giving her report. She suggested the planning process could start with looking at what's already been articulated through previous planning efforts — such as allowable height and uses in the downtown zoning districts, appropriate density and design, and broader community goals.
Following that, Miller suggested the DDA could ask what's missing in the downtown and what's needed to meet goals like attracting jobs and increasing connectivity between different business districts. She suggested the DDA could look to other communities for best practices.
Miller also suggested the DDA could host a public speaker series with discussions on smart development, community space and economic, social and environmental viability. She also discussed the option of a steering committee to help guide the process.
Additionally, Miller said there could be a technical component to the process including input from DDA staff and board members, the City Council, the Planning Commission and city planning staff. And that could be complemented by community outreach.
Kelbaugh and McCullough said they envision a two-stage process, the first of which involves coming up with a "road show" presentation that DDA staff can give at a variety of public meetings with development options for the five properties. The second phase involves coming up with a final conceptual plan with recommended uses for the sites.
Local real estate developer Peter Allen also proposed back in June that the DDA hire him as a consultant to assist in the planning process, but he's no longer being considered. Pollay said Allen's proposal focused on the Library Lot and the DDA is looking for a broader approach.
Pollay asked committee members today if they're interested in formally seeking proposals from other consultants, not just those who have approached the DDA on their own.
DDA board member Joan Lowenstein said she's against that idea. She said she likes that Kelbaugh and McCullough don't have a vested interest in the matter.
Other committee members expressed hesitations about rushing the planning process to fit the schedules of Kelbaugh and McCullough.
In addition to DDA officials, today's meeting was attended by three City Council members — Sabra Briere, Tony Derezinski and Sandi Smith — as well as Planning Commissioner Kirk Westphal and Jesse Bernstein, chairman of the Ann Arbor Transportation Authority.
Bernstein talked about the AATA's ongoing initiative to expand public transit services countywide, which included an extensive, 30-year planning process resulting in a new transit master plan. He offered some advice to the DDA based on that experience.
"The key thing to start with is that common knowledge base. As long as everybody is on a different planet, we're not going anywhere," he said. "And in that common knowledge base, there's one piece that's got to be developed very fully: It is revenue. It is not only whether a project is economically viable, but what is the city going to get."
Briere chimed in, stressing that the benefit from a project needs to be evaluated not just by its contribution to the tax base, but also the overall benefit to the community.
"Yes, but what we often miss is the hard revenue," Bernstein responded. "Because we're again saying what our opinions are, but we need to say, 'If we do this, rather than this, what's the impact on the city revenue?' So that's my thought of how to do this."
After conducting focus group meetings, Miller said the DDA could synthesize the feedback into a plan that stops short of dictating specific uses for the city-owned sites. Miller and Pollay both stressed the goal is not to over-regulate or second-guess the marketplace.
"The marketplace will decide kind of the uses, and that will change over time," Pollay said. "Our job in trying to articulate what the RFP criteria will look like is more broad brush — it's more 'these are our goals and these are the things you need to deliver on.' But it's not to specifically say 'and it must be a hotel,' because hotels may not be viable, and it doesn't make sense to write that kind of granular detail into an RFP."
Miller and Pollay also stressed the importance of making sure whatever is built along William Street will increase connectivity and enhance the pedestrian experience.
One of the things that might come out of the planning process, Pollay said, is that the DDA would ask everybody who develops along William Street to have at least some kind of door, if not their primary door, facing toward the sidewalk so there aren't blank walls. She said even what happens with the Fourth and William parking structure should have windows.
Smith, co-chair of the committee, said "there's not a lot happening" in the area of downtown that the DDA is studying and she agrees William Street lacks character right now.
"You walk up and down William — it's a very odd collection of things," she said. "You don't know whether you're going to residential or the backs of all these kinds of buildings."
DDA board member Newcombe Clark said some in the community are going to say DDA means "don't do anything." But he said the status quo is not going to work here.
"Be it a building or a park, or whatever we end up doing with them, we're here to try to do something with them," he said of the five properties.
Ryan J. Stanton covers government and politics for AnnArbor.com. Reach him at ryanstanton@annarbor.com or 734-623-2529. You also can follow him on Twitter or subscribe to AnnArbor.com's e-mail newsletters.