Posted on
Wed, Nov 2, 2011 : 2:59 p.m.
Ann Arbor DDA gets earful on parking rate increases from downtown businesses
By Ryan J. Stanton
Several downtown business leaders gave the Ann Arbor Downtown Development Authority an earful Wednesday about proposed parking rate increases.
The DDA is proposing to increase on-street parking meter rates from $1.40 to $1.50 an hour starting in September 2012, in addition to a number of other increases at downtown parking facilities that are scheduled to take effect in January.
The on-street meter rate most recently went up from $1.20 to $1.40 an hour in September, and DDA officials had been considering a new tiered-rate proposal that included increasing the rate to $1.80 an hour in prime locations like Main Street. But that's no longer being considered for now, nor is evening enforcement of parking meters past 6 p.m.
Maura Thomson, executive director of the Main Street Area Association, reminded DDA officials that many Main Street businesses are opposed to evening enforcement hours.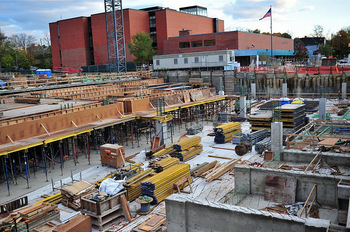 Ryan J. Stanton | AnnArbor.com
"We really appreciate the fact that in this current proposal you have elected not to extend evening enforcement hours," she said. "We feel very encouraged. We feel that you not only really listened to the concerns of our members, but that you really heard us."
But DDA board member Roger Hewitt indicated at today's meeting that even though the evening enforcement proposal is being pulled back for now, "at some point there will probably be fees charged in the evening for parking." He said more time is needed to talk it through.
The DDA's staff is expected to give a presentation on the proposed parking rate changes at a Nov. 14 work session of the Ann Arbor City Council.
Among the downtown business representatives who addressed the DDA's board today was Jerusalem Garden owner Ali Ramlawi.
"I believe some of the recent steps are actually choking off downtown," he said. "I think the continuous rate increases and complexity in the structure is becoming discouraging for a lot of people to come downtown. A lot of businesses … are struggling to stay alive."
Ramlawi said he's happy the extension of meter enforcement hours isn't being pursued for now. He said that would be "the nail in the coffin" for many businesses.
Both Ramlawi and Herb David, owner of a guitar studio on East Liberty Street, expressed concerns about the $50 million underground parking structure the DDA is building downtown.
If the goal of the project was to make downtown more vital, they said, it's doing the opposite. David said his guitar studio may go out of business after 50 years in early 2012.
Before the project started two years ago, he said, his business was growing between 4 and 5 percent every year. Since then, he said, he's seen a 40 to 45 percent dive.
David, who joined Ramlawi in suing the city at the start of the project, said if the DDA continues on a track of continuing to increase parking rates, that'll likely mean the end of his business.
Ramlawi also expressed concerns about the DDA's statement that the parking rate increases are needed to keep up with not only maintenance and repairs related to the parking system, but also an "increasing financial obligation to the city."
He referenced a new parking agreement that has the DDA transferring 17 percent of parking revenues to the city. He said it's not the DDA's job to balance the city's budget.
Pangea Piercing's j.c. potts also addressed the board, saying the No. 1 complaint he hears from his customers is about parking.
"When pressed further for more details, honestly, it's not usually the lack thereof or even the cost of it — most of the time it's the aggressive enforcement," he said. "It's the fact that if you run 10 or 15 minutes over … we have the resources to have a whole army of people downtown to make sure that you get that ticket."
Luckily, potts said, not all of his eggs are in one basket.
"I'm not expanding my operations in downtown Ann Arbor at all," he said. "We're expanding in Pittsfield, we're expanding in Ypsilanti, because that's what the market's dictating. People are asking, 'Please, don't make me have to drive to downtown Ann Arbor anymore.'"
Added potts: "The goose with the golden eggs can be killed if you just keep putting up enough roadblocks to people wanting to come down here. They will eventually stop. I mean, Briarwood's opening new businesses. Have you looked at Liberty lately?"
Ryan J. Stanton | AnnArbor.com
Ray Detter
of the Downtown Area Citizens Advisory Council expressed his group's support for the parking rate changes, calling them needed to maintain the parking system.
"Obviously, no one wants to raise rates, particularly in times of economic hardship," he said. "But we strongly support all of those increases."
Detter pointed out that the parking system pays for itself today — something that wasn't always the case, not when the city was managing it.
"The City Council's wise approval of the DDA's taking over the parking system in 1992 changed all of that," he said. "The DDA has done a superb job of rehabilitating, maintaining and developing our parking system — and doing something that everyone thought was impossible, and that is making it financially self-sufficient."
Detter and Hewitt both dismissed claims that people are being turned away from downtown, pointing out more people are parking downtown than ever before.
"This fear of parking increases will always remain," Detter said, referencing a time in the 1970s when some argued a proposal to increase parking rates from 10 cents to 20 cents an hour would be detrimental to the downtown. He said that same argument has been made every time there's been an increase over the years and it's never proven to be true.
Hewitt, owner of the Red Hawk Bar & Grill, pointed out he and other DDA board members are independent business owners in the downtown and care about its vitality a lot. He also pointed out the city, not the DDA, writes the parking tickets.
Hewitt said Ann Arbor, thanks to the DDA's investments, now has one of the best maintained municipal parking systems in the country and the DDA intends to keep it that way.
"This is where a lot of communities are saving money is by not doing that annual maintenance, which runs about $2 million a year," he said. "So we're trying to balance the desire not to raise rates with the financial demands we have and the fiduciary responsibilities we have."
Hewitt said it also takes more than $16 million a year to operate the parking system, and the DDA also has debt service obligations for improvements it has made in recent years. He defended the decision to build a new underground parking structure.
"Certainly, five or six years ago when we started looking at this, we saw a parking system that was nearing capacity," he said, adding that with continued development in the downtown there was going to have to be more parking or else downtown would stagnate.
"If you look at hourly patrons in the lots and parking structures — that's the people who come in and pull a ticket, not the monthly parkers — we now have approximately 450,000 more people a year coming in and pulling those parking tickets than we did just five years ago," he said.
"There is a huge demand in our system and it has been growing steadily for the last five years," Hewitt concluded. "Without a new parking structure, overall business would not be able to grow in the downtown."
DDA board member John Splitt also pointed out the latest census figures show just about 1,000 more people are living in downtown Ann Arbor than there were 10 years ago.
Ryan J. Stanton covers government and politics for AnnArbor.com. Reach him at ryanstanton@annarbor.com or 734-623-2529. You also can follow him on Twitter or subscribe to AnnArbor.com's e-mail newsletters.