Posted on
Tue, Nov 1, 2011 : 5:59 a.m.
Ann Arbor DDA proposes parking rate increases but drops evening enforcement idea
By Ryan J. Stanton
Downtown Ann Arbor parking changes won't involve an extension of enforcement hours past 6 p.m. or a tiered-rate system that was discussed two months ago.
The tiered-rate proposal included increasing the on-street meter rate to $1.80 an hour in prime locations like Main Street.
Neither option remains a consideration, officials said — at least for now.
The Ann Arbor Downtown Development Authority is holding a public hearing Wednesday to hear comments about a remaining proposal to increase the cost of parking downtown.
The plan being considered includes a jump from $1.40 to $1.50 an hour for on-street parking meters starting in September 2012, among a number of other increases. The on-street meter rate most recently went up from $1.20 to $1.40 an hour in September.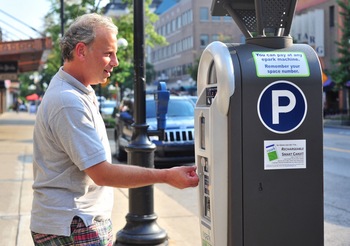 Ryan J. Stanton | AnnArbor.com
DDA Executive Director
Susan Pollay
is
circulating a flyer that spells out the proposed changes
, and it stresses twice in bold, underlined letters that the DDA is not proposing evening enforcement hours —
a controversial idea many downtown businesses have opposed
.
According to the DDA's flyer, the increases in parking rates are needed to keep up with maintenance, repairs and an "increasing financial obligation to the city."
Under a new agreement with the city, the DDA is required to transfer 17 percent of downtown parking revenues to help augment the city's general fund — possibly through June 2033.
Regarding enforcement, Pollay said, the DDA's Bricks, Money and Transportation Committee determined it wanted to give more time to the new Parking Enforcement and Operations Committee. She said the committee only recently began to meet and DDA officials already are learning important insights about how enforcement and operations can work together.
"And as to the three-tiered system, this was also discussed, and the decision made not to proceed with this," Pollay wrote in an e-mail to AnnArbor.com. "Instead, at this time they are proposing to put more effort into creating more visibility for our 'Park & Walk' parking meter locations, which offer 10-hour parking at half price."
She said that allows the DDA to continue to expand the demand for parking more broadly throughout the parking system with a very easy-to-understand pricing differential.
Wednesday's public hearing starts at noon at the DDA's third-floor board room at 150 S. Fifth Ave. Three minutes will be allotted to each speaker and there is no need to sign up.
E-mail comments also are welcome at dda@a2dda.org.
The full parking rate plan is as follows:
Parking rate increases recommended to begin January 2012:
Raise the daily cost of meter bags by $5/day from $15 to $20
Increase the premium monthly permit rate by $5/month from $175 to $180
Increase the Art Fair rate by $2/entry from $10 to $12
Increase the evening and weekend entry cost to Liberty Square and Ann Ashley $1/entry, from $2/entry to $3/entry
Increase 415 W. Washington monthly permits by $10/month from $80 to $90 and increase the daily entrance rate from $3 to $4
Increase the First & William lot monthly permit rate by $10/month from $105 to $115
Charge the actual cost to install meter bags on Sundays and holidays. Meter bag fees are often waived for nonprofits but DDA officials say there is a cost to install the bags on Sundays and holidays, as Republic's union contract sets a minimum four-hour call for an installation. Depending on the number of meter bags needed, DDA officials says it's anticipated the charge could be $70-$140 or so.
Parking rate increase recommended to begin September 2012:
Increase the hourly structure parking rate from $1.10/hour to $1.20/hour
Increase the hourly parking lot rate from $1.30 ($1.50 after three hours) to $1.40 ($1.60 after 3 hours)
Increase the hourly parking meter rate from $1.40/hour to $1.50/hour
Increase the monthly parking permit rate from $140/month to $145/month
Ryan J. Stanton covers government and politics for AnnArbor.com. Reach him at ryanstanton@annarbor.com or 734-623-2529. You also can follow him on Twitter or subscribe to AnnArbor.com's e-mail newsletters.