Posted on
Wed, Jan 9, 2013 : 2:46 p.m.
Ann Arbor DDA willing to help finance redevelopment of city-owned properties downtown
By Ryan J. Stanton
The Ann Arbor Downtown Development Authority's governing board finalized a plan on Wednesday for future redevelopment of five city-owned properties along William Street.
The board also adopted a new grant policy indicating the DDA is willing to provide financial assistance to help facilitate private redevelopment efforts on those properties.
The policy outlines a plan for the DDA to support elements of proposed projects that offer public benefits, including streetscape, sidewalk and bicycle facility improvements.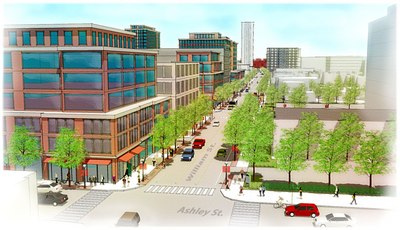 SmithGroupJJR
The grants also could help pay for environmental design features such as green roofs and rain gardens, and significant architecture and design investments. For example, an exterior feature or overall design that improves walkability on adjacent sidewalks or brings "design prestige."
Additionally, the grants could help pay for landscaping, plazas and urban open spaces that are designed for public use but maintained and managed privately.
"Park development is one thing — that's expensive — but park maintenance is another," said Mayor John Hieftje, who serves on and appoints the DDA board. "So one of the answers may be that as a plaza is developed on one of these sites, then the developer will be responsible for maintaining it, and that would take a lot of the burden off the parks system."
The grants also could pay for infrastructure upgrades such as upsizing underground water, storm or sewer pipes, and adding electrical, trash and fire hydrant capacity to serve a larger area.
If awarded, the grants would be paid out by the DDA over time, and the amounts would never be greater than the amount of new taxes captured by the DDA from the projects.
"At no time will TIF (tax-increment financing) money be paid out unless it's been paid in, so we'll never be in arrears on this," said DDA board member Sandi Smith.
Smith said the grants will be at the DDA's discretion and the DDA would be unlikely to facilitate a high-rise with six-bedroom apartments, but maybe a proposal that included a large office building.
The policy suggests the DDA might be interested in a corporate headquarters that brings a significant number of jobs. The DDA also is interested in mixed-use development that encourages more activity downtown, as well as cultural venues such as museums and performance space.
"The DDA is particularly interest in supporting eligible projects that have the clear potential to encourage or trigger other private tax-generating new development in the immediate vicinity and strengthen William Street and the DDA district," the policy further states.
The so-called Connecting William Street plan has been in the works since the City Council directed the DDA to undertake the planning process in April 2011. The DDA is expected to present its recommendations at a working session of the City Council on Jan. 14.
A final version of the plan wasn't available at Wednesday's meeting, but Amber Miller, the DDA's planning and research specialist, said there are no significant changes from the draft version that was presented to the DDA's board back in December.
The plan relies on private developers investing in new building projects with a primary focus on office and residential uses. The DDA envisions a mix of medium- and high-density development, with public plaza spaces integrated into the developments.
The five properties studied were the Library Lot atop the city's new underground parking garage off Fifth Avenue, the Y Lot across the street at the corner of Fifth and William, the ground floor of the Fourth and William parking garage (the DDA thinks it could be retrofitted for office space), the smaller Palio Lot at Main and William, and the larger Kline Lot at Ashley and William.
All five of the sites are currently used as public parking facilities, but the DDA believes there's potential for reeling in private investments in new restaurant, retail, office, residential, lodging and open space uses, as well as some type of cultural or performance arts venue.
Ann Arbor resident Alan Haber, who has been pushing for a new downtown central park on the Library Lot, showed up to Wednesday's meeting. As he was leaving, he expressed regrets that the DDA doesn't seem interested in his group's vision for a larger open space.
"I think we just need more representation of the other view that has systematically not had a chance to make its presentation, not been heard or reported through any of the public comment meetings, and is not reflected except in the sort of footnote that there are differences of views," he said.
DDA Chairwoman Leah Gunn called the DDA's approved plan a "snapshot in time" and Hieftje acknowledged there is more work to be done.
"Through no fault of the DDA, there's other input to be had," Hieftje said. "They've done a great job of outreach. They've had thousands of comments into the program. But it's obvious that the parks commission was here today to talk about the subcommittee they have that's looking at parks and open space opportunities in the downtown, and that's going to take them a little while."
Ingrid Ault, a member of the city's Park Advisory Commission, told DDA officials that PAC is aware there's support in the community for more open space downtown.
Ault said PAC has formed a subcommittee to study the issue and she's one of the members. She said the plan is to look carefully at what works and what doesn't work when it comes to downtown open space before considering what else could be added.
"If we're going to add some space, how is it going to be used?" she said. "Because we don't want to add space that's just going to sit empty."
Ault said the subcommittee will continue to work on the issue and provide the city and the DDA with input so it can move forward in a thoughtful manner.
Frances Todoro, executive director State Street Area Association, told DDA officials her group wants the city to focus first on making Liberty Plaza a success before bringing more parks online downtown. She said it's been a struggle for years to make the park successful on a consistent basis.
Solving the problems at Liberty Plaza first, she said, could help identify best practices for making sure future downtown open spaces are successful. Hieftje said recently it's possible that a redesign of Liberty Plaza could break ground later this year.
Hieftje also said the city's Energy Commission wants to have more dialogue about the kinds of development the DDA might help facilitate downtown, with hopes that any new buildings will meet or exceed national standards for energy efficiency — possibly LEED Gold or LEED Platinum.
Ryan J. Stanton covers government and politics for AnnArbor.com. Reach him at ryanstanton@annarbor.com or 734-623-2529. You also can follow him on Twitter or subscribe to AnnArbor.com's email newsletters.