Posted on
Tue, Apr 30, 2013 : 5:58 a.m.
Ann Arbor DDA's 'bike house' in Maynard Parking Structure set to open for Commuter Challenge
By Amy Biolchini
Amy Biolchini | AnnArbor.com
A new
37-space "bike house"
in Ann Arbor's Maynard Parking Structure will soon be open for bicycle commuters to safely store their wheels while they're at work downtown.
The bike house will have its soft opening this week in time for the Commuter Challenge, which starts Wednesday.
The project is funded by the Ann Arbor Downtown Development Authority and implemented by the getDowntown program, which also runs the Commuter Challenge. An annual pass for the bike house is $75.
Originally called a "bike cage," the structure is now being referred to as a bike house to make it friendlier-sounding, said Nancy Shore, director of getDowntown.
"We're calling it (a bike house) for a reason because we want bike commuters to feel welcome downtown," Shore said.
The DDA allocated $30,000 of its funds for the project, and expects to come in several thousand dollars under budget, said Amber Miller, planning and research specialist for the DDA.
"We are seeing interest from downtown employees particularly in the State Street area that want a secure place for their bikes," Shore said. "This is on the cutting edge and we hope it will help attract employers downtown."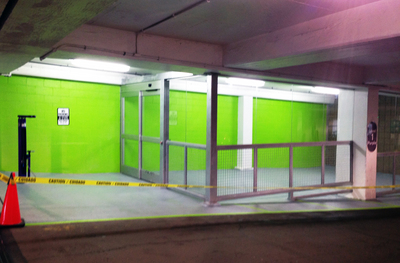 Amy Biolchini | AnnArbor.com
The bike house is located just inside of the Maynard Street entrance to the Maynard Parking Structure, and is denoted by a wall painted bright green.
"There's a lot of new high-tech firms that are locating in that area," said John Mouat, a DDA board member. "We found there's a lot of demand in that cohort of people for bicycling as commuting."
Covered, secure bicycle parking is an important feature for commuters that have invested in their bicycles and rely on them to travel long distances, Mouat said.
Separated from the rest of the parking garage by an enclosure of glass and wire screening, the bike house takes up the space of two parking spaces converted for the project located immediately behind the Republic Parking offices. The bike house will have 24-hour surveillance.
Access to the bike house will be controlled by a sliding door that opens with a key card. Cards will be distributed only to individuals who purchase the $75 annual pass and have a go!pass.
The go!pass program is for businesses located within the Ann Arbor DDA's boundaries, and for the cost of $10 per person, allows employees access to unlimited trips on TheRide buses and discounts on other services.
Cyclists will have to provide their own locks, as the racks themselves do not have a locking mechanism.
Outside of the enclosed bike locker there is an air pump and bike repair station that includes basic tools to help people change flat tires and adjust brakes and derailers.
As the capacity of the bike house is 37 bikes, getDowntown will be capping the number of users at 37. About eight people have pre-reserved a pass to the bike house to date.
Revenue from the bike house passes will be divided between getDowntown and the DDA, though the percentage each organization will receive from the pilot endeavor has not yet been solidified.
"The breakdown will be determined once the getDowntown Program has a better sense of the administrative time commitment for managing the program," Miller said. "The getDowntown Program will receive a portion of the fee to cover program management and the DDA will receive the remainder to reinvest back into the parking and transportation system."
There will be a launch party for the bike house May 17 - which is also Bike to Work Day. From 7 to 9 a.m. people can tour the facility. There will be several speakers at the event as well about 8:30 a.m., Shore said.
Amy Biolchini covers Washtenaw County, health and environmental issues for AnnArbor.com. Reach her at (734) 623-2552, amybiolchini@annarbor.com or on Twitter.