Posted on
Fri, Feb 19, 2010 : 6:01 a.m.
Ann Arbor developer gets mixed reviews on new Heritage Row Apartments project
By Ryan J. Stanton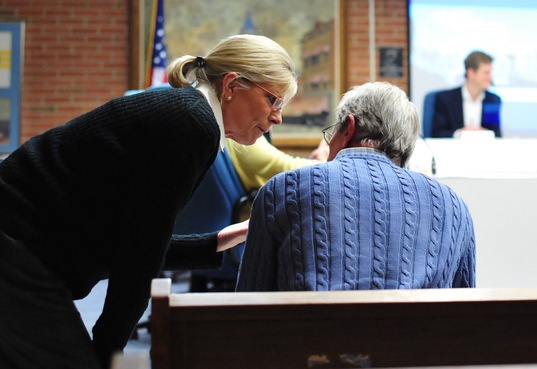 Ryan J. Stanton | AnnArbor.com
Ann Arbor developer Alex de Parry received mixed reactions Thursday night as he presented his newly unveiled Heritage Row Apartments project to the City Planning Commission for the first time.
Contrary to previous plans that included tearing down seven century-old homes along South Fifth Avenue, de Parry vows to keep them intact and complete upgrades that follow federal guidelines for historic rehabilitation.
Heritage Row, an incarnation of the development formerly known as City Place, proposes up to 82 apartment units with 154 bedrooms.
Those would be split between seven historic houses in the 400 block of South Fifth Avenue and three new apartment buildings de Parry proposes building behind the houses.
Ryan J. Stanton | AnnArbor.com
Thursday's meeting was purely meant to give the Planning Commission a first look at de Parry's new drawings and provide feedback. Commissioners focused largely on the relationship between the seven existing houses and the three new brick buildings that would go behind them.
Commissioner Jean Carlberg said there's "a great deal to like" about the project. She said no one would notice the rear buildings unless they looked through the houses and also noted she didn't find the rear buildings distasteful - despite comments made by a few residents to the contrary.
"I don't see much impact on the neighborhood in terms of feeling a greater number of people," she added. "Its proximity to the downtown seems to me makes this an ideal location for greater density."
Commissioner Kirk Westphal said he was glad to see efforts to preserve the rhythm of the streetscape and is "very encouraged by what's being proposed."
That contrasted with comments made by Commissioner Erica Briggs, who didn't like the look of the brick buildings. She said they lacked detail and, architecturally, weren't inspiring.
"It detracts from the neighborhood, and it's not in keeping with the current character of the neighborhood," she said.
City staff plans to work with the developer and bring a proposal back to the Planning Commission for consideration in March.
De Parry is asking for approval of a Planned Unit Development site plan for the 1.23-acre property at 407-437 S. Fifth Ave. He is requesting the site be rezoned from an R4C multiple-family dwelling district to PUD, which requires a demonstration of public benefit.
City Planner Matt Kowalski offered positive comments about the project in a verbal report at Thursday's meeting. He said Heritage Row meets two major goals of the city's Central Area Master Plan:
To promote sound and attractive residential neighborhoods that meet the housing needs of the current and future population - and are adequately served by urban services, infrastructure and facilities and conserve environmental quality.
To encourage sensitive, attractive, and innovative development and renovation in downtown Ann Arbor and in adjacent neighborhoods.
Kowalski said the brick buildings behind the houses would rise three and a half stories high (or about 39.8 feet), measure 44,738 square feet in size, and contain a total of 44 apartment units with 99 bedrooms. Broken down, that includes 33 two-bedroom apartments and 11 three-bedroom apartments.
Within the 26,873-square-foot space of the existing houses, de Parry plans to accommodate 38 more units with 55 bedrooms.
Of the total units on the site, de Parry is proposing that 18 percent - or about 15 of them - be designated as affordable housing. That goes above the city's 15 percent requirement, Kowalski noted in his report.
De Parry also has designated 59 percent of the site as usable open space, which goes beyond the city's 40 percent requirement. He said that's possible because of a 60-space underground parking garage he plans to build, which frees up surface space for a 1,500-square-foot landscaped plaza with a public art display.
A small number of residents were in attendance for Thursday's meeting. Among their concerns was the new buildings were too tall, and they advocated for limiting them to 30 feet. 
"Admittedly, the developer has come a long way from his original proposal, but this would be a lot better if the buildings in the back were of a lesser mass," said Fifth Avenue resident Tom Luczak, a member of the Germantown Neighborhood Association.
Luczak said the three new buildings "totally overwhelm" the houses in the front, which he called a "part of the fabric of the neighborhood." He said the Heritage Row project, though an improvement, still is "incompatible with the existing neighborhood."
The site of the proposed development lies within an area being studied by a City Council-appointed committee to see whether it should be designated a historic district. Earlier this month, the City Council voted to extend a moratorium on development within the district through Aug. 6 while the committee continues its work.
If the historic district is approved by the City Council, which appears likely, any project on the site would need approval from the Ann Arbor Historic District Commission.
Beverly Strassman, another Fifth Avenue resident and member of the Germantown Neighborhood Association, said density is one of her biggest concerns.
"The plans for our town say that the goal is to increase density in the downtown. I agree with that. My neighbors agree with that. We want more density in the downtown," she said. "However, if you cannibalize the neighborhoods that are near the downtown but outside the DDA, you are shooting yourself in the foot with respect to the goal of increasing density in the downtown."
Ryan J. Stanton covers government for AnnArbor.com. Reach him at ryanstanton@annarbor.com or 734-623-2529.