Posted on
Mon, Mar 18, 2013 : 6:50 p.m.
Ann Arbor doubles its Pure Michigan national campaign efforts to $2M this year
By Amy Biolchini
Ann Arbor will be doubling its efforts to $2 million in its second year purchasing national TV advertisements with the state's Pure Michigan campaign.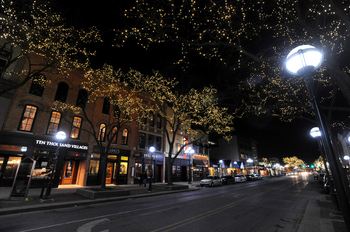 Melanie Maxwell | AnnArbor.com file photo
It's a part of this year's $13 million national cable TV tourism campaign through the Travel Michigan Partnership Advertising Program, which is part of the Michigan Economic Development Corp.
Other national partners include The Henry Ford, Mackinac Island, Traverse City, and, for the first time, Grand Rapids. Each of those communities will be contributing $500,000 to the campaign, while Ann Arbor has committed $1 million.
Travel Michigan will be matching Ann Arbor's $1 million for a total ad buy of $2 million.
The $1 million contribution from Ann Arbor area entities is double its contribution to last year's Pure Michigan campaign.
The Ann Arbor Area Convention and Visitors Bureau is again partnering with the Ypsilanti Convention and Visitor's Bureau and SPARK to fund the contract.
The expanded ad campaign was made possible by a return of marketing dollars collected by Washtenaw County in the accommodations ordinance administrative fund. Per state law, the county can collect up to 10 percent off the top of the hotel tax to help fund the county's collection process and administrative fees.
The county found that they didn't need the full 10 percent that they were collecting and it is being returned to the Ann Arbor and Ypsilanti convention and visitor's bureaus in a lump sum, said Mary Kerr, president of the Ann Arbor CVB.
That one-time money is being used to fund the Pure Michigan campaign expansion.
"We don't anticipate being able to do this again," Debbie Locke-Daniel, executive director of the Ypsilanti CVB, said of the expanded campaign.
Though the divisions of funding sources for the $1 million commitment from Ann Arbor entities have yet to be finalized, Kerr said the Ann Arbor CVB will be paying for at least half and Locke-Daniel said the Ypsilanti CVB will be paying for about 25 percent.
Ann Arbor will be featured in the commercial but Ypsilanti will not, said Locke-Daniel. Ypsilanti is a featured destination on the Ann Arbor website page on Michigan.org, Locke-Daniel said.
"What's good for Ann Arbor is good for Ypsilanti," Locke-Daniel said. "You have to use the brand to drive everyone here and that's what that commercial is doing."
The 2013 campaign runs continuously for six weeks, beginning April 1, and will have 720 spots on 12 cable TV networks nationally.
The TV campaign is estimated to reach 42 percent of adults in the target demographic between the ages of 25 and 54, Kerr said, and is estimated to have 210 million impressions.
In 2012, the Ann Arbor CVB signed up for its first national Pure Michigan campaign. It committed $500,000 to a $1 million campaign. The 500-spot TV ad campaign ran for two weeks in April and two weeks in May on 12 cable networks.
It garnered 62.5 million impressions and hit 33 percent of the target audience: Women between 25 and 54 years old, Kerr said.
Kerr said the Pure Michigan ads will target both prospective businesses and tourists. The Ann Arbor TV spots will have more of a presence on networks including CNN, MSNBC, Fox and the Golf Channel to market the area more to businesses, Kerr said.
The national ad campaign has had success, partly based on the web traffic Kerr has seen on Ann Arbor's website hosted on Michigan.org and partly through hotel occupancy rates.
Hotel occupancy in Washtenaw County is the highest the Ann Arbor Area Convention and Visitor's Bureau has seen since 2000, Kerr said. The county finished 2012 with an occupancy level of 67.5 percent - which is an increase of 2.6 percent from the year before.
The average daily rate for a hotel room in Washtenaw County was about $93.82 in 2012 -- about 4.2 percent more than the average daily rate for a room in 2011, according to data from Kerr's office.
The national ad buys have had particular success in attracting visitors from the Chicago area to the Ann Arbor page on the Michigan.org website, Kerr said.
In 2012, page views to the Washtenaw County portion of the Pure Michigan page increased by 72 percent from the year before, Kerr said.
Amy Biolchini covers Washtenaw County, health and environmental issues for AnnArbor.com. Reach her at (734) 623-2552, amybiolchini@annarbor.com or on Twitter.