Posted on
Tue, Nov 6, 2012 : 9:36 p.m.
Ann Arbor downtown library bond proposal headed for defeat
By Ryan J. Stanton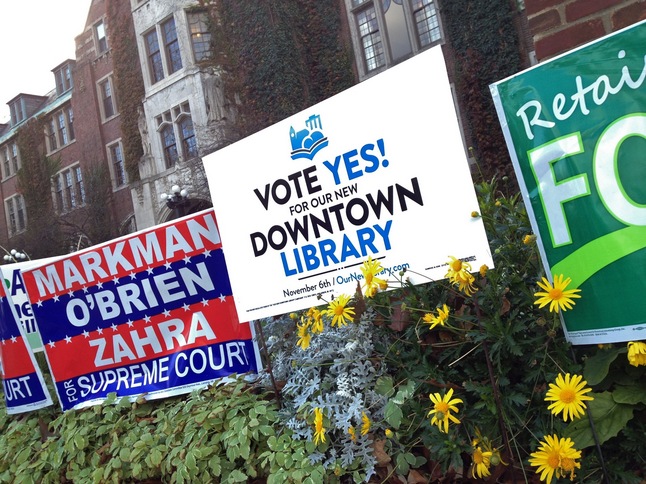 Ryan J. Stanton | AnnArbor.com
UPDATE: Ann Arbor downtown library bond proposal defeated: What now?
With 74 of 92 precincts counted, the Ann Arbor District Library's bond proposal for a new downtown library is losing with 45.8 percent of the vote.
The vote count is 32,680-27,659 against the proposal, and votes from the remaining precincts won't be enough to close that gap.
If approved, the proposal would have authorized the sale of up to $65 million worth of bonds and the AADL would have levied a property tax for up to 30 years to pay off the debt.
Ryan J. Stanton | AnnArbor.com
Depending on the interest rate at which the bonds are sold, library officials said annual payments could have been funded by a tax rate of 0.47-0.56 mills per year, meaning the cost to the owner of a $200,000 home with a $100,000 taxable value would have been between $47 and $56 per year.
Library officials said that would be enough to fund the estimated $53 million in construction costs, plus demolition, rental of temporary facilities during construction, furniture, equipment, technology, and other costs related to the project, including permits, designs and engineering.
The library currently levies 1.55 mills in taxes per year for operations, costing the owner of a $200,000 home with a $100,000 taxable value about $155 per year.
The AADL board studied the issue of whether to replace or renovate the downtown library to address capacity issues and it was found that a new building would cost only 10 percent more than a renovation. Library officials had in mind a 160,000-square-foot facility that would include more room for programs, meeting spaces and new technology, as well as a 400-seat auditorium.
Supporters of the proposal campaigned for its passage through a committee called Our New Downtown Library, which was headed up by Ellie Serras. She and others gathered Tuesday night at the Real Seafood Co. in downtown Ann Arbor to watch the results roll in, but they knew early in the night that it wasn't looking good for them.
Serras said this past week she hoped voters would realize the value in replacing the downtown library, which dates back to 1958 and was last renovated in the early 1990s.
Three committees — one called Protect Our Libraries, another called Save the Ann Arbor Library, and another called LOL=Love Our Library — formed in opposition to the proposal.
Kathy Griswold, who headed up the Protect Our Libraries group, said library officials were asking too much money for what she considered a marginal benefit.
Library officials said a solid timeline would have been developed if the proposal was approved, but it was expected the project would begin by spring 2014 and construction would last 18-27 months. There would have been a year-long planning process with public input before the project started.
The intention was to keep the downtown library's collection available online for requests during construction, but most of it would not have been physically browsable. Library leaders said they hoped to find space they could use as a temporary downtown branch if the project moved ahead.
Ryan J. Stanton covers government and politics for AnnArbor.com. Reach him at ryanstanton@annarbor.com or 734-623-2529. You also can follow him on Twitter or subscribe to AnnArbor.com's email newsletters.