Posted on
Wed, Dec 5, 2012 : 10:01 a.m.
Ann Arbor earns high score on new ranking for LGBT equality
By Cindy Heflin
Ann Arbor received a high score on a new Municipal Equality Index ranking communities on protections for LGBT people, the Atlantic Cities reports.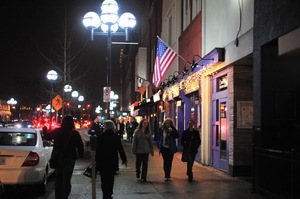 Ryan J. Stanton | AnnArbor.com
Ann Arbor scored 84 out of a possible score of 100 in the report on LGBT (lesbian, gay, bisxual, transgender) equality. Eleven cities, including New York, Los Angeles and St. Louis received perfect scores. Low rankers included Jefferson City, Mo.; Frankfort, Ky.; and Montgomery, Ala.
The Human Rights Campaign Foundation, in partnership with the Equality Federation Institute and the Gay & Lesbian Victory Fund compiled the report.
The report ranked communities on 47 criteria in six broad categories: non-discrimination laws; relationship recognition; the municipality's employment practices; inclusiveness of city services; law enforcement; and municipal leadership.
Ann Arbor was the first city in the country to pass a gay rights ordinance. It was also the first city in the nation to elect an openly gay person to office when Kathy Kozachenko won a seat on City Council in April 1974.
Gaywired.com named it one of the top five surprisingly gay-friendly small towns in 2009.
The ranking in the Municipal Equality Index is the latest in a string of kudos for the city. In recent months, Ann Arbor has been ranked the No. 9 college town in America, the fifth-happiest city in America and one of the 10 best cities for singles, among others.