Posted on
Sat, Apr 23, 2011 : 5:55 a.m.
Ann Arbor Ecology Center moving to new home in downtown Ann Arbor
By Laura Blodgett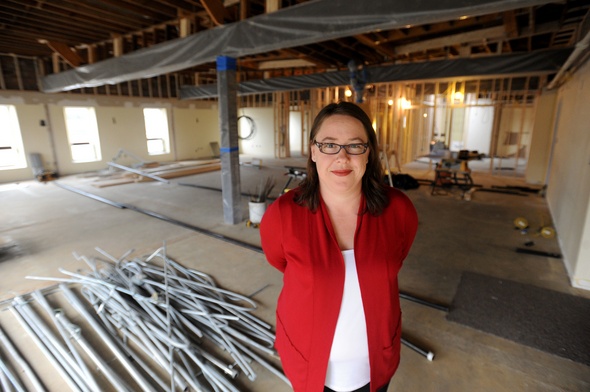 Angela J. Cesere | AnnArbor.com
The Ecology Center, a 40-year-old nonprofit environmental research and advocacy organization, is moving its headquarters to a new location in downtown Ann Arbor.
The center will almost double its current office area when it moves into 5,000 square feet of renovated space on the third-floor of 339 E. Liberty St., known as the HandiCraft Building, in June.
"We have been bursting at the seams at our current location for a number of years," said Mike Garfield, director of the Ecology Center, which employs a staff of 19 plus student interns and volunteers. "We've been searching for the right space for over two years that would provide a good working environment and also express our values as an organization."
The new space will reflect the organization's commitment to the environment by incorporating as many "green" building features as possible. The center is working with Wayne Appleyard of Sunstructures Architects in Ann Arbor to obtain a LEED rating for commercial-interiors for its portion of the building.
In the spirit of recycling, the organization knew it wanted to find an existing building that could be renovated to meet its goals. Luckily, Dan Cramer, the owner of the HandiCraft building, was open to working with the organization on the green aspects of the building and investing in the project. Connie Rizzolo Brown of Rizzolo Brown Studio is the lead designer on the project.
Garfield hopes the center can be a model demonstrating to other midsize companies and organizations how to work together with property owners to develop similar projects.
"Most commercial space in downtown Ann Arbor is bigger than 5,000 square feet, and a lot of small to midsize commercial tenants find themselves looking to rent a smaller space in a larger building. If the property owner isn't looking to introduce green features on their own accord, it's a complicated negotiation to have them do it just for one tenant."
Plans for the new office space include energy conservation measures and advanced air-handling controls, as well as the possibility of photovoltaic solar panels. It will also include an extensive use of non-toxic, "green" products, including halogen-free electrical and data wiring; paints with zero volatile organic compounds; and carpets low in those compounds, as well as free of PVC and high in recycled-content.
Some of the materials removed during the renovation, such as wooden studs and sprinkler pipe, are being salvaged and fabricated into furniture by students in a design class at Eastern Michigan University. The pieces will then serve as office furniture in the new space. Also, the wood finishing product being used on the furniture is a non-toxic product made from cow whey.
The Ecology Center worked with the building's landlord to get the entire building accepted into the "Downtown Energy Savings Grant Program" administered by the Ann Arbor Downtown Development Authority.
Garfield looks forward to making the new office available for tours to supporters and members. A virtual tour of the renovation project will be available on the organization's website at www.ecocenter.org.
The Ecology Center has been located at 117 N. Division in Ann Arbor since 1996, occupying offices on four levels of a house built in 1910. When it was founded in 1970, following an environmental teach-in at the University of Michigan that led to the first Earth Day, the Ecology Center had offices in several storefronts in the Kerrytown area. The Ecology Center is also the parent organization of Recycle Ann Arbor and Energy Works Michigan, which provides energy audits and design and installation services for Michigan schools.