Posted on
Sat, Nov 5, 2011 : 5:55 a.m.
What's for lunch? Students cook up a batch of ratatouille
By Angela Smith
What's on the menu for school lunches this week? Turkey hot dogs, soft tacos, stuffed bread sticks and chicken nuggets are standard fare for the monthly calendar of food options, but Friday, students in Ann Arbor Public Elementary Schools had another option, student-prepared ratatouille.
Ratatouille is best known among the elementary set as a rather popular 2007 Pixar animated movie about a rat with dreams of becoming a chef. But many students Friday learned that it's also a rather tasty traditional French dish consisting of zucchini, tomatoes, eggplant, and peppers and other stewed and/or fried vegetables.
"It's really good!" remarked Stella Jamsen, a 10-year-old student at Lakewood Elelmentary in Ann Arbor. Jamsen, who had never tried ratatouille, was not aware that the dish was prepared by students in an Ann Arbor schools summer camp. "They did a good job!" The ratatouille was offered as a part of the school district's Farm to School program. The program regularly provides free fresh fruits and vegetables to students across the district, whether or not they purchase hot lunch. Most of the samples are provided by local farms, but this week's offering was grown and prepared by AAPS Community Education and Recreation students.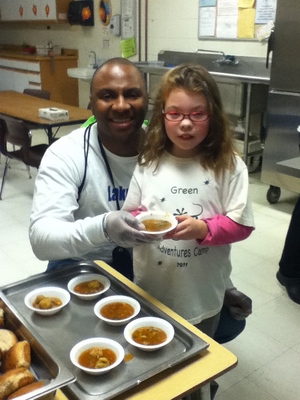 Angela Smith | For AnnArbor.com
Students who participated in the AAPS Summer Green Camp worked on growing and preparing the ingredients for the meal. In August, the first- through fourth-grade participants took part in cooking lessons from Chartwells chefs, the professionals who regularly provide the lunches for the AAPS elementary schools. "Using the Pioneer high school kitchen, the green gampers and the chefs at Chartwells created ratatouille and Asian slaw with ingredients they picked the day before. The ratatouille was then 'flash frozen' to be used for school lunches on this designated day, according to a press release.
For the first time in 15 years the Food and Drug Administration is proposing to make changes in the $11 billion dollar school lunch program.html What does the agency want? More fruits and vegetables, less potatoes and starch and a lot less salt.
Lakewood principal Michael Johnson helped to serve the vegetable-rich dish Friday. "To know that they (students) actually have a connection with what it is that we serve for lunch; it has a special magic to it." He was pleased that students were given a choice to try the dish in addition to the regular offering of macaroni and cheese. Robin Schultz-Purves, Community Education Coordinator for AAPS, said that students in the program were pretty excited about the thought of having their creations served within the school district. Schultz-Purves estimated about 400 students throughout the district and surrounding area took part in the camp. Eleven of them were from Lakewood Elementary. Students who participated in the program were encouraged to wear their Green Camp shirts to school Friday. Claire Cerda wore hers proudly, and helped to create excitement for the special meal.
Schultz-Purves said the Green Camp program is successful because it offers academic enrichment and a focus on environmental issues, both camp topics that are in high demand by area parents. The Green Camp Summer 2012 schedule will be available in January at the AAPS REC and Ed website. The collaboration among Chartwells, Rec and Ed and the Farm to School Program was integral in making this work, according to Schultz-Purves.
Angela Smith is a freelance writer for AnnArbor.com.