Posted on
Wed, May 12, 2010 : 8:55 p.m.
Ann Arbor elementary school's black-only program violated state law, district policy
By David Jesse
An Ann Arbor elementary school program open only to black students violated Michigan state law and the district's own anti-discrimination policy, school board President Deb Mexicotte said in a prepared statement Wednesday evening.
"The effort was well-intentioned," Mexicotte said. "We are sorry that this cast our community in a negative light" when the district has so many positive things going on.
Mexicotte didn't criticize Principal Mike Madison in her statement. District spokeswoman Liz Margolis declined to comment on whether any disciplinary action has been taken against Madison, citing district policy.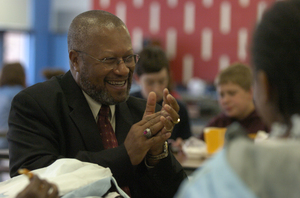 The district has been drawing heavy criticism of the program from across the nation - and from some parents in the district - for more than a week. It started with complaints from students and parents about a field trip taken by the African American Lunch Bunch at Dicken Elementary to hear a black rocket scientist at the University of Michigan speak. District administrators have said a private donation paid for the trip.
After the trip, classmates who were excluded booed those who went. Madison entered a classroom, and parents have complained he berated the students. District officials have said he was just having a "passionate" discussion about race issues.
The black-only program was formed this school year in response to an achievement gap in test scores and other measures between white and black students. The district announced the program was disbanded on Friday.
Parents whose students did not go on the trip have expressed concerns it was exclusionary, but Madison sent a letter home insisting that wasn't the intent. He said in the letter that the field trip was meant "to address the societal issues, roadblocks and challenges that our African-American children will face as they pursue a successful academic education here in our community."
The trip prompted a tidal wave of anger directed at the school district - much of it from outside the district, Mexicotte said.
In her statement, Mexicotte said much of the anger was misguided and didn't demonstrate a "willingness to presume goodwill" by Madison and the district.
"This anger has often not been civil," she said.
Mexicotte said she wished the anger would be redirected against a "public education system that has left too many behind."
One of the issues raised by parents and others was whether the group violated the district's own anti-discrimination policy and state law. The district's legal counsel was asked to issue a ruling, which he did Wednesday night in a closed session with the board.
The district is working with Madison and the Dicken community to restructure the now defunct program, Mexicotte said. The administration is also drafting "clear guidelines" on how principals and other administrators can help overcome the district's achievement gap in an "inclusive" way.
Victoria Haviland, the secretary of the Dicken PTO and a parent of three Dicken students, was at the board meeting. She was one of five applicants to fill an open seat on the board, but wasn't selected.
Haviland said she thought the statement did a good job of demonstrating the district's "commitment to equity." She said administrators and members of the Dicken school improvement team have begun work on reconfiguring the program.
Parent Ann O'Connell was the lone speaker at the board's public commentary.
"As our community found to our embarrassment when a scandal regarding a field trip by the African American Lunch Bunch went national in the last few weeks, some School Improvement Teams have targeted efforts to "Leap the Gap" or improve academic achievement by race and sometimes by gender.

"It has been claimed by some that these practices are based on the cultural sensitivity training provided to the district by Pacific Educational Group.

"My experience of the last 11 years says that programs of this type had been implemented prior to PEG's contract with the district, and have several times been ended when they were found to be discriminatory.

"Since the passage of Proposal 2 in Michigan, every adult in the Dicken community, and in AAPS as a whole should have realized that the AA Lunch Bunch, like previous programs, which have been found to be illegal, was illegally segregating students by race.
"I would like to urge the trustees, in the strongest possible terms, to re-think and re-direct the district's group-focused approach to appreciation of diversity, cultural sensitivity and closing the achievement gap.

"Where appropriate, teachers and administrators must be re-trained to the point where they can clearly identify what type of academic achievement enhancement efforts are allowable, and which are not.

"What you have been doing, often with excellent intentions, is illegal, it's immoral, it's insulting to both girls and to African-Americans to imply that they will not, can not succeed in a fair educational system.

"I do not mean to imply that a fair system will treat all students alike in all cases.

"Fairness dictates that individual strengths, weaknesses, interests and abilities be taken into account in designing educational interventions."

Mexicotte said the district has worked hard in the past several years to attack problems surrounding the achievement gap and equity issues. She said the district's efforts in this matter "are finally bearing fruit" and the gaps are closing.
"We have done this in the face of diminishing resources" because "it is the right thing to do. We know we are on the right path," Mexicotte said.
David Jesse covers K-12 education for AnnArbor.com. He can be reached at davidjesse@annarbor.com or at 734-623-2534.