Posted on
Mon, Apr 15, 2013 : 5:58 a.m.
Ann Arbor family starts library at C.S. Mott Children's Hospital in memory of infant son
By Amy Biolchini
Courtney Sacco I AnnArbor.com
The world was a bewildering place for baby Micah.
Born 90 days early on Jan. 23, 2012, Micah and his twin brother, Zachary, lived in incubators for the first three months of their lives at C.S. Mott Children's Hospital in Ann Arbor.
Separated from his parents Noah and Jennifer Canvasser of Ann Arbor by a thick plastic pane, Micah grew.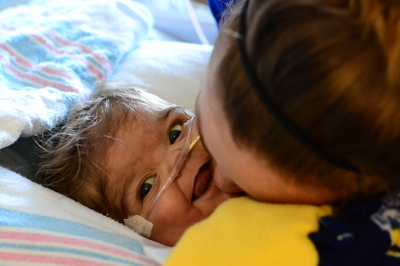 Family photo
He gained weight -- not as much as his brother Zachary, but it seemed he would be able to go home soon.
Unexpectedly, Micah's kidneys failed him.
When Zachary went home from the hospital at the age of 3 months, Micah had to stay behind in the neonatal intensive care unit.
Noah, Jennifer and Zachary spent all their time in Micah's hospital room -- singing songs as Noah played his guitar and reading books.
"We read to them every single day," Jennifer said. "We tried to make it an uplifting place despite all the chaos."
Though he didn't understand or comprehend the tubes running through his body or the medical procedures, Micah smiled.
"(Micah) was very cognitively intact despite all he went through," Jennifer said. "He always smiled, even though he was sick."
Micah's smiles carried the Canvassers through a roller coaster of a year from happiness and heartbreak; through 10 months of daily visits to the hospital; and ultimately through the realization that Micah would not live through his first birthday.
HOW TO DONATE BOOKS
Send new picture books for the NICU giving library to:
The Micah and Zachary Giving Library, 2210 Avalon Place, Ann Arbor, MI 48104
In
Micah's memory
, the Canvassers are starting a giving library for the neonatal intensive care unit at C.S. Mott Children's Hospital.
The library will provide families with infants in the NICU with one book each week to read to their children and to take home at the end of their stay.
Brothers
Born a minute apart, Micah was the older brother and weighed about five ounces less than Zachary.
Family photo
While Zachary grew quickly and was able to leave the hospital within months, Micah developed unexpected complications.
In March, his kidneys failed and he stopped going to the bathroom. He underwent peritoneal dialysis, but it didn't work. Micah kept retaining fluid.
The doctors struggled to understand what was happening inside his body. Micah underwent surgery in April to remove part of his bowels, which doctors discovered were knotted up inside him.
Gradually, Micah grew stronger.
He was diagnosed with End Stage Renal Disease -- permanent kidney failure that requires dialysis or a kidney transplant to live.
After several important treatments, the Canvassers were finally able to hold their child at the end of July.
By September, Micah began to look like a healthy baby, though he still struggled to gain weight to his nine-pound self.
"He had a lot of obstacles stacked against him," Jennifer said.
If he made it to 20 pounds, Micah could undergo a kidney transplant, the doctors said.
For four weeks in October he was able to join his brother, parents and family dog, Benjie, at their Ann Arbor home.
Micah developed a cough, and then a fever. He was re-admitted to the hospital in November, and his body slowly started to shut down.
Treatments that helped Micah before devastated his system. The Canvassers had to make the heartbreaking decision to stop treatment.
"I never thought it would end this early," Jennifer said.
The Canvasser's lives were on a constant circuit between Micah's bedside and their home five minutes away.
The couple bought their house three years ago when they moved in to the area. The home's proximity to the University of Michigan Health System was their top priority -- but for a different reason then.
Originally from California, the Canvassers moved to Ann Arbor after Noah was matched with a residency position in UMHS' pediatric urology program.
In his residency, 29-year-old Noah worked floors away from his sick child during the months that Micah was in the hospital, and has continued to work in that department at Mott after Micah's death.
It's not easy, Noah said, but his colleagues are encouraging.
Jennifer, 29, works as an environmental health organizer at the Ecology Center in Ann Arbor.
2012 was a blur for the couple, Jennifer said, noting they felt very isolated and disconnected from the world because of how involved they were with their twin sons.
"What happened last year?" Jennifer asked her husband.
The giving library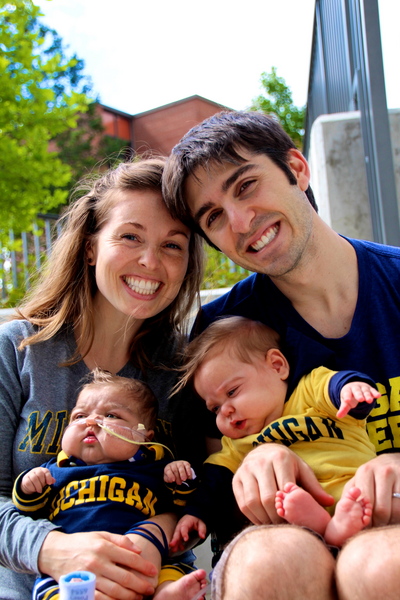 Family photo
When Jennifer and Noah couldn't hold their baby boys, they embraced them through the words of children's books.
The Canvassers' favorites were "Oh the Places You'll Go!" by Dr. Seuss and "Wherever You Are: My Love Will Find You" by Nancy Tillman.
That experience is one that Jennifer said she wanted to make sure every family can have that has a child in the NICU.
"It provides a special bonding interaction," said Sarah Mellifont, nurse educator in the Mott Family Center. "Parents are given this kind of gift of having this 'normal' baby experience with their little one."
The Canvassers need to collect 2,000 books before they can give the library to the hospital to give to families. They have about 350 picture books collected so far.
THE MICAH SMILES FUND
Mail donations to benefit the Child Life music therapy program at C.S. Mott hospital to:
CS Mott Children's Hospital, Micah Smiles Fund, c/o Therese Apostoleris, 1000 Oakbrook Dr. Ste. 100, Ann Arbor, MI 48104
The books should be new and suitable to read to babies.
The Canvassers also have started a "Micah Smiles Fund" to support the Child's Life music therapy program.
Throughout Micah's stay at Mott, visits from volunteers in the music therapy program to his room with a guitar and a soft song brightened the Canvassers' days.
The library program is similar to one already in place at Mott's pediatric intensive care unit, where a mobile library gives books to children who range in age from toddler-aged to teenagers. Volunteers distribute books on weekdays.
In the PICU, the giving library was created in 2001 in the memory of the late Janet Todd Grewe, a teacher who was a literacy advocate.
"Parents really love that experience of that even though they're in the hospital that they have some kind of normal experience that their child could be doing at home," Mellifont said. "The purpose is to promote literacy, but also to provide another type of distraction for patients."
To donate new books to the existing giving library in the PICU, call (734) 763-3656. To give funds to the purchase of new books, email givinglibrary@umich.edu or donate online.
Amy Biolchini covers Washtenaw County, health and environmental issues for AnnArbor.com. Reach her at (734) 623-2552, amybiolchini@annarbor.com or on Twitter.