Posted on
Wed, Jan 4, 2012 : 4:31 p.m.
Ann Arbor firefighters rescue stranded deer at Gallup Park
By Danny Shaw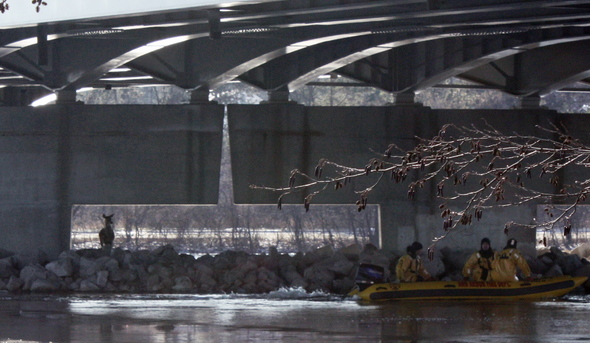 Courtesy of Humane Society of Huron Valley
Ann Arbor firefighters rescued a deer stranded on a bridge embankment at
Gallup Park
this afternoon.
The young buck made its way onto a sheet of ice over the Huron River, then to the Gallup Park bridge embankment in the middle of the river.
A concerned motorist called the Humane Society of Huron Valley after spotting the deer under the bridge. Matt Schaecher, director of animal cruelty investigations and animal rescue, responded to the scene and called the Ann Arbor Fire Department for assistance.
"I've got to give them credit; they were fantastic," Schaecher said. "Their response time was phenomenal."
A fire crew arrived with a rescue boat to help the animal back to the shore. Schaecher said the crew had to break up remaining ice around the embankment and then ushered the buck to the water, where it swam to shore and sprinted back to the wooded park.
"It was uninjured and ran down the shore next to the fences," Schaecher said, "then hopped the fence and ran back into the woods. He was fine."