Posted on
Tue, Feb 15, 2011 : 2:15 p.m.
Ann Arbor Fire Chief Dominick Lanza resigns, citing family issues and budget cuts
By Lee Higgins
Ann Arbor Fire Chief Dominick Lanza has resigned, citing a desire to be closer to family and looming cuts to the fire department.
Lanza, 59, who has headed the department for nearly a year, submitted a letter of resignation late Monday afternoon, he said today. His resignation is effective March 25.
Lanza's wife Julie has been living in the couple's retirement home in the Nashville, Tennessee area while he's been working in Ann Arbor since March 22, 2010.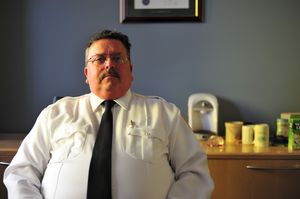 File: Ryan J. Stanton | AnnArbor.com
"It's gotten personally too taxing," he said.
Lanza came out of retirement when he was hired for the $108,000 post. He had retired in 2007 as assistant chief of operations with the Broward County Sheriff's Office Department of Fire Rescue in Fort Lauderdale.
Lanza said the prospect of making further cuts at the Ann Arbor Fire Department contributed to his decision.
"It probably made the decision a little bit easier," he said. "I've been thinking about it for a while."
In total, Lanza spent 37 years in the fire service and said he doesn't expect to return. He had planned to work at the Ann Arbor Fire Department until age 65, but it simply didn't work out that way, he said.
Lanza plans to spend more time with his six grandchildren, riding his Harley Davidson motorcycle through the Tennessee mountains and working on restoring a 1957 Chevrolet. He enjoyed his time in the city, he said, and will sit down with city officials in the coming weeks to discuss a potential replacement.
"I got a lot of satisfaction of working with people out in the public and being able to help people," he said.
Ann Arbor Police Chief Barnett Jones, who serves as safety services administrator, couldn't immediately be reached for comment this afternoon.
City Administrator Roger Fraser said it's too early to tell how the city will go about finding a replacement.
In his resignation letter, Lanza notes the department has a newly promoted assistant chief and says he'll spent the next month preparing both chiefs to continue programs that are scheduled to get under way or are scheduled to start, such as budget preparation.
Lanza replaced former fire chief Samuel Hopkins, who also made note of the city's budget challenges when he resigned in October 2009. He had been the fire chief for four years.
In an e-mail to the fire department, Hopkins wrote, "During these tough economic times, it is difficult to make up for the poor administrative decisions that were made during more prosperous periods. Therefore this city finds itself in financial difficulties. In order to salvage the budget problems, the decision makers are planning to ask our members to sacrifice so that this city can attempt to recover economic stability going forward. In leaving, I pray that your safety and the safety of this beautiful city isn't part of the casualties of your sacrifice."
Lanza's resignation letter, obtained by AnnArbor.com, did not discuss the city's financial situation. Instead, he wrote of the stress on his family and how he enjoyed serving the city for 11 months.
4 p.m.: This story was updated with information on the previous fire chief and a comment from Roger Fraser.
Lee Higgins is a reporter for AnnArbor.com. He can be reached by phone at (734) 623-2527 and email at leehiggins@annarbor.com.