Posted on
Mon, Oct 31, 2011 : 5:59 a.m.
City records show 1 of 2 downtown Ann Arbor firetrucks out of service most days
By Ryan J. Stanton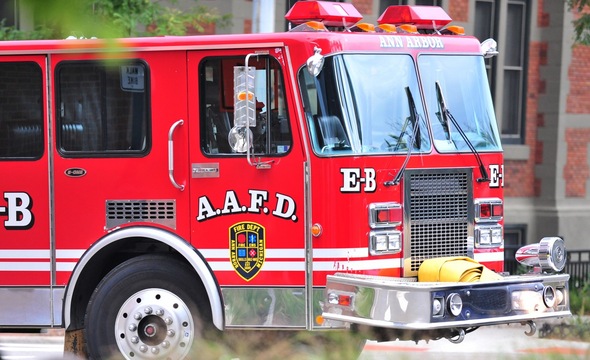 Ryan J. Stanton | AnnArbor.com
On most days, at least one of the two active firetrucks at
Ann Arbor's downtown fire station
is listed as "out of service" due to
low staffing levels
, city records show.
AnnArbor.com recently filed a Freedom of Information Act request with the city, seeking records showing the fire department's daily staffing levels, as well as records showing when trucks had to be taken out of service since a new policy took effect July 1.
The records show Tower 1 was out of service 36 out of 68 days, or 53 percent of the time, from July 1 through Sept. 6, the time period examined.
Rescue 1 was out of service 24 days, or about 35 percent of the time.
There were only 11 days when both Rescue 1 and Tower 1 were in service on the same day. That means at least 84 percent of the time, one of the two trucks was out of service.
Even counting days when Engine 1 — an old truck kept in reserve — was put into service, the downtown station still operated with only one truck at least 76 percent of the time.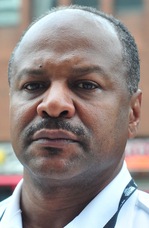 Fire Chief
Chuck Hubbard
enacted the
new policy
of taking one of the downtown trucks out of service when daily staffing levels fall below 19 firefighters, and it appears that's become the new normal. He did that as an alternative to a previous practice of closing one of the city's five fire stations on a rotating basis.
"We have only so much money, so we have to run with what we have," Hubbard told AnnArbor.com this past week. "We don't have a perfect system, but we have a good system."
Hubbard said each of the department's four substations has only one truck and the main downtown station has two, so it made sense to switch to taking one of the downtown trucks out of service instead of closing a station somewhere in the city.
Asked how the new policy is working out, Hubbard said it's not the best or most efficient system, but it's operationally doable.
"I wouldn't be overly concerned," he said. "I wouldn't want to create a panic over something we can handle and manage. It's not like the city's burning down. We're still responding to calls, we're still getting there in a timely fashion, we're still putting out fires."
Matt Schroeder, president of the firefighters union, wrote an open letter in August, decrying the decision to take the downtown tower truck out of service. The records obtained by AnnArbor.com now show Tower 1 was out of service all but seven days in August.
Without the tower truck in service, Schroeder said, Ann Arbor firefighters are unable to provide for citizen safety in a manner the community has come to expect. He noted that while normal ladder trucks can only reach six stories or fewer, the tower can reach nearly 10 stories in height, allowing for safer rescue of residents who live in taller structures.
Records show Tower 1 was out of service in late August when a fire broke out at Sheesh Mediterranean Cuisine restaurant on Main Street in downtown Ann Arbor and spread to neighboring businesses. The blaze caused hundreds of thousands of dollars in damage.
Schroeder couldn't say whether it would have made a difference to have the extra truck in service that day, but he maintains city officials are gambling with life and property and have knowingly chosen to compromise the fire department's ability to provide service.
"Obviously we're concerned, but the employer chooses not to do anything about that," Schroeder said. "We're open to the idea of working with the city to overcome these issues, but we haven't been able to do it. I just hope we can reach some sort of agreement, but it's a two-way street."
Staffing levels in the Ann Arbor Fire Department are about to become a hot topic of discussion as the city gets back a report from a consultant hired earlier this year for $54,000.
The Ann Arbor City Council agreed in February to hire the International City/County Management Association to conduct a study of the fire department. ICMA's report is expected to include a thorough analysis of staffing levels, whether the department is meeting national standards and ways it can improve operationally with existing resources.
City officials originally said the report was expected by July, and now that it still hasn't arrived, they're getting anxious.
"It's been in the mail longer than we can remember," said Council Member Stephen Rapundalo, D-2nd Ward and chairman of the council's labor committee.
Mayor John Hieftje said the same.
"It was in the mail, last I heard, about six weeks ago, and then it was in the mail four weeks ago, and two weeks ago, so your guess is as good as mine," Hieftje said. "We've been expecting it for a long time and it isn't here, so I'll believe it when I see it."
Donald James, senior manager of ICMA's Center for Public Safety Management, estimated it'll be two more weeks before ICMA releases a draft report to the city, but he's not at liberty to disclose any of its findings yet. Asked why the delay, James said all he can say is it was a personal matter of which the city has been made aware.
City officials are hoping to have the report in hand as they begin the budget planning process for the upcoming fiscal year. That usually kicks off with a council retreat in early December.
"It would be good to sit down as a council at the retreat and have that be part of the context of our discussions," Rapundalo said. "I mean, yes, we're still in arbitration with the firefighters, but let's talk about different operational models and what that would or would not gain us."
Dominic Lanza, who resigned as Ann Arbor's fire chief in March, said he left frustrated that he wasn't allowed by the city to make fact-based decisions on staffing or budgeting.
"When I left in March, the ICMA study was about to begin and was to have been completed by June or July," he wrote in a recent e-mail to AnnArbor.com. "ICMA has a record of on-time delivery. Why is the report not yet delivered or, if delivered, been released?"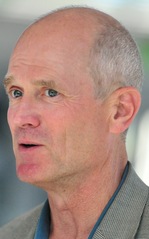 Lanza said the
recent fire at a restaurant on Main Street
is another example of why Ann Arbor needs good fire protection. He said he can't help but believe the ICMA report is going to recommend enhancing fire protection in Ann Arbor, not reducing it.
"I believe truthful evaluation would show the city is lacking in fire service," Lanza said, adding he resigned as fire chief partly because he was asked to blindly institute staffing changes.
As of July 1, the department saw its ranks decrease from 89 to 82 full-time employees, leaving the city with 0.72 firefighters per 1,000 residents. Nationally, the average full-time career fire department in the U.S. has about 1.72 firefighters per 1,000 residents.
The fire department had 131 full-time employees at its peak back in 2001. Some believe the reductions have been too severe.
Hubbard said it would shock him if the ICMA study recommended increasing staffing levels in the fire department. From what he can tell from other studies done in other communities, he said, ICMA usually provides recommendations for how to restructure fire departments and provide the best services based on existing staffing and financial resources.
Hubbard stressed low staffing is the reason Ann Arbor is operating without its downtown tower truck in service many times. He said the department needs to have a minimum of 19 firefighters on duty throughout the city to keep all trucks operational.
The department starts with 24 firefighters on per shift, Hubbard said. But union contracts allow seven to eight firefighters — depending on the month — to be off at any given time.
With that many people allowed to be off, Hubbard said, it's not uncommon for the department to find itself with only 16 firefighters on hand many days. He said it's also contractual that the department needs to have three people on a truck.
If only five firefighters were allowed to be off at a time, Hubbard said, there wouldn't be much problem with keeping the tower truck in service.
Asked whether the union would agree to contract changes so only five firefighters could be off at a time, Schroeder said he won't talk about negotiations publicly.
The fire department has an annual budget of about $14 million. The 82 firefighters listed on its roster include the fire chief and his administrative assistant, an assistant chief, the fire marshal, two fire inspectors, a mechanic, a training chief and the assistant to the training chief, leaving a little more than 70 other positions concentrated in fire suppression.
AnnArbor.com recently FOIA'd all communications between ICMA and top city officials since Jan. 1. That produced 15 pages of records, mostly routine e-mails.
An e-mail from James to Police Chief Barnett Jones on March 23 indicated James and Dan Kleman, one of his colleagues from ICMA, would be conducting the analysis. The e-mails show Jones made arrangements to have ICMA visit on April 18-19, but there were no written communications between city officials and ICMA after that point.
James worked for the Miami Dade Fire Rescue Department in Florida from 1986 to 2005, including as battalion chief, bureau chief, division chief and assistant fire chief. He holds a master's degree in public administration from Florida International University.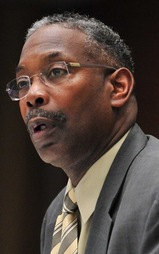 At the start of ICMA's analysis, James formally requested several documents from the city, including organizational charts, copies of city ordinances, mission statements, rosters and seniority lists, annual reports, budgets, overtime reports, work schedules, policies and procedures, training schedules, vehicle lists, asset inventories, interlocal agreements, workers comp reports, sick leave reports, comp time records, response area map showing station locations, collective bargaining agreements and more.
ICMA was hired after submitting a 32-page proposal on Jan. 5 to then-City Administrator Roger Fraser, outlining the scope of services the group intended to provide.
"Because this issue will have a dramatic impact on the community and because the city must have complete confidence in the outcome of our report, we have assembled what must be considered a premier team of subject matter experts with nationally recognized expertise in a wide range of public safety services," the introduction letter reads.
"Under the direction of Donald James, the project team will look at the deployment of the fire department to determine the appropriateness of current staffing levels in context to calls for service, response times and employee safety standards," the proposal states. "We will provide an objective analysis of the call center data and overall operation assessment."
The proposal references Ann Arbor's "severe financial challenges" and states upfront the city's existing methods of handling emergency responses is already proving to be unsustainable.
A month before the ICMA proposal, Hieftje and Fraser both publicly expressed interest in looking at a paid on-call approach to staffing the fire department. Jones said at December 2010 city budget retreat that many cities are moving in the direction of a hybrid solution of blending career departments with on-call firefighters to reduce costs.
Ryan J. Stanton covers government and politics for AnnArbor.com. Reach him at ryanstanton@annarbor.com or 734-623-2529. You also can follow him on Twitter or subscribe to AnnArbor.com's e-mail newsletters.