Ann Arbor Fire Department receives $642K grant to hire and retain firefighters
Posted on Wed, May 30, 2012 : 6:10 p.m.
The Ann Arbor Fire Department will receive a $642,294 grant to hire new firefighters and to help retain current first responders.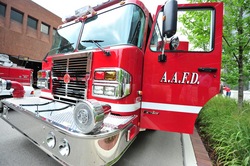 U.S. Sens.
Debbie Stabenow
and
Carl Levin
made the announcement today.
The grant comes from the U.S. Department of Homeland Security's Assistance to Firefighters Grant Program— Staffing for Adequate Fire and Emergency Response.
When contacted by AnnArbor.com, Ann Arbor Fire Chief Chuck Hubbard said he had "no idea" his department was awarded the grant and he had yet to be officially contacted regarding it.
"That is excellent and fantastic news," Hubbard said.
It was not immediately clear how many firefighters will be hired or how many first responders will be retained as a result of the grant.
"Our firefighters provide invaluable service to Ann Arbor and they deserve the best resources available to protect our families," Stabenow said in a statement.
The grant program was created to provide funding directly to local fire departments to help increase staffing levels and meet national standards. Nearby cities such as Dearborn, Ferndale and Southfield have received SAFER grants in recent years ranging from $850,000 to $2 million.