Posted on
Mon, Sep 17, 2012 : 1:22 p.m.
Ann Arbor forecast: Rain, much cooler weather ahead this week
By Cindy Heflin
If you're wise, you'll enjoy that afternoon sunshine and the pleasantly warm temperatures today. A big change is in store for the Ann Arbor area starting tonight.
Temperatures could even dip into the 30s overnight Tuesday. Frost warnings are out for parts of Michigan's Upper Peninsula.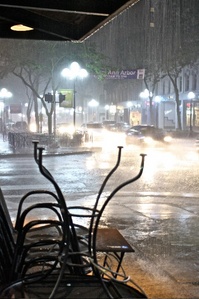 Photo courtesy of Angela Todd
After a high of about 79 Monday afternoon, a cold front moving into the area is expected to bring rain Monday night and then a much cooler day Tuesday.
The National Weather Service say the chance of rain Monday night is 80 percent. Rainfall of about a quarter to a half-inch is expected.
Tuesday will start off cloudy. Skies gradually will clear, but the high only is expected to reach 64 degrees. Tuesday night, the weather service predicts a low of 38 degrees with winds gusting to 24 mph.
Wednesday will bring a sunny day with a high of about 65 degrees. Thursday will be sunny and a bit warmer with a high of about 70.
More rain is possible Friday under cloudy skies. The high is expected to be about 69. Mostly sunny days with high in the 60s are expected for the weekend, although there's a chance of showers Sunday.
For updated forecasts and conditions anytime, check AnnArbor.com's weather page.