Posted on
Mon, Jan 2, 2012 : 10:16 a.m.
Recent geothermal energy project may inspire more systems in downtown Ann Arbor
By Paula Gardner
Downtown officials and the company behind an ambitious effort to add geothermal heat to a commercial building in Kerrytown hope the project will inspire similar alternative energy retrofits on a shared system in Ann Arbor.
The work was concluded in late 2011 at the Marketplace Building at 303 Detroit Street, where MAV Development built a system that uses the Earth's temperature for heating and cooling about 13,000 square feet of offices.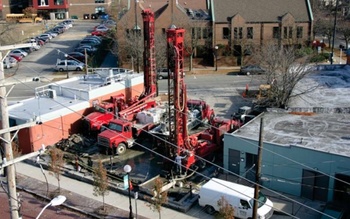 From MAV Development
MAV also owns the building, and launched the effort
in 2010
when it identified the property as one likely to benefit from the process.
"We wanted to find out what it would be like to do this in an urban environment," said Jeff Harshe of MAV. "We knew we'd be site-constrained and we knew we'd have to go under the road to reach the building."
While some homes and at least one other commercial building — owned by A2C3 architects — have added geothermal systems in the city, MAV's effort resulted in what they believe will become standard practices as the city fields additional requests.
"Part of what we were doing is trying to understand how to do a project like this so we can better do this in the future," Harshe said.
The geothermal system at the Marketplace Building starts underground in a lot north of Argiero's Restaurant, running under the brick pavement of Detroit Street to reach the building.
Aspects like crossing a public right-of-way with the underground pipes, liability and ongoing maintenance of the pipes under roadways concerned city staff as they researched and finalized the agreements, Harshe said.
The Downtown Development Authority, which funded part of the effort through its Energy Program, also played a role.
"I'm intrigued about its potential to make downtown even more of a sustainable center," said Susan Pollay, executive director of the DDA.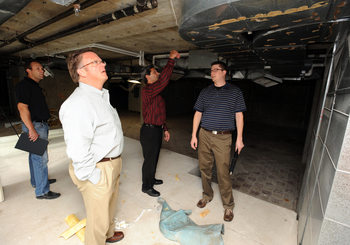 AnnArbor.com files
With the work at 303 Detroit Street completed in the fall, MAV starts 2012 with a newly formed business,
Urban Geothermal Partners
, ready to bring its expertise from the project to other building owners downtown.
One concept involves forming a geothermal district over several blocks of downtown to bring efficiencies of scale to multiple building owners.
"There are a few places where this could work," Pollay said, citing the downtown's alleyways as likely routes for the geothermal piping.
Harshe wouldn't say how much the installation cost. Eleven 600-foot wells support the 150,000 BTU system, and previous estimates pegged each "bore" at about $6,000 each. The system also includes a heat pump.
The DDA contribution was among $650,000 spent in the first three years of the program that offered free energy audits and matching grants of up to $20,000 to make improvements.
The payback for geothermal installations comes over time, both Harshe and Pollay said. That makes sense for building owners who also are open to a long-term investment that lowers annual energy costs and will end up paying for itself.
"It's incredible that just the ground underneath us can heat and cool a building," Harshe said. "And very efficiently."