Posted on
Tue, May 14, 2013 : 8:45 a.m.
Ann Arbor gets $623K grant to help out with University of Michigan smart car study
By Ryan J. Stanton
The city of Ann Arbor is lending an assist on the University of Michigan Transportation Research Institute's study of technology that helps cars communicate with each other.
The City Council voted Monday night to accept $622,884 in federal grant funds — part of a larger $14.9 million grant awarded to UMTRI — for the city's role in the multi-year project.
Under an agreement with the university, the city is using the money to pay for installation of telecommunications fiber, sensors and electronic equipment, as well as some network support.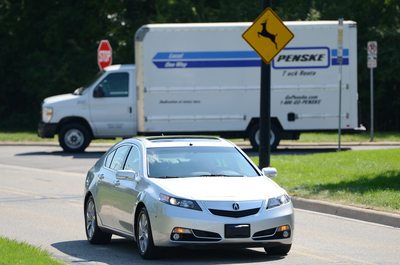 Melanie Maxwell I AnnArbor.com
UMTRI was awarded $14.9 million from the U.S. Department of Transportation in 2011 to undertake a study of
vehicle-to-vehicle (V2V) and vehicle-to-infrastructure (V2I) safety technology
in Ann Arbor.
The project involves a large-scale test of connected vehicle technologies in a real-world, multimodal setting over a 30-month period, Russell Hanshue, IT infrastructure services manager for the city, wrote in a memo to council members.
Hanshue said each participating vehicle will be equipped with a mix of V2V and V2I safety systems, and UMTRI's program will enable wireless communications among the participating vehicles and between those vehicles and roadside equipment, which will generate data.
"The program will determine the effectiveness of connected vehicle safety applications at reducing crashes, and will show how drivers respond to these technologies while operating a vehicle," he said.
"The data collected will be used to enable development of safety applications both in vehicles and for traffic controls. Passenger cars, commercial trucks, and transit buses will be included in the program."
The city will own the fiber and equipment that's installed, Hanshue said, suggesting it boosts Ann Arbor's reputation as a leading research community for transportation technologies.
UMTRI is hosting the first annual Global Symposium on Connected Vehicles and Infrastructure this week from Tuesday through Thursday at Rackham Auditorium. The three-day event is bringing together leading industry, academic and government experts to discuss and strategize how connected vehicle technology is transforming the transportation industry.
In addition to a list of speakers and panel discussions, the event will provide opportunities to meet with UMTRI researchers to learn about the largest deployment of V2V and V2I technology in the world, with almost 3,000 connected cars, freight trucks and transit buses.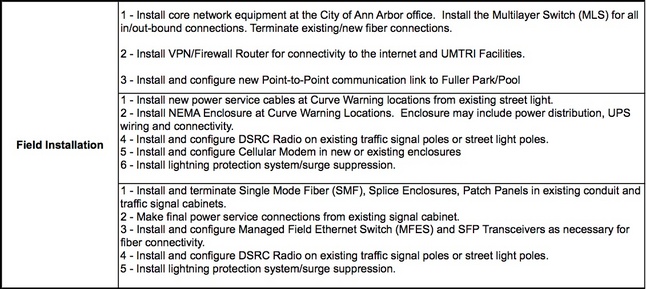 City of Ann Arbor
Ryan J. Stanton covers government and politics for AnnArbor.com. Reach him at ryanstanton@annarbor.com or 734-623-2529. You also can follow him on Twitter or subscribe to AnnArbor.com's email newsletters.